Chief Executives' Club and Business Engagement Events from 2021
AIIP Disruptive Innovation for SMEs | 28th Sep 2021 | 12pm
Dr. Matthew Anderson is Prof of Disruptive Leadership at KEDGE Business School and Visiting Scholar at Queen's University Belfast.
Matthew, who is also co-founder of strategic consulting partners The Why Elephant in Paris, shared some simple, and fast-flowing tips from recent work in disruptive innovation. He paid particular attention to specific - often neglected - issues of leveraging Purpose and Power in innovation, followed by a few extra 'cherries' and 'mines' for participants to reflect upon.
Click here to watch again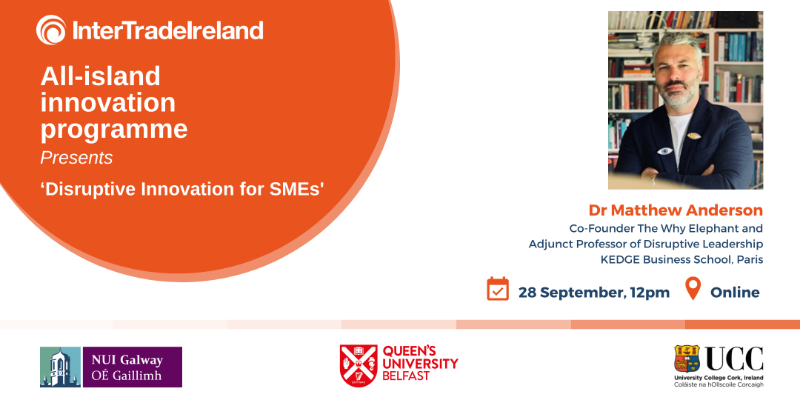 Belfast A University City | 15th Oct 2021
With a new university campus soon to open its doors to students, Belfast is now truly a university city. This online event, delivered in partnership with the Chief Executive's Club at Queen's, was a great opportunity to hear from the Vice Chancellors of both universities, Professor Ian Greer and Professor Paul Bartholomew, about the massive contribution their institutions are making to the Belfast economy and what their visions for the future are.
Watch the event on-demand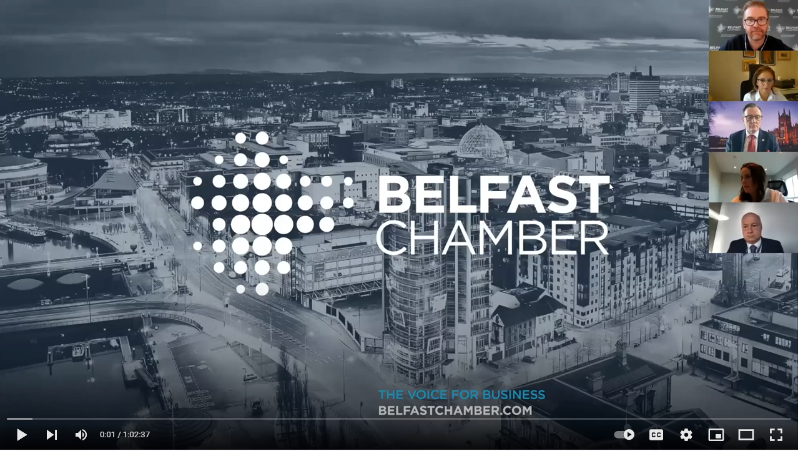 Digital DNA | 28th & 29th Sep 2021
The University was delighted to host a panel session entitled "One Health" - Connecting intelligence on the health of humans, animals and environments at Digital DNA.
Professor Máire O'Neill, Director of ECIT and our esteemed panellists Professor Mark Lawler, Professor of Digital Health and Chair in Translational Cancer Genomics, Professor Nigel Scollan, Director of the Institute for Global Food Security and Professor Hans Vandierendonck, Professor in High Performance and Data-Intensive Computing discussed the GII's 'One Health' prospective - connecting intelligence on environments, livestock, human health and whole populations to show how interventions in one domain can lead to benefits in another.
Click here to watch again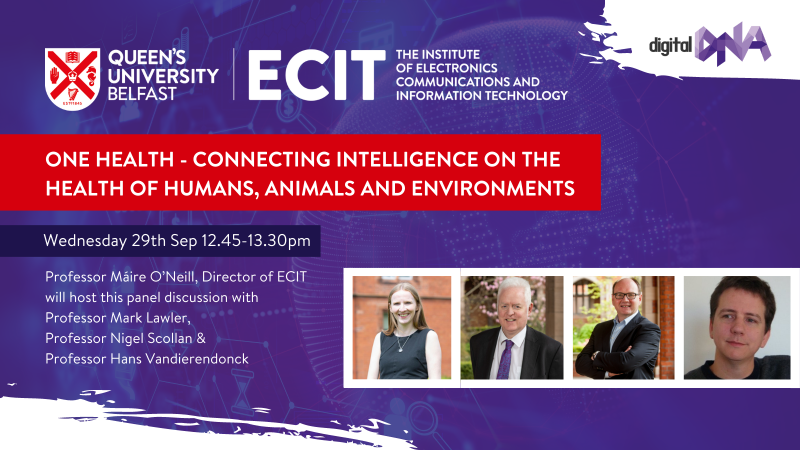 Chief Executives' Club Breakfast at Aflac NI
The Chief Executives' Club at Queen's was pleased to hold its first physical event in over a year, when member Keith Farley of Aflac Northern Ireland hosted an executive breakfast event.
The event, broadly themed around innovation and rebuilding the Northern Ireland economy, took place at Aflac NI's City Quay premises. Guest numbers were restricted and all COVID guidelines were carefully followed.
CEC Breakfast at Aflac NI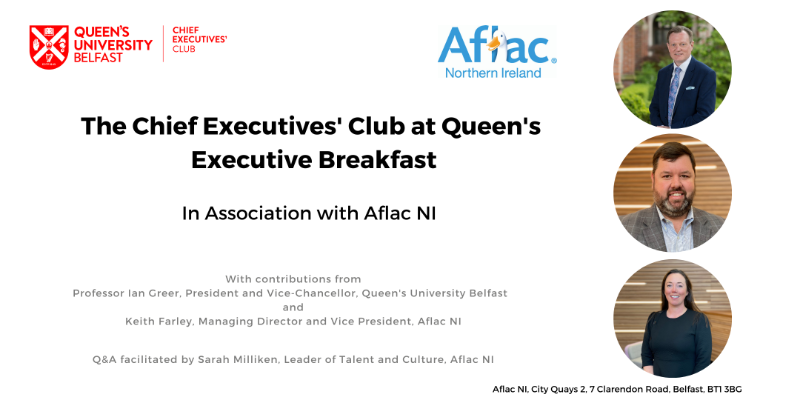 From Ideas to IP! | 15 June 2021 | 12.30pm
This event is part of the InterTradeIreland All-island Innovation Programme delivered in partnership with Queen's University Belfast, NUI Galway, Dublin City University and University College Cork.
From Ideas to IP was an online interactive workshop that took participants through the basics of ideation and how it can extend to IP protection. The event was delivered by Dermot Tierney, IP and Licensing Manager at Queen's University Belfast.
Click here to watch again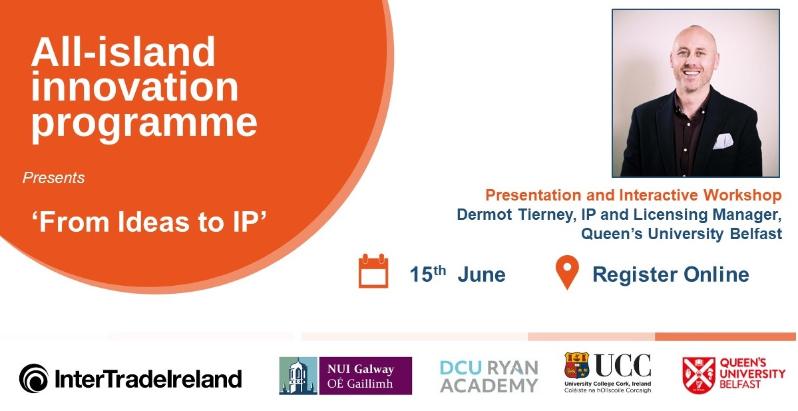 Justice in a Pandemic | 2nd June 2021
Chief Executives' Club Lecture and Online Discussion with The Honourable Mrs Justice Keegan, High Court Judge and QUB Judge in Residence
The Chief Executives' Club at Queen's were delighted to host Justice Keegan to share her reflections on the justice system, and specifically how it reacted to the covid pandemic. The High Court Judge was welcomed by Professor Richard English, Pro Vice-Chancellor of Internationalisation and Engagement, and the Q&A was facilitated by Dr Marek Martyniszyn, Interim Head of the School of Law.
Click here to watch again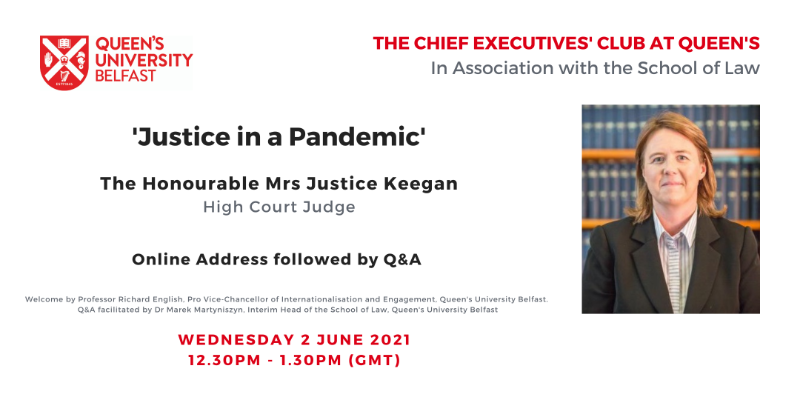 Reflections on Female Leadership | 10 May 2021
In Conversation with Leaders of the NI Executive & Civil Service, in association with the Chief Executives' Club at Queen's
The First Minister, Arlene Foster, the Deputy First Minister, Michelle O'Neill, and the interim Head of the Northern Ireland Civil Service, Jenny Pyper, shared their leadership journeys and experiences. The event was chaired by Professor Karen McCloskey, Director of Queen's Gender Initiative and Professor of Physiology at the School of Medicine, Dentistry and Biomedical Sciences, and the panel of leaders were welcomed by the President and Vice-Chancellor of Queen's, Professor Ian Greer.
Click here to watch again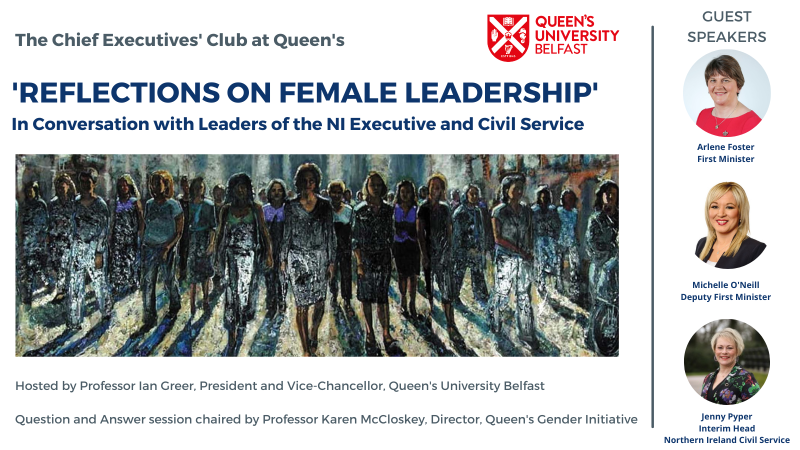 Sustainable Finance | 25 March 2021
Investing towards Biodiversity Sustainability and a Net-Zero Carbon World
Click here to watch again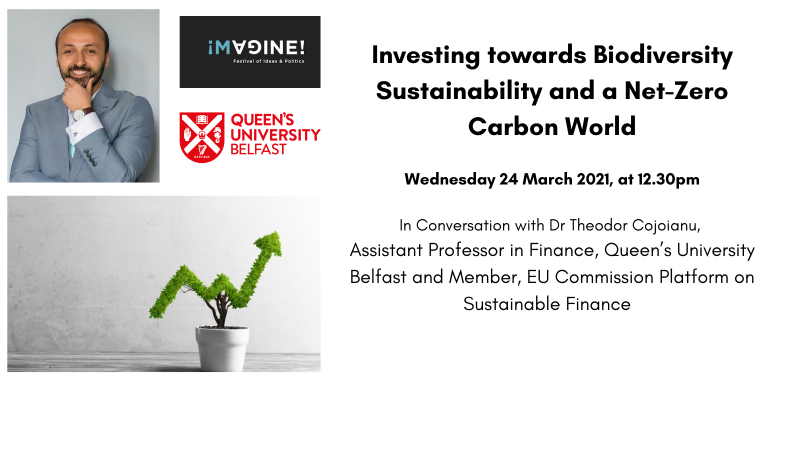 De-Mystifying the Deal - Belfast Region City Deal | 24 March
Innovation and Digital Strand | Panel Discussion
Chaired by Queen's Pro Vice-Chancellor for Research and Enterprise Professor Emma Flynn, a panel of business leaders and academics pooled together their collective knowledge of Belfast Region City Deal and the Innovation and Digital Strands to 'de-mystify' the deal and explore the details and the opportunities it will create for Belfast and the surrounding regions. The event was streamed live on Queen's University's webpage. The discussion included areas of expertise for our panelists and also provided an opportunity for the online audience to submit questions throughout the event.
Click here to watch again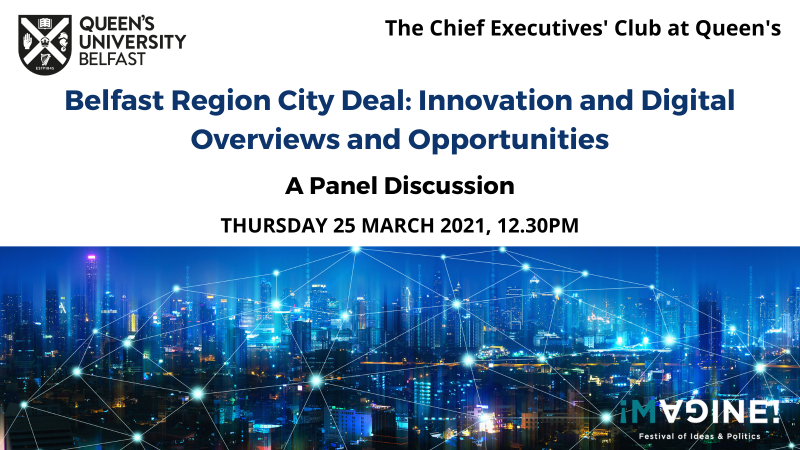 Innovation Challenges and Industry 4.0 Solutions | 10 March
This online conference as part of the InterTradeIreland All Island Innovation Programme comprised of key insights delivered by leading actors of putting innovation into practice.
Click here to watch again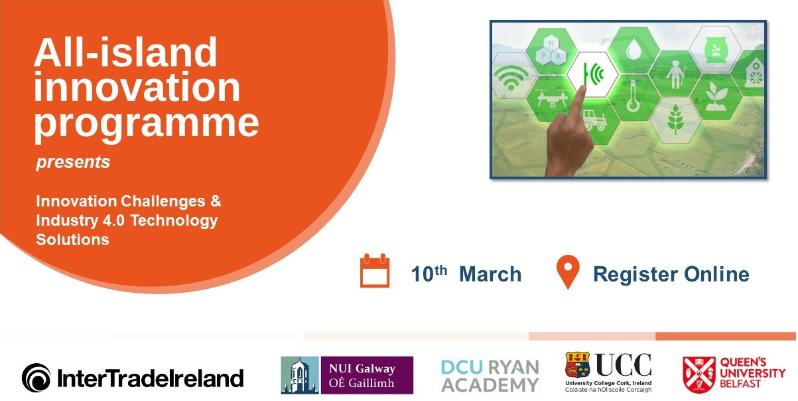 Leading through a Pandemic | 23 Feb 2021
In this lecture hosted by the Chief Executives' Club at Queen's, Michael Dowling reflected on his experience of leading New York State's largest healthcare provider and private employer Northwell Health, through the COVID-19 pandemic.
Click here to watch again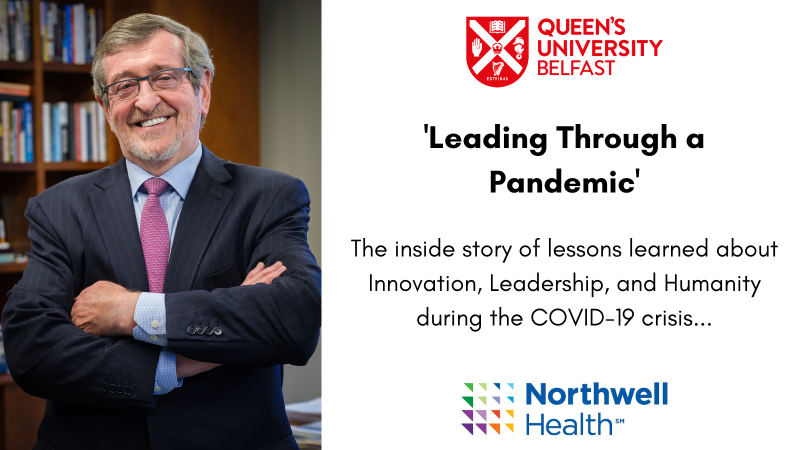 World Cancer Day - 'Time for an All-Island Cancer Moonshot'
Thursday 4 February at 1.00pm
Marking World Cancer Day, Queen's University and InterTradeIreland present an opportunity to review the advances made in cancer research and cancer care over the last 20 years and discuss the vision for collaborative cancer research going forward.
Click here to watch again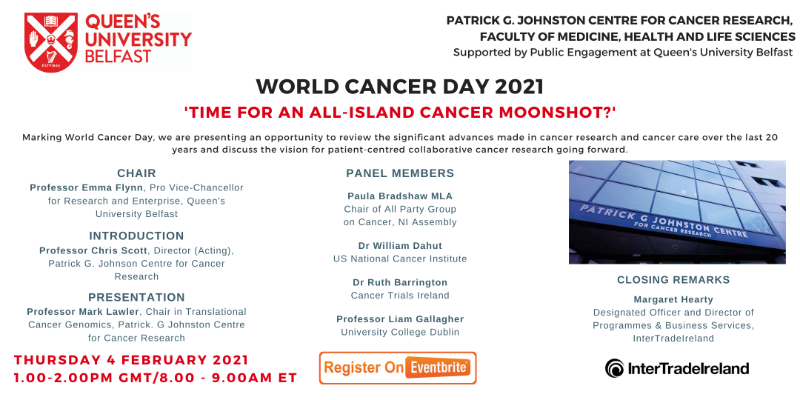 Rapid Testing - Enabling a Safe Return to the Workplace
Thursday 28 January 2021
Angela McGowan, CBI Northern Ireland Director was joined by Norbrook, the Public Health Agency, as well as Professor Stuart Elborn and Damien Toner from Queen's University Belfast to discuss the implementation of rapid testing in the workplace.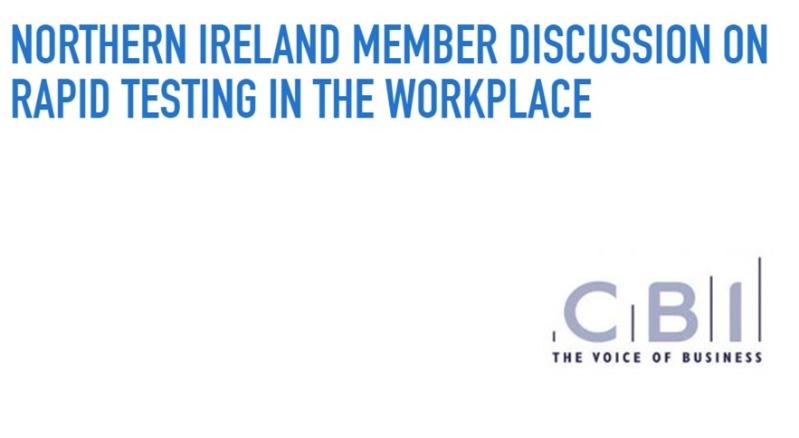 De/Re-Industrialisation | 13 January 2021
Understanding why regions around the world are experiencing de-industrialisation and the negative impact these processes have had on economies, societies, and political systems, have become increasingly pressing questions. In this LRI briefing, Dr Michael Aldous hosts a panel of leading economists, historians, and industry representatives, to examine the causes and consequences of de-industrialization and to discuss how long run perspectives help them to think about possibilities for re-industrialization, and the implications these trends have for today's corporate decision makers and policy makers.
Click here to watch again