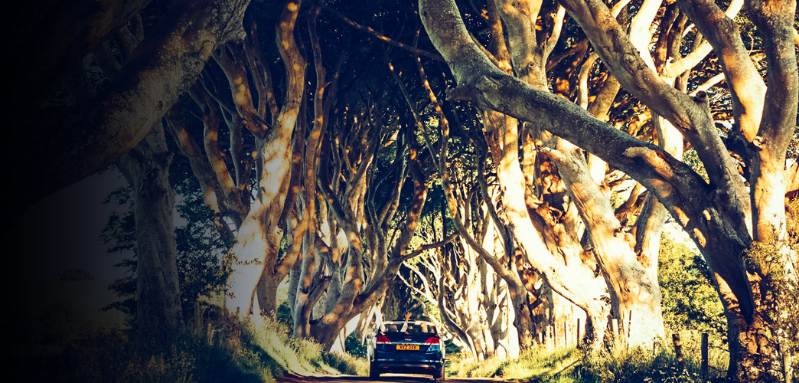 About
Northern Ireland
Renowned for its beautiful beaches and coastal scenery, including the Giant's Causeway, a World Heritage site.
Belfast is the capital of Northern Ireland and is one of Europe's friendliest and fashionable regional cities. Described by Lonely Planet as a 'must-see visitor destination', it was also voted one of the world's top 10 destinations by National Geographic Traveller in 2012.
Northern Ireland is renowned for its beautiful beaches and coastal scenery, including the Giant's Causeway, a World Heritage site. It has a fascinating history and cultural heritage and prides itself on many 'firsts', including having built the Titanic.
Many visitors to Northern Ireland have chosen to make the region their home. People from all over the world are now making an important contribution to life here – in business, education, industry and medicine.
Travelling to and from Northern Ireland is both easy and economical. Most major British cities are within an hour's flying time from Belfast's two airports, which are both easily accessible from the University. These airports provide flights from many locations in the UK and mainland Europe as well as North America. Belfast has regular ferry services from Scotland and England, and Dublin is just a two hours away.
Queen's University is proud to be a driving force in Northern Ireland's cultural, artistic and economic renaissance, celebrating the innovation and creativity of its people and enhancing its reputation as an international centre of learning. The Faculty's staff, students and graduates are part of this creative community sharing their learning and research in community and third sector contexts as well as in the creative industries, and in SMEs locally. Members of the Faculty hold board or other advisory positions with policy, cultural, business and third sector organisations locally, nationally and internationally.
Return to Top
Queen's University: Linking Northern Ireland to a Global Community
The successful candidates will join a university that has a rich and distinguished heritage and holds a special place in the history of education, research and innovation on these lands.
Queen's is a dynamic and diverse institution with over 600 international staff, from more than 75 different countries, engaged in a variety of roles across the campus. The University was established in 1845 as part of the federal Queen's University of Ireland with colleges in Belfast, Galway and Cork, and was awarded independent degree awarding powers in 1908 when it became a university in its own right. It is one of the oldest universities in the UK: only nine can claim longer lineage. Today, Queen's is a dynamic, innovative twenty-first century institution, a member of the Russell Group of the UK's 24 leading research-intensive universities, educating students for the modern world and making a difference to people's lives.
Global networks are critical to Queen's future success. Its researchers work closely with universities around the world and the University is committed to enhancing these links still further.
Amongst its dynamic partnerships are academic links with leading institutions in India, Malaysia, China and the Americas.
Entrepreneurship is the lifeblood of Queen's. More than 60 businesses have emanated from the University's cutting edge research, generating over 1,500 high-value jobs. Queen's is ranked No.1 in the UK for its participation in Knowledge Transfer Partnerships, which enables small and medium sized enterprises to access the skills and expertise within academic institutions.
Our students, recruited from more than 80 countries, create an environment in which enterprise can flourish, and Queen's graduates are much sought after by all employers, including blue- chip companies and firms in the City of London. Our annual impact on the Northern Ireland economy is £850m and our impact on society is immeasurable. Our researchers address global challenges, whilst our students gain the skills which are necessary to underpin future economic growth and social and cultural sustainability.