Queen's winners at British Society for Immunology Awards 2023
The Northern Ireland Multiple Sclerosis Research Network (NIMSRN) at Queen's University Belfast has won the British Society for Immunology (BSI) Outstanding Team Award for 2023.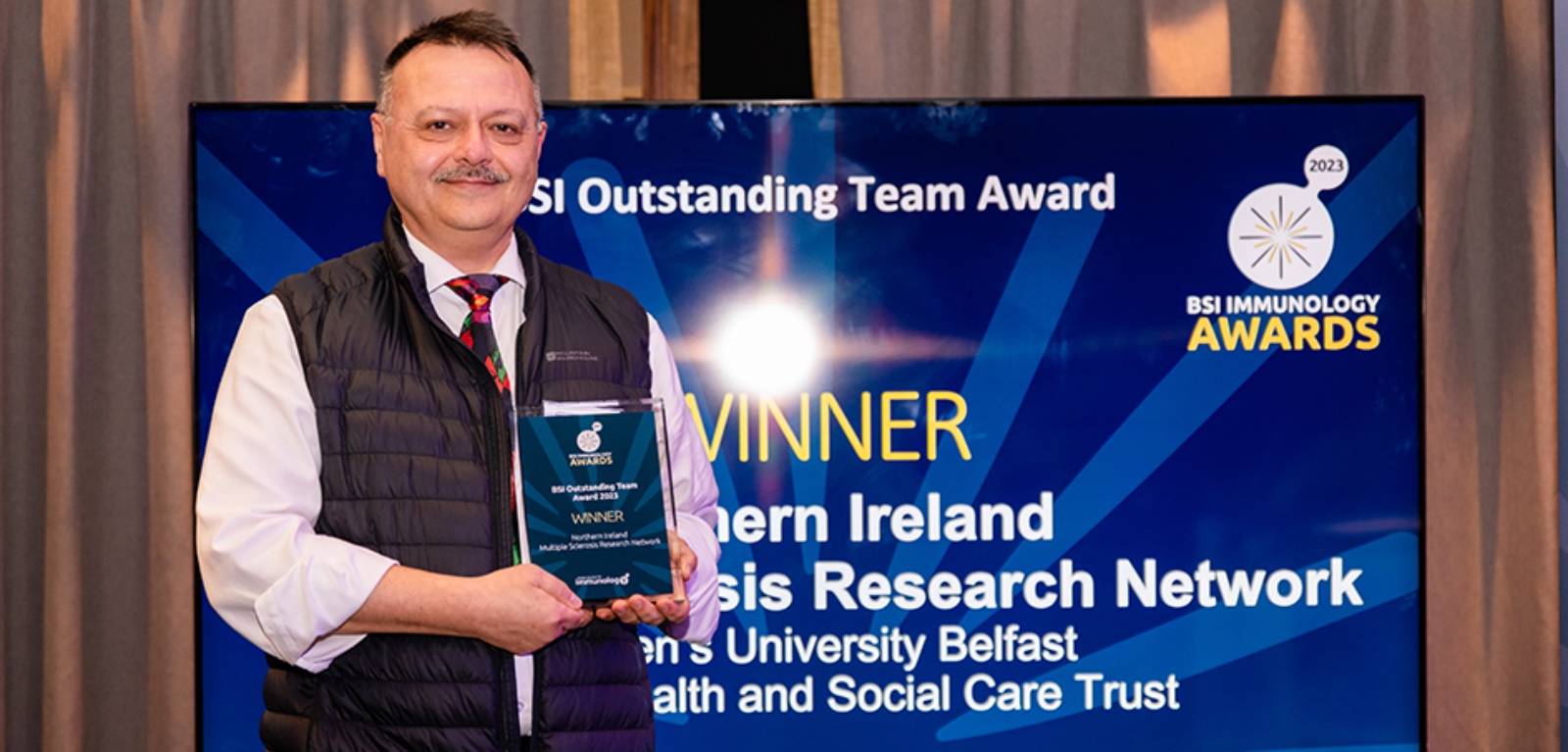 The BSI Immunology Awards celebrate the remarkable achievements of individuals and teams shaping the future of immunology. The eleven group winners were revealed at a recent ceremony as part of the BSI 'Transforming the immunology landscape' event, which saw the immunology community come together in a one-of-a-kind showcase of extraordinary work that will shape the future of the field.
Formed in 2016, the NIMSRN is a collaboration between biomedical researchers at Queen's University Belfast and clinicians from the Belfast Health and Social Care Trust. The team works to advance cutting-edge multiple sclerosis research in Northern Ireland.
NISMRN team members include the following researchers from the Wellcome-Wolfson Institute for Experimental Medicine (WWIEM) at Queen's University Belfast; Professor Denise Fitzgerald (Professor of Neuroimmunology), Dr Michelle Naughton (Postdoctoral Fellow), Dr Rachael Kee (Clinical PhD candidate and Neurologist), Dr Yvonne Dombrowski (Senior Lecturer in Immunology), Dr Imre Lengyel (Reader), Ms Gemma McIlwaine (PhD candidate). Jill Moffat (prior Clinical Research Coordinator at WWIEM up to 2022 and carer of person with MS) also strongly contributed to the team's application.
Team members also include neurologists Dr Gavin McDonnell, Dr Stella Hughes and Dr Fiona Kennedy from Belfast City Hospital, part of the Belfast Health and Social Care Trust.
The award recognises an exceptional team whose collaborative approach has made a significant impact on immunology research and/or clinical practice, and champions instances where specialists with diverse skillsets and backgrounds have worked together to address complex research and health challenges.
On receiving the award, Dr Imre Lengyel from the Wellcome-Wolfson Institute for Experimental Medicine at Queen's University Belfast and member of the NIMSRN team, said: "We are delighted to receive this award which recognises the excellent work being done by colleagues working across Belfast Trust and Queen's University. The aim of the Network is to bring together researchers and clinicians to positively impact our understanding and treatment of MS here in Northern Ireland and globally, and we greatly appreciate that the BSI has recognised the impact of our work.

"We hope to build further on the work already done and, to that end, I am pleased to confirm our most recent publication is based on work done using a novel ophthalmic imaging technology. We are proud to be a part of a community that values progress and looks toward the future with optimism."
Dr Gavin McDonnell from the Belfast Health and Social Care Trust commented: "It is very humbling to have the Network recognised in this way, but it is also a reflection of how scientists and clinicians, working together, can create fresh opportunities for research that really engages with patients and helps to bring the "bench to the bedside". Since its inception we have seen a step change in research and clinical trial activity through the Network in Belfast and this award will provide a further stimulus for our collaboration."
Doug Brown, Chief Executive of the British Society for Immunology, said: "We are thrilled to recognise the achievements of these extraordinary individuals. Each of them dedicates their time and expertise to shaping the future of immunology, in many cases away from the limelight. Their efforts will ensure a brighter future for our field."