Living in Elms BT2 Accommodation
The time I have spent living in Queen's Accommodation BT2 has been fantastic. This blog offers a sneak peek of life in Elms BT2 accommodation.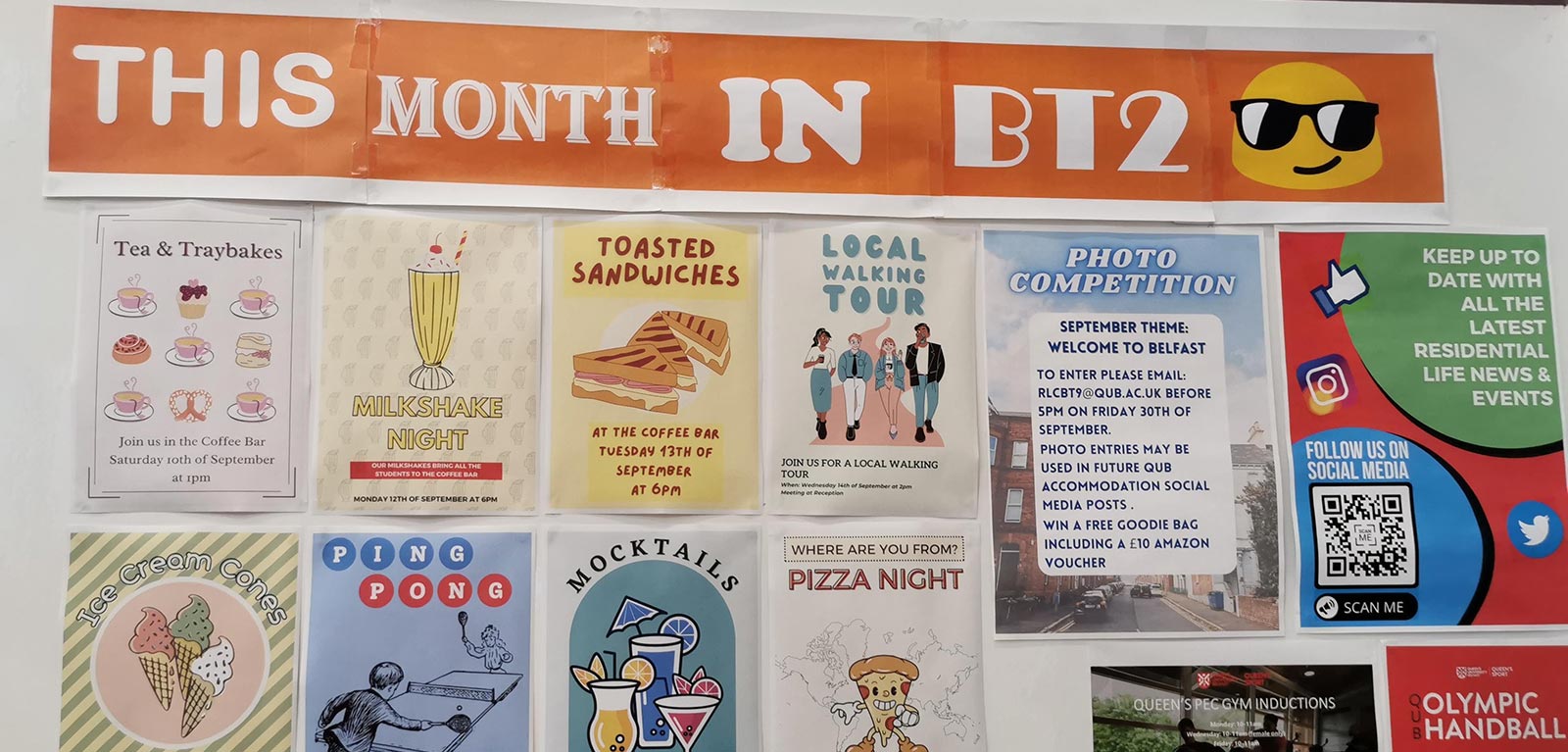 There are loads of events
The accommodation events are the best part of living in Queen's Accommodation for me! The list of upcoming events can be found in the weekly residential email or on the noticeboard. The events are usually held at 7 p.m. in the coffee bar. Keep in mind that some events require registration/booking!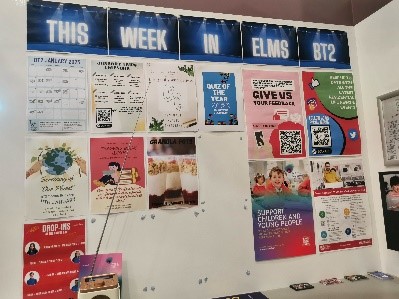 Make sure you keep an eye on the notice board
There is a wide variety of events; you can sometimes get a free snack, a freebie, or learn something new by attending an event that interests you.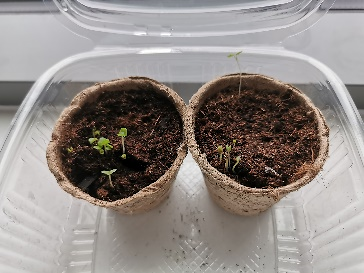 Plant a herb event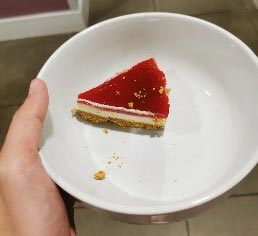 Cheesecake night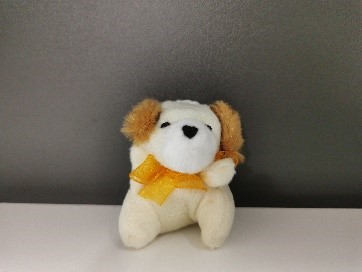 Adopt a mini plush animal event
The accommodation team also planned 12 days of Christmas events from December 1 to December 16. Those staying in the accommodation during Christmas could also pick up a Christmas gift from the reception. The events helped me get into the holiday spirit.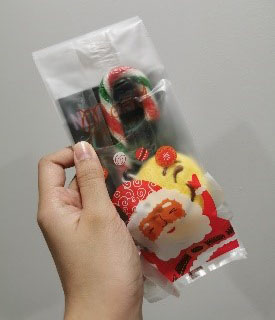 Christmas gift bags event
Get to see more of Northern Ireland with the accommodation trips
The accommodation trips are a great way for an international student like me to check out some new places and meet new people. A plus point is that the fee is way cheaper than going by yourself, not to mention that transportation is provided.
Additionally, some trips are free, which may aid residents in becoming familiar with their surroundings. An example would be the walking trip to St George's Market.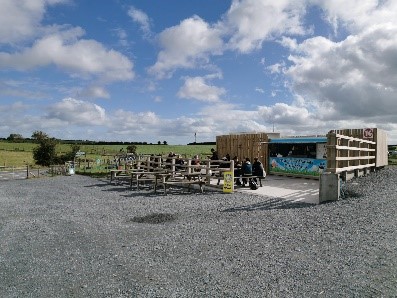 Streamvale Farm trip
Other typical trips include the Giant's Causeway and the North Coast, Derry/Londonderry for Halloween, the beach at Newcastle and locations a bit closer to home including Ikea.
Elms BT2 is in a great location
I found living in BT2 accommodation to be convenient because it is in the centre of Belfast. The Europa Bus Centre is directly across the street from the accommodation, making it easier to get around.
A Tesco Express is only 2 minutes away so you can always go there to get some essential groceries or grab yourself a meal deal if you are too busy with assignments. Most importantly, the accommodation is approximately 17 minutes away from the university. Don't be afraid if you are walking to the university alone, as you can always find many students heading to the university at the same time.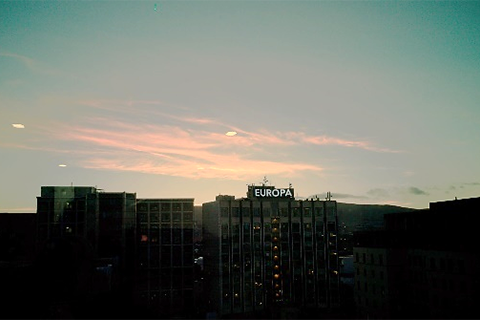 View from the window in Elms BT2
The laundry room is right on-site for your convenience
Washers and dryers are available in the laundry room. It currently costs £3.10 to use the washer and £2 to use the dryer (January 2023). The machines can be accessed via the Circuit Laundry App or a laundry card. In addition, there are two ironing facilities in the room.
Some steps were taken by the university and accommodation staff to help residents with their living expenses. There was a laundry-free vend period from December 23, 2022 to January 2, 2023. Free detergent capsules are also available to be collected from the reception from December 23, 2022 to March 31, 2023. Remember to claim one or two when doing your laundry!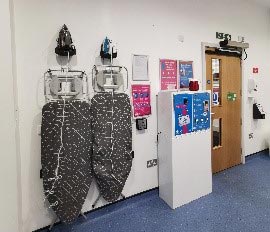 Laundry room ironing boards
We do our bit for the planet, and each other, by minimising waste
A community fridge and pantry have recently been installed in the laundry room for residents to access free food or donate food. The laundry room also has a clothes rack. Consider leaving your unwanted clothes on the rack so that they can find a new owner! This saves everyone money and is good for the environment!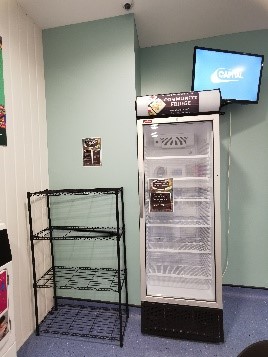 Community Fridge
Don't stress about your parcels and deliveries
When I first arrived here, I was concerned that my parcel would arrive while I was away from the accommodation. I was relieved to learn that the parcels would be stored at reception and that the accommodation team would send you an email to notify you that your parcel had arrived.
All you have to do is show your student ID card at reception to pick up your parcel. It is strongly advised to collect your parcel as soon as possible because parcels that are not collected within 30 days will be returned to the sender.
Worried about storing excess luggage?
Luggage can be stored in your room's two cabinets under the bed. Aside from that, you can keep your other luggage in the luggage room. Don't forget to label your luggage so you can find them easily in the future.

Store your excess luggage in the luggage room
Maintenance and repairs
It is common to encounter some difficulties when living in accommodation. Simply fill out the online maintenance request form at (https://planon.qub.ac.uk/startpage/QuB/Elms_BT) if you have any maintenance-related issues. The technician will attend within 24 hours during working days.
If an emergency arises, such as being locked out of your room, don't panic – just seek assistance from the accommodation team who are always willing to assist. To avoid this situation, always remember to bring your key with you whenever you leave your room.
Fire safety is a priority - don't be alarmed by the alarm!
The safety of the residents is given top priority, and many precautions are taken to ensure that the safety measures work properly.
The fire equipment and fire alarm are checked regularly. The fire alarm system will be tested every week, so don't be alarmed if it rings for less than 10 seconds. There was also a fire drill to ensure that residents were familiar with fire evacuation procedures.
So, that was a quick run through of life in Elms BT2, if you have any questions be sure to check out the accommodation website.
Find out more
Yi Teng

LLB Law | Undergraduate Student | Malaysia

My name is Yi Teng, and I am in my final year of LLB Law. I am from Malaysia and am currently residing at Queen's Accommodation BT2. I found Belfast to be a pleasant place to stay and explore, and the sky and surroundings are usually photogenic. I have taken Spanish beginner lessons offered by the Language Centre since I am eager to learn a new language here. I like to create videos, watch dramas, and listen to music in my spare time. Despite that I am a novice blogger, I hope my posts may benefit others by providing illumination!