Surprises since arriving in Northern Ireland
Moving to a new country or city for university can be challenging. American student Zach has four positive surprises about the city he discovered after coming to study at Queen's.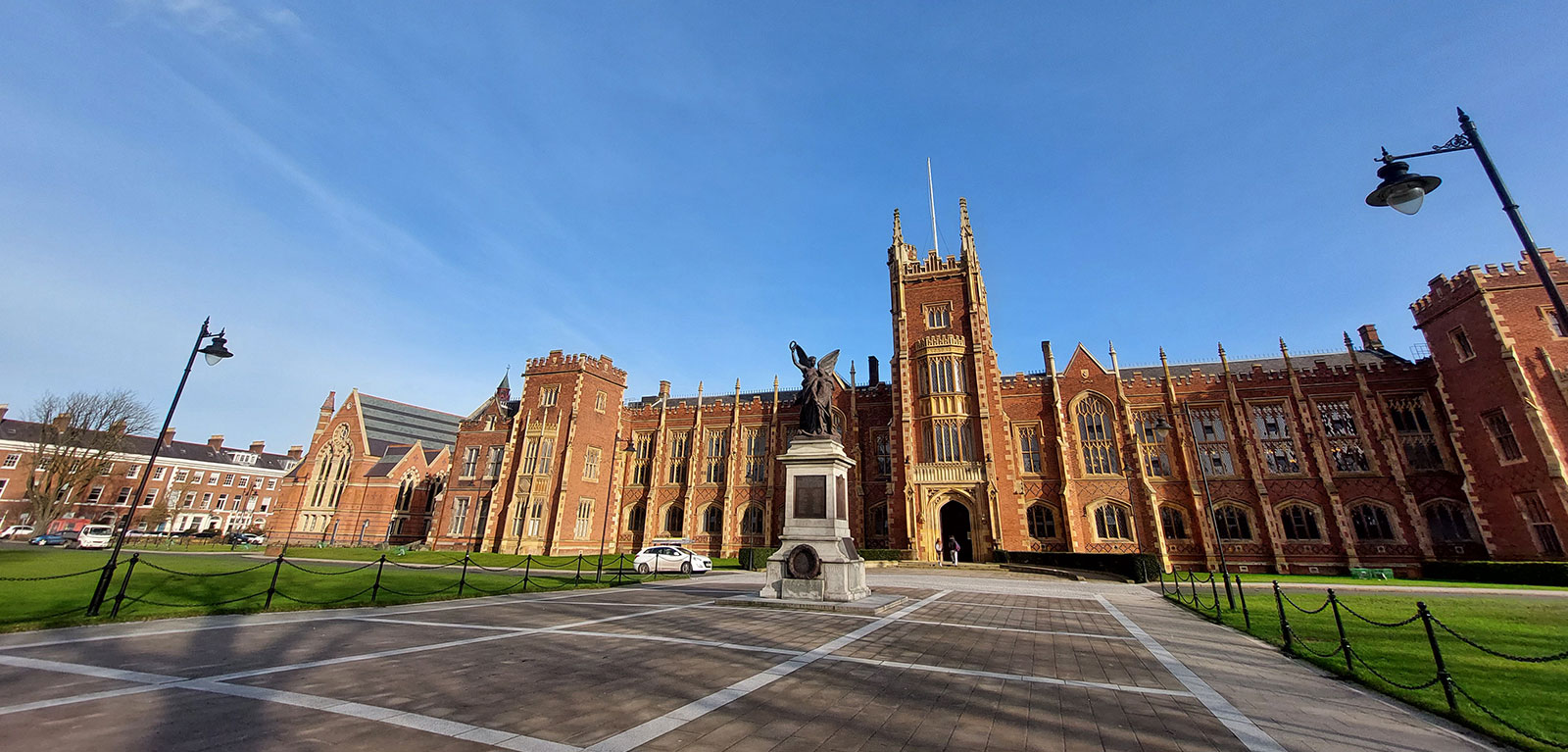 The Bright Spots in the Weather
Coming to Belfast you hear about one thing a lot: rain, rain, and more rain. While that does happen, it is not the only thing you will experience. Sunny days make appearances and provide incredible motivation to get outside and explore the city umbrella and raincoat-free.
Additionally, coming from the Midwest United States where winter means lots of snow and low temperatures (sometimes hitting double digit negatives!) meant the mild winters of Belfast were a nice change of pace. Overall, weather in Belfast isn't the same as weather in Italy or Greece, but it is nothing to be afraid of.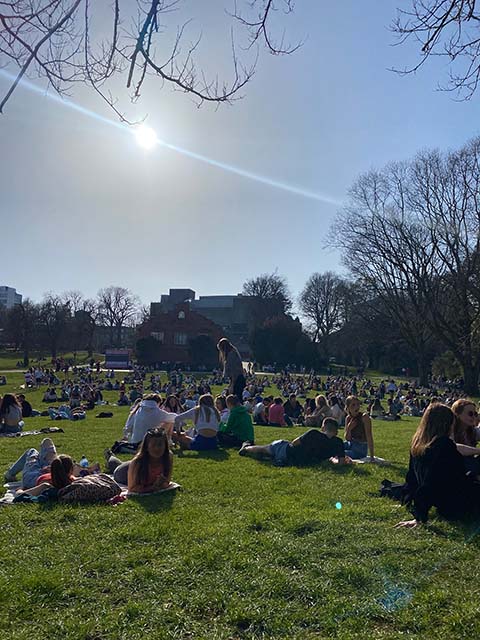 Belfast is lovely when the sun shines
A Launchpad to Explore Elsewhere
While the city has a ton to offer, sometimes you just want an escape and explore a new area. Luckily, Belfast has trains and buses that can connect you to various places across the island while Belfast and Dublin Airports are only a bus trip away.
Throughout the year I have been able to take trips on the island to places like Derry and Dublin as well as taking the short plane trips to London to watch a football match and to Glasgow to visit friends. From day trips to weekend adventures, plenty of opportunities exist to explore beyond the city limits.

Big Ben in London this Spring
An International Community
One of the biggest surprises I have had since arriving in Belfast is the international community and opportunities being a student here has to offer. At Queen's, the international students living in the accommodation or in your classes provide an opportunity to connect with people from different backgrounds and find others from the same country as you as an international student.
On top of that, Queen's International Student Society (QISS) and other country specific societies offer a lot of events throughout the year to find friends and build a community around our backgrounds and cultures.
QISS even hosts Qulture Shock at the end of the academic year, a formal dinner with performances to celebrate the diverse student population at the university. While a lot of opportunities also exist to get involved with the local community, the international community helps keep you connected to your roots and have some of those familiarities from home while living abroad.
(Free!) Sights Around Belfast
While an entire blog can be dedicated to the things to do around the city, one thing college students love to hear are which of those things are free. Naturally, doing a personal walking tour is a great way to enjoy sights like Cathedral Quarter, the Titanic Museum Building (tickets are needed to go in, but not to enjoy the building itself and the surrounding area), the Riverwalk, and City Hall.
Additionally, the Botanic Garden's right next to campus provides a great place to meet with friends and has a glass Palm House and Tropical Ravine and is right next to the Ulster Museum, both free activities themselves. While non-free places like the Queen's Film Theatre are also great experiences, there are plenty of spots to explore without opening your wallet.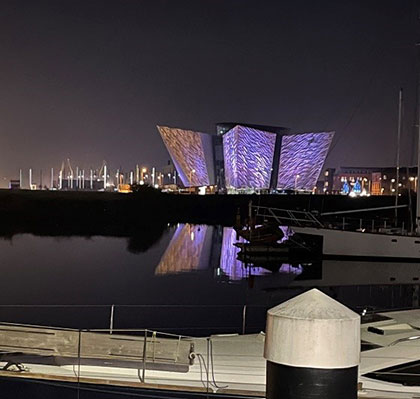 The Titanic Museum lit up at night
Find out more
Queen's International Student Society (QISS)
Zach Pfannes

LLM Human Rights Law | Postgraduate Student | USA

I am a master's student here at Queen's studying the Human Rights Law LLM. I came to Belfast from the Midwest United States after completing my undergraduate degree in the Southern US. This is my second time as an international student following a study abroad year in Greece during my time as an undergrad. When I am not in class or working on assignments, I enjoy travelling, participating in events with the International Student Society, and spending time with friends. I hope my experiences help show you some of the many benefits of being a student here!