Where is the best Asian cuisine in Belfast?
MA student Shuk Kuen Yau ('Yumi') from Hong Kong gives her top tips for finding a taste of home in Belfast.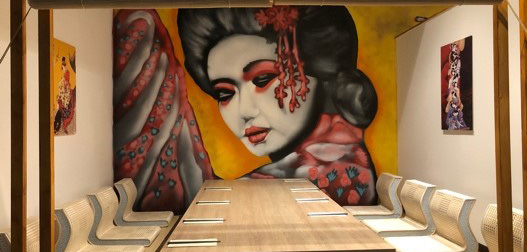 Before coming to Queen's, I was quite worried about the Asian food choices in Belfast. However, I found there are lots of Asian restaurants in Belfast, include Japanese Sushi Bars, Chinese hot pot restaurants, Korean restaurants, Taiwanese teahouses… And with casual and fine dining options, you are spoiled for choice.
There isn't China Town in Belfast, per se, but there are some Chinese supermarkets and plenty of Chinese restaurants can be found in Donegall Pass – just ten minutes from Queen's campus. Here are my top picks.
My Chinese pick: Ternary Chinese Restaurant
Since moving to Belfast, I was craving a great Chinese hot pot restaurant with reasonable prices. Hot pots originated in China nearly 1,000 years ago and are great for keeping warm in winter. If you haven't never experienced chopsticks in a steaming hot bowl, it is time to pay Ternary Chinese Restaurant in Belfast a visit. I first visited with a friend after someone recommended it for me. When we arrived, the staff led us to a table for four, complete with Chinese tableware, including chopsticks, a bowl and a small dish (in which to place the leftovers). The Chinese tea was served in a pot with a couple of cups.
We took a look at the menus and decided to order Spicy Butter Soup and Pork Ribs Soup for our hot pot broth. I am spice lover and I definitely love broth! But my friend is not comfortable with spice so ordered the Pork Ribs Soup, which looked and smelled great! We then chose a few hot pot dishes from the menu including crunchy lotus root, beef slices, pork belly, fried chicken stick, Chinese noodles and different meat balls.
When the broth was steaming, we dunked our ingredients into the pot. We waited a few minutes until they floated, looked at the delicious dishes which smelled great and finally we tucked in. Delicious.
My Japanese pick: Ginza Kitchen
If you are a Japanese food-lover, Ginza Kitchen should be in your list of must-try restaurants. Located on the Lisburn Road, the Japanese themed restaurant features art deco-inspired décor and wooden furniture. There are three floors altogether, the ground floor is traditional Japanese Tatami style seating with awesome breeze paint, while the first and second floors feature modern Japanese seating.
Three of us went for dinner and the manager led us to a comfortable seat on first floor. We took a look the menus, and ordered a Japanese Rice Teapot (Genmaicha), two squid Tempora and a sushi boat (Matsu Moriawase). Genmaicha is a lovely Japanese drink of green tea mixed with roasted popped rice. We finished the squid ring Tempura in a seconds as it was so crispy and fresh. It is a must-order dish when I visit it! The Sushi boat is jumbe size with different flavours including King Prawn Tempora, Tempura sushi roll with salad sauce, tuna sushi, salmon sushi, squid sushi…all crafted with authentic Japanese ingredients.
The music was great as well: they were playing My Neighbour Totora which is my favourite childhood Japanese song in my childhood.
My Thai pick: Bo Tree Kitchen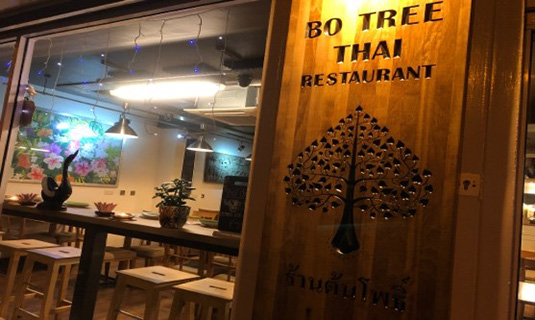 For an authentic Thai restaurant, I recommend Bo Tree Kitchen on University Avenue. I love to travel to Thailand every year for my summer holiday, not only because of the beautiful scenery, but also for the delicious Thai cuisine. I was surprised to find an authentic Thai food experience at a reasonable price in Belfast.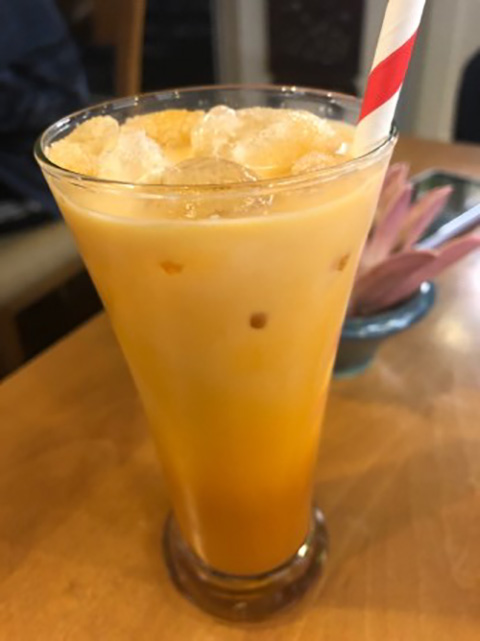 The café setting is casual with Thai decorations and it feels comfortable and unique. Most of the chefs are Thai and work their authentic culinary magic in an open kitchen. I visited the restaurant with my friend, and we ordered Thai milk tea, BBQ pork, drunken noodles and mango rice. The waitress took the order and delivered the food for us really efficiency.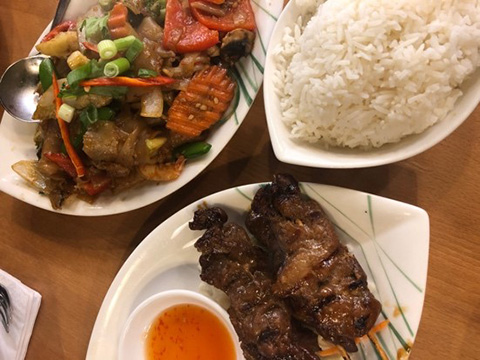 The Thai milk tea was really nice and sweet with a strong tea aroma! The side dish, the BBQ pork on a stick, came with a sweet and sour chili sauce on the top. The meat was soft with a slightly sweet and salty taste. The main course, drunken noodles (Pad Kee Mao) really surprised me! The combination of seafood, chili sauce and chewy rice noodle was excellent. Finally, the famous Thai dessert mango rice is highly recommended; it was sweet and fresh. The coconut sauce mixed with sticky rice and fresh mango felt chewy and soulful.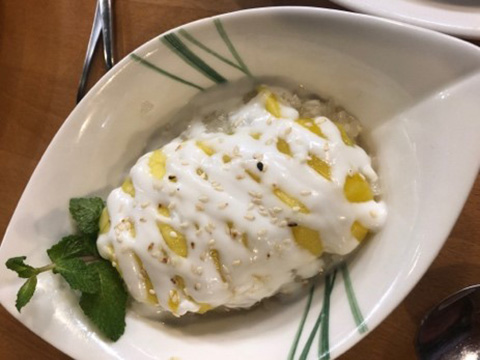 Discover more food in Belfast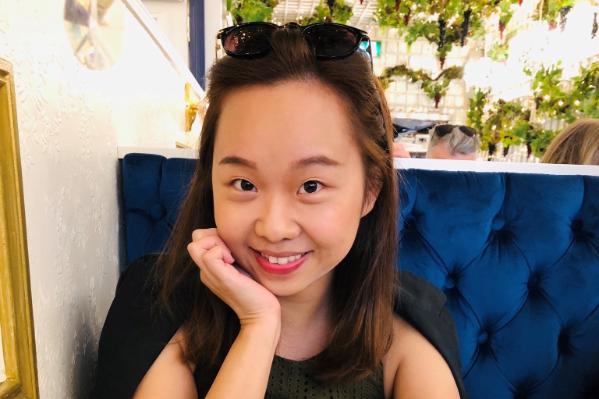 Shuk Kuen Yau, MA Media & Broadcast