5 Major Differences between Living in Belfast and Malaysia
5 Major Differences between Living in Belfast and Malaysia

Upon receiving my unconditional offer to finish my studies in Queen's University Belfast, I was thrilled and filled with several emotions: happiness, nervousness and excitement!
Fast forward to a few months later and a 13 hour journey from Malaysia, I landed in the land where the craic never ends. Belfast is certainly different from Malaysia and here's why:
1. Weather
I know everyone has been talking about the crazy weather in Belfast, but what makes it different for me as a Malaysian is how Belfast is extremely unpredictable.
I remember when Storm Ali hit Belfast not long ago: we were faced with incredible strong winds, rain and the heat from the sun all in the very same day. That's certainly something we're not used to especially coming from Malaysia where we are used to the scorching heat.
2. The People
I have to say that Belfast is such a unique city. One thing that particularly surprises me is how friendly the people are in Belfast: be it Malaysians who have lived here for more than a year or even the locals.
Aside from the accent (which you'll get the hang of easily), the people of Belfast are extremely open and you'll always feel welcome whenever you are in Belfast.
3. The lack of Malaysian Food
I'm sure all Malaysians can relate: our dedication would have us braving a 35 minute walk through the rain to the Malaysian Student Center (which is the ONLY place that serves Malaysian Food) just to have a good cup of teh tarik and nasi lemak.
We, Malaysians would do anything to get our local fix. That includes packing a whole suitcase of spices and flying them straight from home.
4. Not driving or frequently using public transport
When I was in Malaysia I frequently took the train or drove to commute to where I used to study.
However, that all changed when I landed in Belfast. After a month living in Belfast, I have still yet to take the bus from where I stay to campus: mainly because I save a ton of money by walking. Now, the walk from campus to Elms BT2 is a breeze.
What's more, Belfast is a verycompact city so people here are just used to walking.
4. The way people speak
This is a funny story: I remember the first week after I landed, I had a hard time getting used to the way people here speak. You'll hear the word 'wee' being used frequently here on almost everything!
Also, as Malaysians we have a unique way of speaking: be it combining 3 different language into one sentence or using phrase such aiya, lah, aiyo to express ourselves. It's extremely hard to do that here when you're with the locals. So that's something I've had to adapt to.
Was The Belfast The Best Decision You Could Ever Make?
Overall, I've never regretted my decision one bit and to this day I still agree that choosing Belfast as my final destination is one of the wisest decision I could ever make as a Malaysian Law Student.
Sure, it may be wee bit far from the mainland, but how could you say no to a really dead on place where the craic's great?
If you didn't understand any of that, you'll just have to come to Belfast to find out more!
Want to join Liang and his pals? Find out more about studying Law at Queen's.
Hew Hoong Liang

LLB Law| 3rd year |Malaysia

Hi there! I am a 21 year old Malaysian pursuing my final year of law degree in Queen's University. Nature lover, part time geek and a passionate writer. My passion for writing started to developed into a skill when I served as writer and journalist of a legal tech startup back in Malaysia. Now, I am casual blogger looking to share my experiences and thoughts in Queen's through my writing. I hope my blog serves as a unique point of interest for Malaysian students like me who are studying at Queen's or thinking about coming here!

Fun fact: I am trilingual and I love to explore and get lost in different cultures and traditions.

‌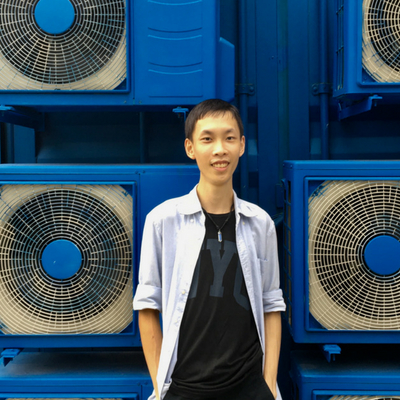 Hew Hoong Liang
LLB Law I 3rd Year