My Experience of Finding Church Community in Belfast
Making sure your spiritual side is taken care of can be a big deal when choosing a university. Fourth year student Kathryn shares how she found a church for her in Belfast, and what you can expect to as a Christian student at Queen's.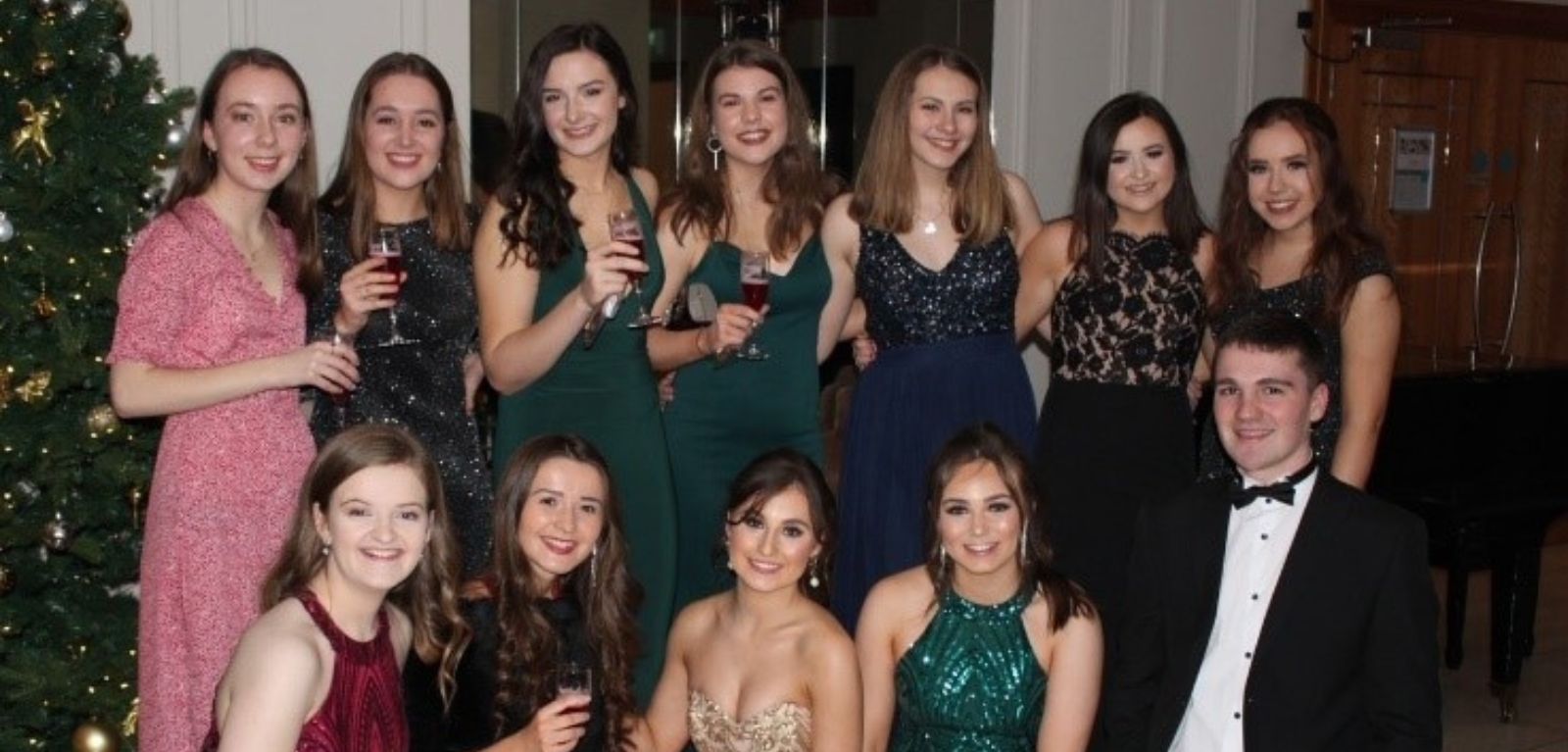 When I was deciding which university to go to I knew it was important to consider all the factors that were important to me- where was the right fit academically, socially, physically- and spiritually?
It was important to stay involved in my faith at uni
I have been a Christian from a young age and my faith and church community are a big part of how I live my life. When I was at school, I was involved in Scripture Union, playing drums as part of the service on a Sunday, and going along to youth fellowship for community with others from church. It definitely kept me busy! Moving to Uni meant a new start in all of those areas, and I remember being anxious about where I would go to church or how I would stay involved in areas that were important to me.
When I decided Queen's was the perfect place for me to study medicine, it was time to see what my faith life would look like on the move to Belfast. My first taste of what was on offer came when I attended a meeting for a summer camp- our head leader was a dentistry student at Queen's at the time, and lived in a place called The HUB (the student accommodation of the Church of Ireland and Methodist Chaplaincy at Queen's).
With a cosy living room, chances to develop my faith and a way to make friends seemingly built-in, it immediately became a place I was interested in knowing more about. I also heard from fellow leaders who were currently students what they enjoyed about church community in Belfast, and looking back, I'm so lucky to have had these girls in my life to provide advice- hopefully this blog can do the same!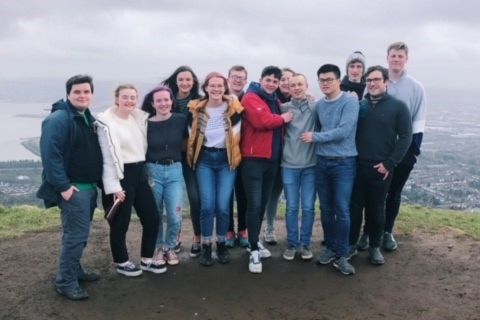 Most of my first year housemates (yes, 10 boys!)
I found accommodation that helped me live my faith
As my upper sixth year progressed, I applied to live in The HUB as I really liked the idea of living among other people who believed similar to me, and they had a range of activities such as worship nights and ways to serve that I could get involved in (like Toasties and Tunes, which happens in BT9 accommodation).
The HUB hosts around 50 students across 5 houses on Elmwood Avenue as residents each year, with a mix of single and shared rooms. Yes, shared rooms! This is what I applied for, and to this day when I tell people I had a roommate at university, they think it's very odd- but seemed perfect to me, as I'd have someone to transition into university life with.
I ended up living at the Hub for my first 2 years, and really would recommend it!
During first year, I shared a beautiful big room with Ellen, now a long-time close friend, and became very close to others in my house of 16 people as we figured out how to live independently, manage our new courses and enjoy uni life to the fullest together.

Our last day at the Hub after 2 great years
I only made dinner once every month, but got a hot meal every night
The HUB is unique in many ways- for example, we each took a turn cooking for the whole house, meaning I only made dinner once every month, but got a hot meal every night. I certainly look back on that first year fondly, as it was full of laughter and new beginnings.
For my second year, I shared a house with my 3 best friends- and despite this being the year that lockdowns reigned, we made our own fun and also appreciated having the staff at HUB to support us when the pandemic took its toll. As one of the friendliest places on campus, I really appreciate how the HUB helped me to learn how to thrive while at university and develop a good set of friends to journey through the ups and downs with.
There's more than just the HUB
The HUB is not the only of its kind on offer to students at Queen's- Derryvolgie Hall sits off the Malone Road and offers 88 students accommodation at the Presbyterian church chaplaincy, and Renwick House offers 14 spaces, also on Elmwood Avenue.
If you're uncertain about where to live for university, they are definitely be worth looking at, as different church environments may suit different people! I also have many Christian friends who lived in Queen's accommodation and really enjoyed the experience- it's all about what is the best fit for you!
Joining the Christian Union at Queen's will help you make friends
Another experience I had right before I went off to Queen's that was very useful in helping me to adjust to university life was the Queen's Christian Union 'Pre-term'- 3 days away at Castlewellan castle that the Christian Union hosted for fresher students, with the goal of helping us think and pray about the transition and get to know new people.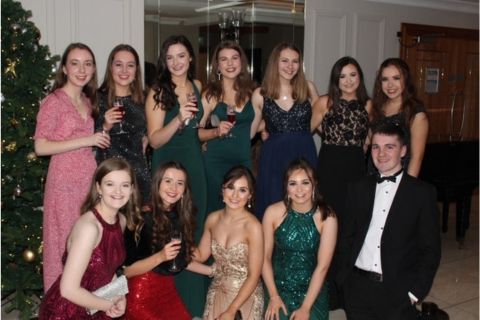 Christian Union Formal
I'll not lie, this was definitely a bit overwhelming! There was a lot of new faces to take in, and required a lot of social energy- but meant that when I started classes a few weeks later, there were plenty of familiar faces.
The CU at Queen's in the largest in the UK, and runs lots of events each week- main CU night is on a Monday for worship and teaching, with prayer meetings and subject-specific small groups meeting each week. With a busy medicine schedule, I'm not super involved in their events- but it's really great for there to be so many options for fellowship among students.
The Christian Medical Fellowship
During my time studying medicine I have also gotten involved in the Christian Medical Fellowship, which runs events focusing on that overlap of faith and science, and have been super useful in helping me to connect with others on my degree pathway- I've written more about this in a previous blog.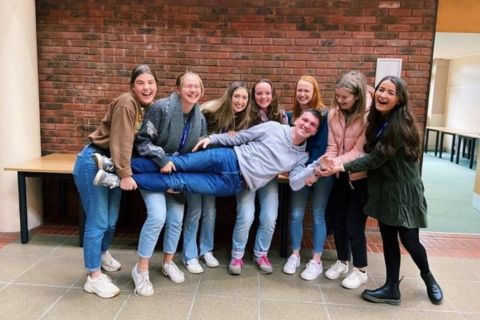 Christian Medical Fellowship Formal
I stumbled across my current church basically by 'coincidence'
While chaplaincy life and societies were new features that I only first discovered at university, deciding to move from my own church and start somewhere new definitely felt like a more difficult task. Thankfully, there are a bunch of churches in the university area which are very friendly and will keep a special eye out for students.
I stumbled across my current church basically by 'coincidence'- a rare Sunday evening where I was in Belfast and decided to give somewhere new a try led me to walking into the church closest to me- 5 minutes late. It's really not like me walk into a service that's already started, but I must've felt brave that night… and it definitely worked out for the best!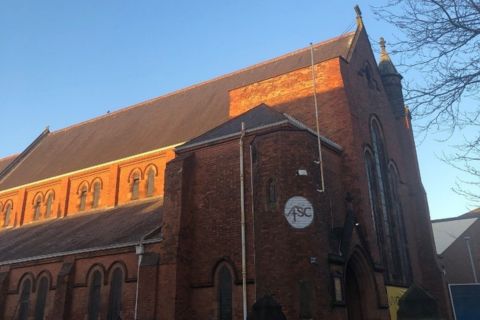 There was a warm welcome for me
I received such a warm welcome from the team on the doors, and ended up running into some friends-of-a-friend who were sat a few seats down from me during the service who took me under their wing. The worship was funky, with a saxophone front and centre, and I really enjoyed their approach to teaching the bible. I've been at UniChurch Belfast (located on University street, just off Botanic Avenue) ever since.
While no church is perfect, and there have definitely been ups and downs since I've joined, I am very grateful for a church community that encourages me to think deeply about my relationship with God, love and serve other people and support each other.
I enjoy being able to 'pay it forward'
I'm involved in a Growth group (a small bunch of girls who meet for bible study) on a Wednesday night and it's often a high point when life gets stressful. I also play the drums in the worship band occasionally, and head up a Welcome team, so I can pay it forward and help other students feel welcomed into a new church!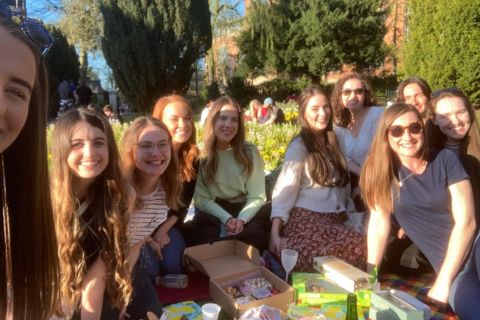 The girls of my growth group
You'll find a church that suits you in Belfast
There are loads of churches in the university area so there is truly something for everyone- others within walking distance of the university area include Fitzroy Presbyterian Church, Crescent church, The Church of the Resurrection (at the HUB), Fisherwick Presbyterian Church, Windsor Baptist, Stranmillis EPC, Central Belfast and the Catholic Chaplaincy, with loads more options slightly further afield that are popular with students who drive out to them.
There's even a 'Church Search' to help you!
If you're trying to find a new church there are easier ways than simply turning up late like I did- CU host a 'church search' at the start of each academic year where groups visit together, and you can check out a church's social media to get an idea of what the vibe at the service might be- or get in contact and see if they can arrange someone to meet you there.
Churches in Belfast are very friendly, and keen to make you feel at home even if you're just visiting.
The benefits of maintaining a support system
Being involved in church community while at university has been so beneficial for me- it gives me connections to people who will support you and pray for you in hard times as well as rejoicing in the good, as well as putting everything in perspective and reminding me what's important in life.
Even if you're not religious, church can be a great way to meet new people, explore what you believe for yourself when living away from home for the first time, or to simply feel like there's people out there in your corner. Many churches host student dinners or specific events for international students too, helping you to settle in.
With spirituality, whatever you end up discovering for yourself at university, I wish you the best of luck!
Find out more
Chaplains and Religious Representatives at Queen's
Watch more vlogs about Student Life at Queen's
Kathryn Allen

Medicine| Undergraduate Student | Lisburn, NI

I'm a 21 year old student originally from Lisburn and starting my fourth year of Medicine at Queen's in September- I love my degree because its combines caring for people, learning fascinating things and working as a team. When I'm not busy surviving placement and exams, you can find me in one of Belfast's great coffee shops with a friend, going to concerts to get my fix of live music, or curling up to read a book with a carefully curated Spotify playlist on in the background!