SWOT Fashion Show is Back and Better than Ever!
The annual charity fashion show put on by fourth year medics is a rite of passage for students at Queen's. Kathryn shares why she's loved taking part and how Queen's medics support the work of hospitals around the world.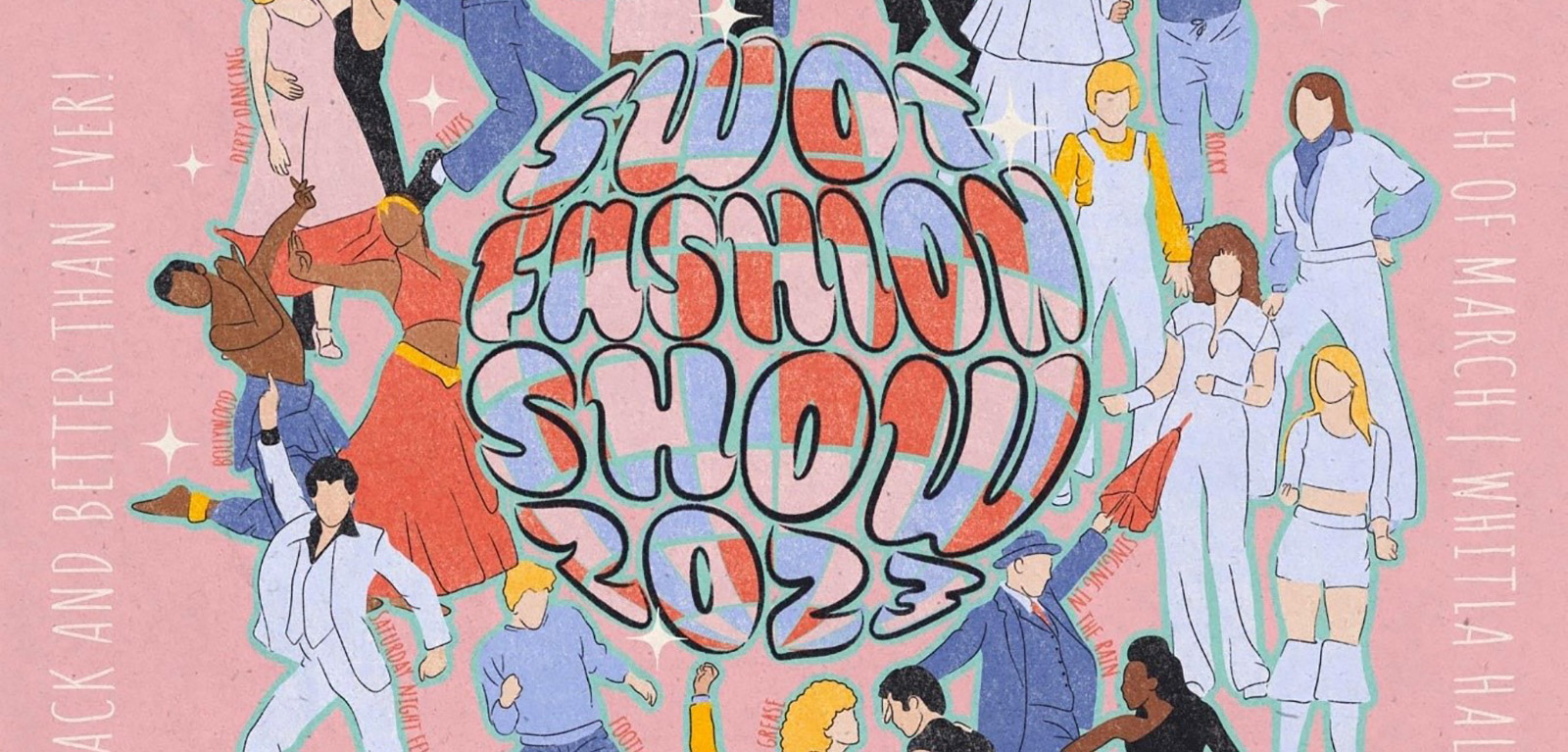 If you'd told me this time last year that I'd be spending most of my Sunday learning dance routines, I would've laughed in your face. However, I guess university is all about trying new things both inside and outside of your degree… and when rumours soon spread that the SWOT fashion show would be making its return after 3 years of cancellations due to the pandemic, my friends quickly convinced me to sign up.
I only became aware of the fashion show when I started studying in September 2019, but very quickly came to understand it was a Queen's institution- though understandably if you're not a medic, you may be unaware of the concept or the charity behind it.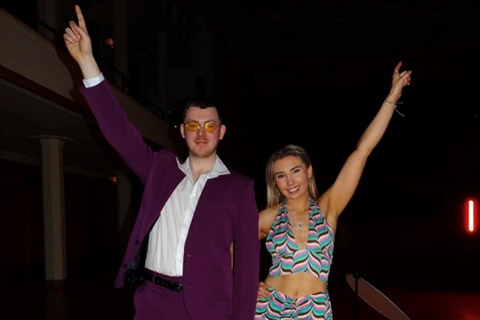 Shaping up to be a great show!
What's it all about?
SWOT stands for Students Working Overseas Trust, and has been a crucial way for Queen's medical students to support overseas hospitals with funds and supplies since its inception in 1984. The society began with its members running blood pressure clinics in shopping malls at the weekends, a key fundraising event that continues to this day- and then extended to other fundraising efforts such as running a relay in the Belfast city marathon, nights out- and perhaps most famously, the annual fashion show!
The name is a bit of a misnomer- while local companies do sponsor clothing worn throughout the performance, the real focus of the night is a series of dance numbers put on by the current fourth year medical students, interspersed with chances to find out more about the charity and the work it does.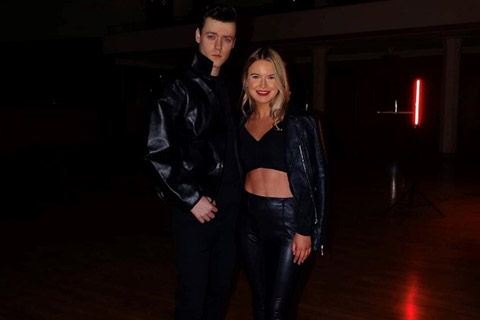 All dressed up for promo day!
What is the money raised used for?
Proceeds from the show are divided between the students involved who are doing their electives (the clinical placement before final year, which can be worldwide and in a variety of specialties) in third world countries. Students then work with the hospitals hosting them to determine what will be of the most benefit. In 2018, a huge £70,000 was raised, and used to fund a range of medical supplies from antibiotics to beds in countries across Asia, Africa and South America.
This is one of the parts of the fashion show that appealed to me the most when I was considering signing up- I am headed to a hospital in Ho Chi Min city, Vietnam for my own elective this summer, and am so grateful they've been willing to take a group of us on as students. To be able to offer them something in return and help to make a small difference to healthcare over there is a real privilege.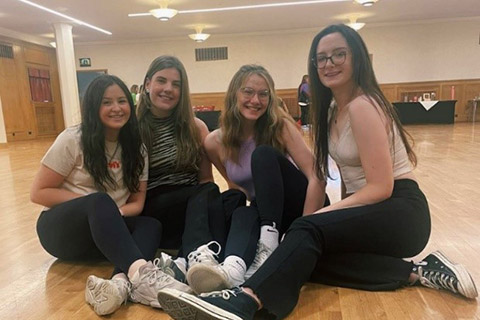 Kathryn and pals- happy to be making a difference!
Have you enjoyed taking part?
As this is the first year the show has returned, I wasn't sure what to expect from my own fashion show experience! But with 3 weeks to go until show time, I can confidently say it's surpassed my expectations.
At the beginning I seriously doubted if I would be able to learn routines, as co-ordination has never been my strong point- but through hours of rehearsals each Sunday and helping each other out along the way, I'm now putting the finishing touches on my 6 routines- including big opening and closing numbers to ABBA and Grease, respectively.
Our co-ordinators Kate and Ryan have been superstars in planning out dances and teaching them, sometimes to groups of 70 people at a time. The choreography has been a fun new challenge to figure out, and there is truly a feeling that we're all in it together!
The social aspect has been a major benefit too- by fourth year, students are scattered around Northern Ireland for placement, and rehearsals have provided a great opportunity to get together with friends from my course, and also make some new ones as we rehearse together. It's nice to cheer each other on when watching other dances rehearse, and to be able to laugh at ourselves while were in the 'learning' stages.
Any favourite moments?
Some of the best moments in the preparations so far include the first time we ran a rehearsal of the movie medley that finishes the show. We all gathered round to cheer each other on and finally get to see what other groups had been working on- this was a moment where it felt like we might have the beginnings of a great show on our hands!
My other highlight is the day we filmed the promo video- the Whitla Hall was transformed into a professional studio, and my classmates transformed into celebrity and movie icons as we filmed short segments of each dance. One of my favourite movies growing up was Footloose, and my friends and I got to film the promo section for that one- it's a line dance we've worked hard on learning from the movie. Getting dressed up in full country style and dancing our hearts out only made me more excited for the real thing.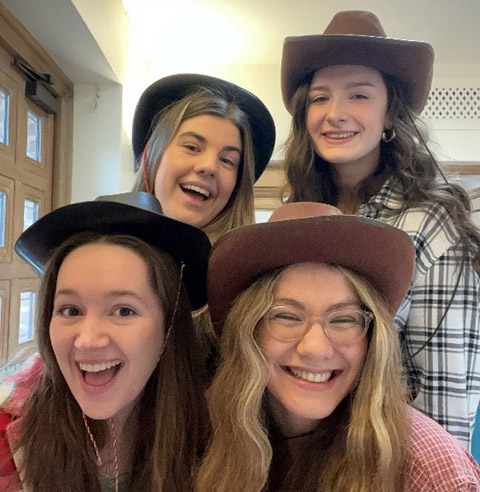 Cowgirls a plenty!
What can we look forward to at the show?
You can expect a lot of dancing to iconic songs and movies- I'm most excited to see the groups doing a medleys to Britney and Lady Gaga, they look excellent already, plenty of laughs, a staff dance, world dances by some other fabulous Queen's clubs and societies, a raffle, and also plenty of surprises! We're all super excited to perform, so the atmosphere should be great too.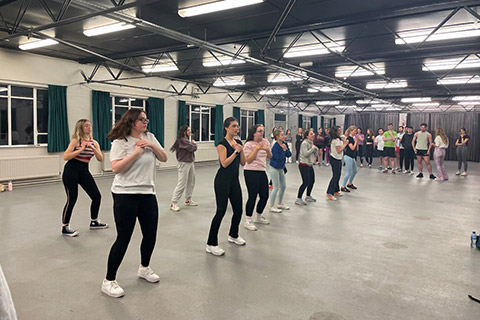 Practising in full swing each Sunday for a great show!
If you're currently a medical student at Queen's, I'd really recommend getting involved when the time comes for a great way to bond with your year and raise money for charity. More broadly, if you're looking for a fun night out of dancing, glitz and glam, everyone is invited to the Whitla Hall on March 6 Students Working Overseas Trust- it's all for a good cause and we promise a great show!
Tickets for the SWOT Fashion Show are on sale now.
Get tickets for the SWOT Fashion Show
Find out more
Students Working Overseas Trust
Kathryn Allen

Medicine| Undergraduate Student | Lisburn, NI

I'm a 21 year old student originally from Lisburn and starting my fourth year of Medicine at Queen's in September- I love my degree because its combines caring for people, learning fascinating things and working as a team. When I'm not busy surviving placement and exams, you can find me in one of Belfast's great coffee shops with a friend, going to concerts to get my fix of live music, or curling up to read a book with a carefully curated Spotify playlist on in the background!