An Illustrated Day in the Life of a Pharmacy Student at Queen's
South Korean student Seohyun Lee has created an illustrated day in her life as a Pharmacy student at Queen's. Take a look!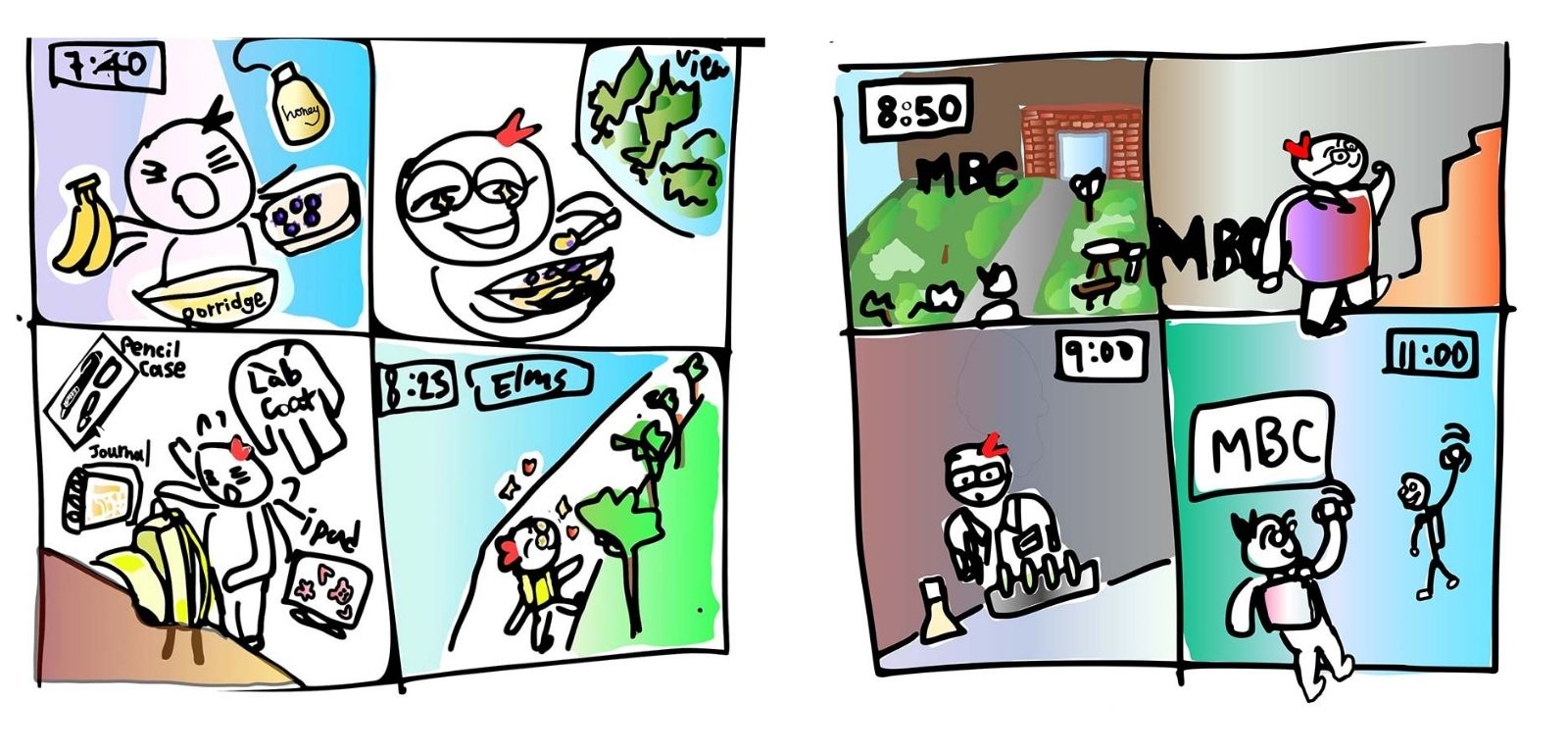 Good morning! ... (Alarm on snooze for 5 minutes) ...
(After several repeated alarms)
I really really have to get up now. Let's move, legs and feet. You got this!
Proper yawning is my morning exercise.
Fast forward to morning devotion time.


Sometimes, making breakfast feels like a war.
But I look forward to breakfast time; I sit down, look outside, and enjoy the food with all my senses.
It is wise to pack a backpack the night before, but to be honest, it hasn't always been the case for me!
The way to school from Queen's Elms village is so beautiful!
I truly enjoy taking pictures and videos of path and plants in Elms Village.

(MBC = Medical Biology Center). Arriving to campus before the lecture starts is a good habit,
I personally don't have that ideal habit but at least I always try!
The lab classes usually take place in the ground floor or the 1st floor - which is great.
It is important to bring the lab coats and be aware of the safety precautions when working in the lab
See you later!

What a blessing to have a botanical garden on the way to the library!
I'm touched by the natural beauty.
Exam Season can be difficult
After waking up: "It was too good to be true ... well, at least it wasn't a nightmare"
Almost home! ( In the meantime, buying a snack at Spar)
Almost home for a snack break.

Feeling strong with heavy groceries!
Stocking up the freezer - reduced price desserts are small but a certain happiness.
A very rare Korean dinner (rice, kimchi, potato side dish).
What happens after dinner varies but usually more studying and some break time then sleeping.
Find out more
Seohyun Lee

MPharm Pharmacy | Undergraduate Student | South Korea

I'm an international student from South Korea studying Pharmacy. I was drawn to Queen's because it's ranked highly in university rankings for Pharmacy, it's part of the Russell group, so I was ensured of the quality of teaching and research and its location and beautiful city campus. I like to read, sing and spend time with my loved ones in my free time.