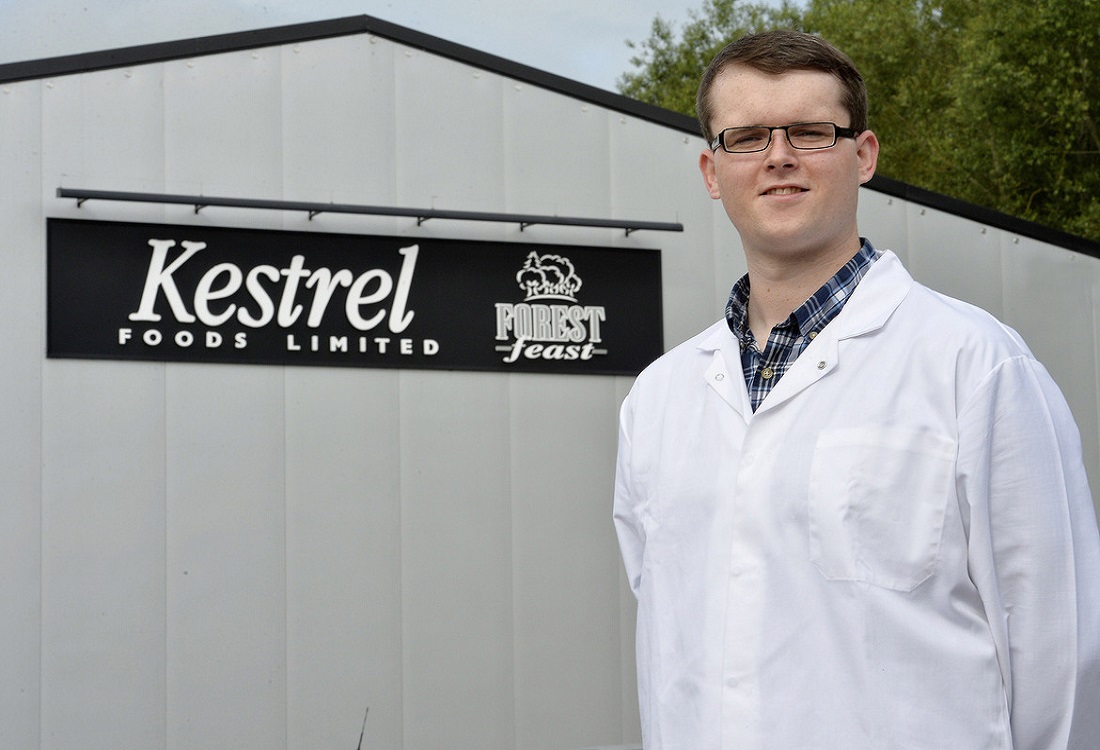 KTP: Kestrel Foods LTD - A New Venture Takes Wing
Project: To embed new expertise that will help this successful snack food packaging and production company branch out into processing.
Q: What's the history of the company and how did this project come about?
MICHAEL: We started in 1991 as a contract packing company. That eventually gave us the confidence to look at starting our own business manufacturing products and importing goods from abroad. In 1996 we registered Kestrel Foods and created the Forest Feast brand, importing products from all continents, mixing them and packing them and selling to supermarkets and food service chains, airlines and so on – very much a snack business with healthy, natural fruit and nut products. But as time went on we were asked more and more for processed products like salted peanuts, roasted salted cashews, honey roast and glazed products so it made sense for us to have a hard look at that and see if there was viability in putting together our own roasting plant.
"We wanted to increase the diversity and innovation of our products but we needed skills that we didn't have and when KTP was mentioned to me I knew it would fit with what we wanted to do."
DAVID:I saw this opportunity advertised and it was just right for me. Food KTPs are quite rare but my background has always been food, through the family firm, Welsh Lady Preserves, which makes jams and chutneys. My grandfather started showing me how the business worked when I was four and later my father relied on me to bring on new products every year. I went to the University of South Wales and got a biology degree which had a strong element of food science and technology but I already had knowledge about flavours and so on so I'm bringing my life experience as well as my academic experience to this role.
Q: What has David's arrival meant?
KAREN: David works closely with me and since he arrived at the end of 2014 he has opened up our thinking about what we're capable of. We've moved from packing and mixing to processing and manufacturing. There's a lot more technical experience involved and it's changed the whole atmosphere.
MICHAEL: We'd invested in a roasting machine but it was the other aspects, flavouring and coating and so on – the whole science – that we needed to know about. We learned things we hadn't expected to. For example, when you're packing raw product and putting it into bags, the wastage is 1%. But when you start to roast, the wastage can be as high as 9% through moisture loss. That has to be factored into the costings.
Q: There is joint academic supervision – Dr Brian Green at Queen's Institute for Global Food Security and Fiona Ferguson at the College of Agriculure, Food and Rural Enterprise (CAFRE). How does that work?
DAVID: It provides me with very rounded support - advice from CAFRE on product development queries, for example, while Queen's gives me access to the latest developments in research. That's tremendously important for me.
Q: Has it been a steep learning curve?
KAREN: Yes, for everybody and we're still learning and there'll be a lot more when we start putting new systems in place – a lot of new processes and staff retraining.
MICHAEL: It's opened our eyes to other things. We can use the equipment for other purposes, like brining and roasting and salting pistachios, which we haven't done before. The next part of David's journey will be to work with us to perfect that. And there are other possibilities – like chocolate and yoghurt-coated products further down the line.
DAVID: I don't have any experience of that at the moment but I'm delighted that Michael thinks I'm capable of doing it! As for the future, I really want to be involved in research and development. It's really exciting to see new products go from a prototype to being on the shelves and I'd love to be a part of that.
MICHAEL: We've all benefitted. This is an excellent way for any SME to look at the viability of something instead of leaping into spending money without having tested the water.