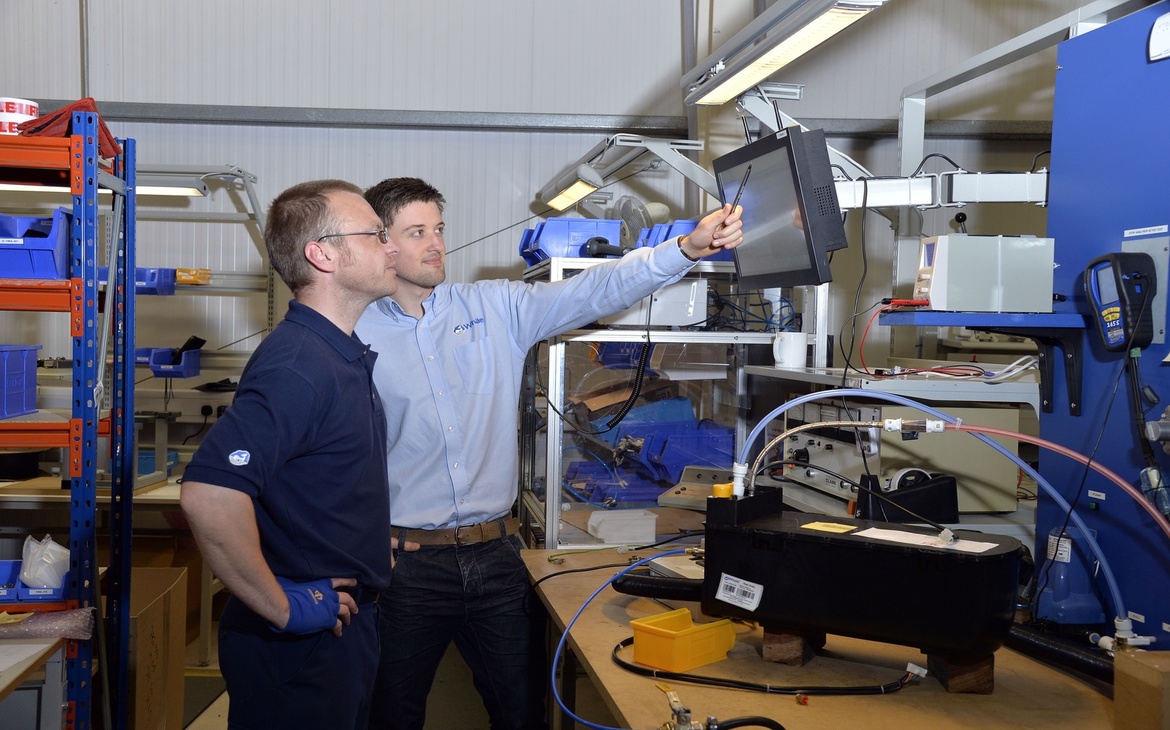 KTP: Munster Simms Engineering LTD -Turning Up The Heat On Product Development
Project: To set up an in-house electronics and software capability with future benefits for product development.
Q: Richard, you're a good example of the opportunities KTP can provide, having been a KTP Associate yourself.
RICHARD: I joined Munster Simms – Whale – in 2001 through what was then the Teaching Company Scheme but it changed its name to KTP during my two-year project. That project was very much about bringing analytical process and programmes into mechanical design and I stayed on when it was completed. As for this most recent project, as a company, Munster Simms has been involved in mechanical engineering for many years but we had outsourced all our electronic design – software and hardware. We were reliant on a number of outside companies and we didn't own particular IP, so this was about setting up a department that would be key to keeping our product going forward.
Q: And you didn't need any convincing about the merits of KTP to help you do that?
RICHARD: Not at all. It's a great way to get a toe in the water and see exactly how to get to where you want to go. It's also great at getting high calibre graduates and there was no shortage of candidates but we're very happy we got Peter.
"KTP is a great avenue through which to bring something new to the company."
Q: And what was so special about you, Peter?
PETER: Well, my education was well suited to the position. I have a mechanical engineering degree from Queen's but I also went to Bristol to do a Masters in computer science so I guess I was a unique applicant because I had the two degrees. At Munster Simms, a lot of the products are mechanical but I had the right background knowledge to develop the software systems for them. I was very lucky to be supported by Richard, who's been a great industrial supervisor, and Dr Kang Li at Queen's, who's been a very good academic supervisor. It's been constantly useful to have his insight and support. We went to Queen's for meetings and he came here and through time I was able to borrow Queen's equipment, which saved the company money. It's been an extremely supportive relationship.
Q: And the big success has been the new control board for a gas heater which has been developed in-house?
RICHARD: Over the last number of years we've had a lot of focus on our gas products, various kinds of heaters, but we didn't own the IP for the software and the hardware so it was critical to do something about that. As a result, through the KTP, we've had our biggest product launch for the last ten years.
Q: So how would you rate the success of the KTP?
RICHARD: Out of ten? Ten.
Q: And what's been the benefit for you, Peter?
PETER: Well, I've been privileged to have been given the position of Electronics and Software Manager. KTP gives you a unique opportunity to have close interaction with people high up in the company. You get noticed that way and I valued being able to present to Richard and other directors. It's been fast-paced since day one but that's stimulating and exciting and it's wonderful seeing products that you've put so much effort into going out to customers.
RICHARD: One of the big things about KTP is that it develops future managers. It certainly helped me that way and now it's helping Peter. The establishment of Peter's department is a massive change. We're moving in different times. A number of the projects which have come out of Peter's involvement – we couldn't have originated them eight years ago. It means we can bring products forward quicker, we can add more functionality and be in control of our own development.