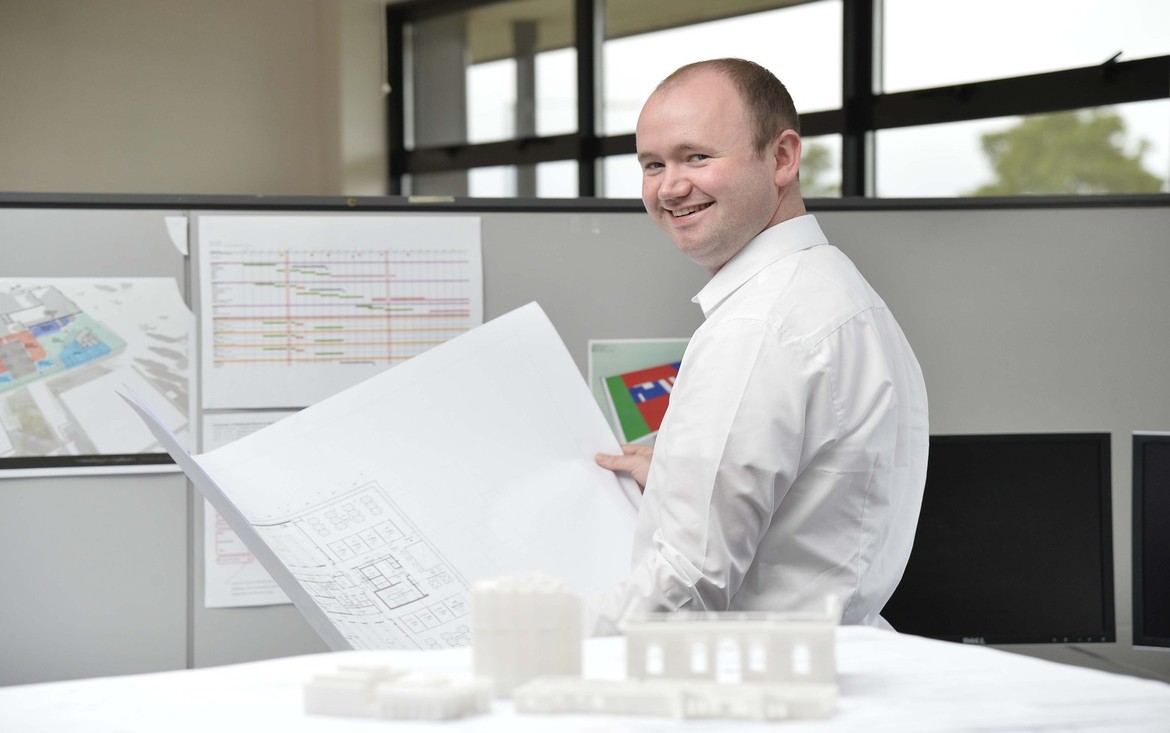 KTP: Ostick and Williams LTD - Market Leader in BIM Design
Project: To deliver innovation and strategic growth through the development of Building Information Modelling Systems (BIM).
Q: When did you recognise the need for new skills in the company?
KEN: Three years ago the Cabinet Office declared that by 2016 all publicly-procured projects would have to be delivered by BIM to Level 2. We wanted to be at the forefront of that change. We were still in recession then but we would be coming out of it at some point and we felt it was the right time to invest time and effort and focus on this.
Q: How did you decide to go down the KTP route?
KEN: We'd been in discussion with Queen's academics at the School of Planning, Architecture and Civil Engineering about joint research projects. As those conversations went on...
"...we realised that KTP was a great way to form the relationships between the practice and academia that we were looking for but we could also use the skills within the University in terms of new ways of working."
MARK:I'd just completed my Masters at Queen's and then worked for a year teaching BIM-related software. That placed me ideally when this position came up. I was also very keen to get back into architecture. That's where my passion was and is. I also found that the skillset I'd started to develop was exactly what Osticks were looking for. When I came here I enjoyed the fact that I could make an impact by combining what I'd been learning about the technology with the experience that Osticks has.
Q: Ken, what did Mark bring to the table?
KEN: Mark and KTP brought a focus and allowed us to transform how we're working in a way that we wouldn't have been able to do by ourselves. We're all busy doing our day jobs in an increasingly competitive market. By bringing Mark alongside, we've seamlessly been able to transform the way we practise architecture through training, new processes, new ways of marketing what we do. Mark made an immediate impact which has meant we've always been ahead of our projected outcomes.
Q: Who were the supervisors on the project?
MARK: Graham Booth, the Head of IT, was the Industrial Supervisor and Dr. John Spillane was the Academic Supervisor from Queen's. He's unique because he's spent a lot of his career in industry as a project manager so he brought a strong emphasis on practicalities, not just theory.
KEN: That's an important point. He got it – what we were trying to achieve. He was able to bridge the divide between academia and practice and that was a key element which made the whole process easy and enjoyable for us.
Q: And what have you gained?
KEN: We were shortlisted in the Royal Institute of Chartered Surveyors BIM Awards this year. We were in the last four in the UK and our competitors were all much bigger. We've transformed the way we work, getting us to a place where we're seen as leaders in the discipline and that makes it easier to talk to clients about what we can offer by way of an innovative approach. It helps us win new work. Again, coming out of recession, we've shaped the practice and given it energy and direction and that's been really good for the staff.
MARK: One of the biggest things for me as a recent graduate is that I'm not just a number. I wanted to be in a position where I was contributing and being relied upon and KTP has brought me there quicker than going through the process of looking for a job, earning your stripes and working your way up. I'm now BIM Manager.
KEN: Queen's KTP Office is very well organised and was a great help in so many ways, giving us a structure in how to go forward. We're now involved in another KTP and that's the result of the encouragement, the incentive and the confidence which this project gave us. We've also established a range of contacts at Queen's and that's very important for the future.