KTP at Queen's have been shortlisted for 'Graduate Programme of the Year' at the GradIreland Awards
KTP at Queen's are delighted to announce that we have been shortlisted in the 'Graduate Programme of the Year' category at the GradIreland Recruitment Awards 2020, the largest early careers recruitment awards in Ireland.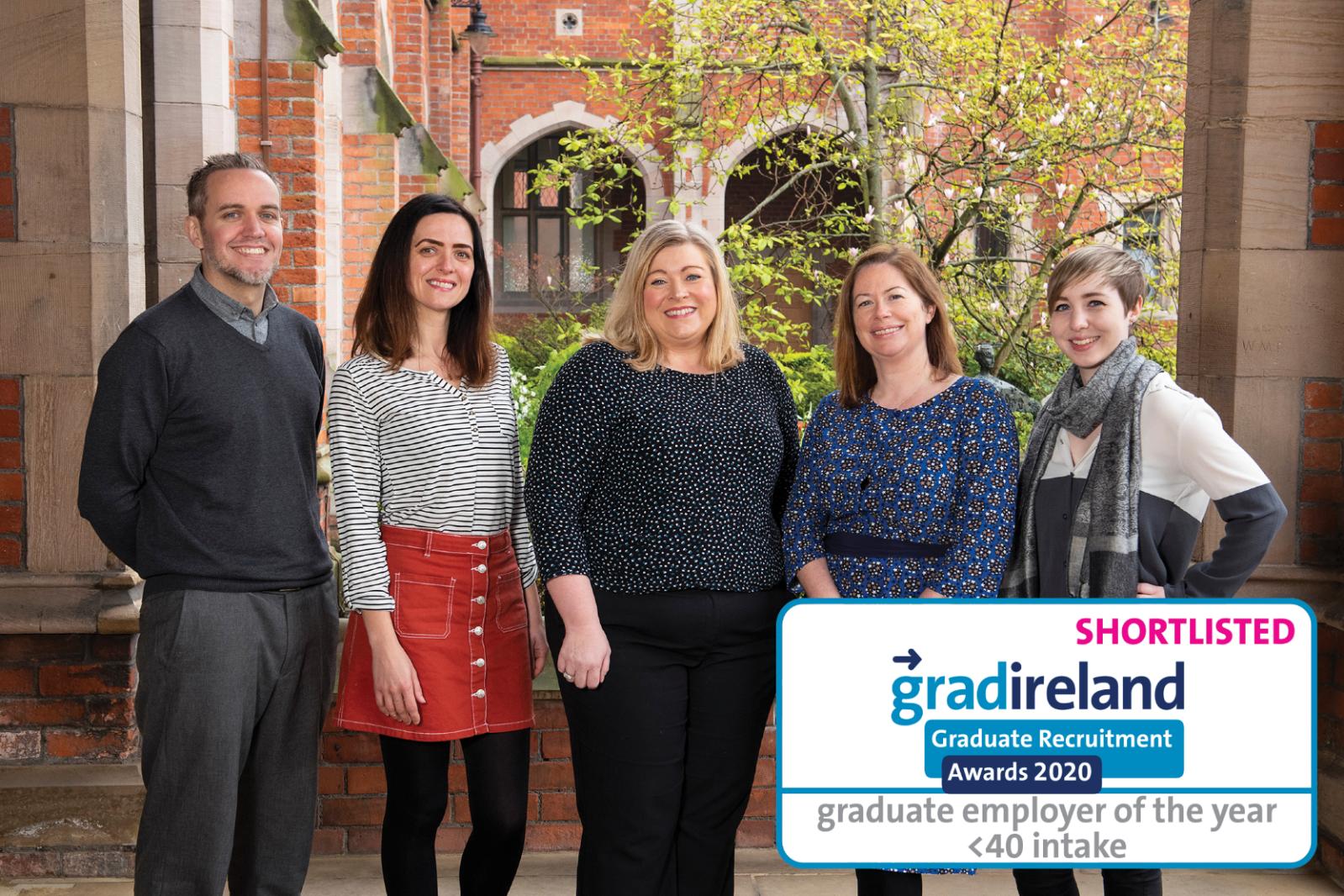 The awards ceremony which is due to take place in August at the Mansion House in Dublin recognise excellence and innovation in graduate recruitment. The awards are adjudicated by an expert panel of judges as well as the votes of over 13,000 undergraduates throughout Ireland.
Attended by over 550 government and business leaders, graduate employers, career professionals and many more major stakeholders within the graduate recruitment industry, it is sure to be a great evening of celebrations.
The core purpose of KTP at Queen's graduate programme is to transfer research knowledge and expertise out of Queen's University Belfast, and to embed it within a business. Knowledge Transfer Partnerships establish relationships that facilitate the transfer of knowledge, technology and skills, (to which the business partner would otherwise have no access) for the ultimate benefit of the company.
We work with businesses to identify their knowledge gaps, find them an academic researcher who has the right expertise and assist in recruiting a suitably qualified graduate, known as the KTP Associate, to bridge the gap between business and academia. Our graduate programme has been the foundation of many key relationships with industry and in many cases it been the catalyst for strategically important collaborative activity that otherwise would not exist.
The KTP programme offers high quality, fully salaried graduate jobs normally on a 2 year contract. Each graduate (KTP Associate) has 10% of time allocated to training and development activity in addition to a £8,500 dedicated budget to support this. All KTP Associates attend two, one week residential training modules that deliver the skills and knowledge required to be successful in their KTP project. Coaching on core project and people management skills that enable them to become industry leaders of the future are delivered within the training programme.
"We are always looking for ways in which we can add value not just to the project for the company benefit, but for the graduates themselves. In Queen's we offer opportunities for graduates to network together, sharing best practice and developing their knowledge of other sectors including social media, presentation skills and understanding intellectual property" commented Lorraine Marks, Head of KTP and Business Engagement at Queen's University Belfast.
This dynamic 3-way-partnership between a graduate, a company and an academic is beneficial for all parties involved and provides great career prospects for the recently qualified graduate who is given the opportunity to assist in leading a real life project within industry, in their relevant discipline.
Well done and good luck to all those who were nominated and shortlisted.
If you would like to speak to a member of our team about KTP funding, and how it could transform your business then please contact us at ktp@qub.ac.uk.