KTP at Queen's win four awards at the KTP Best of the Best Awards 2020
The Knowledge Transfer Team (KTP) team at Queen's are absolutely delighted to have scooped up four awards across two categories ('Engineering Excellence' and 'Future Innovator') at the KTP Best of the Best Awards 2020.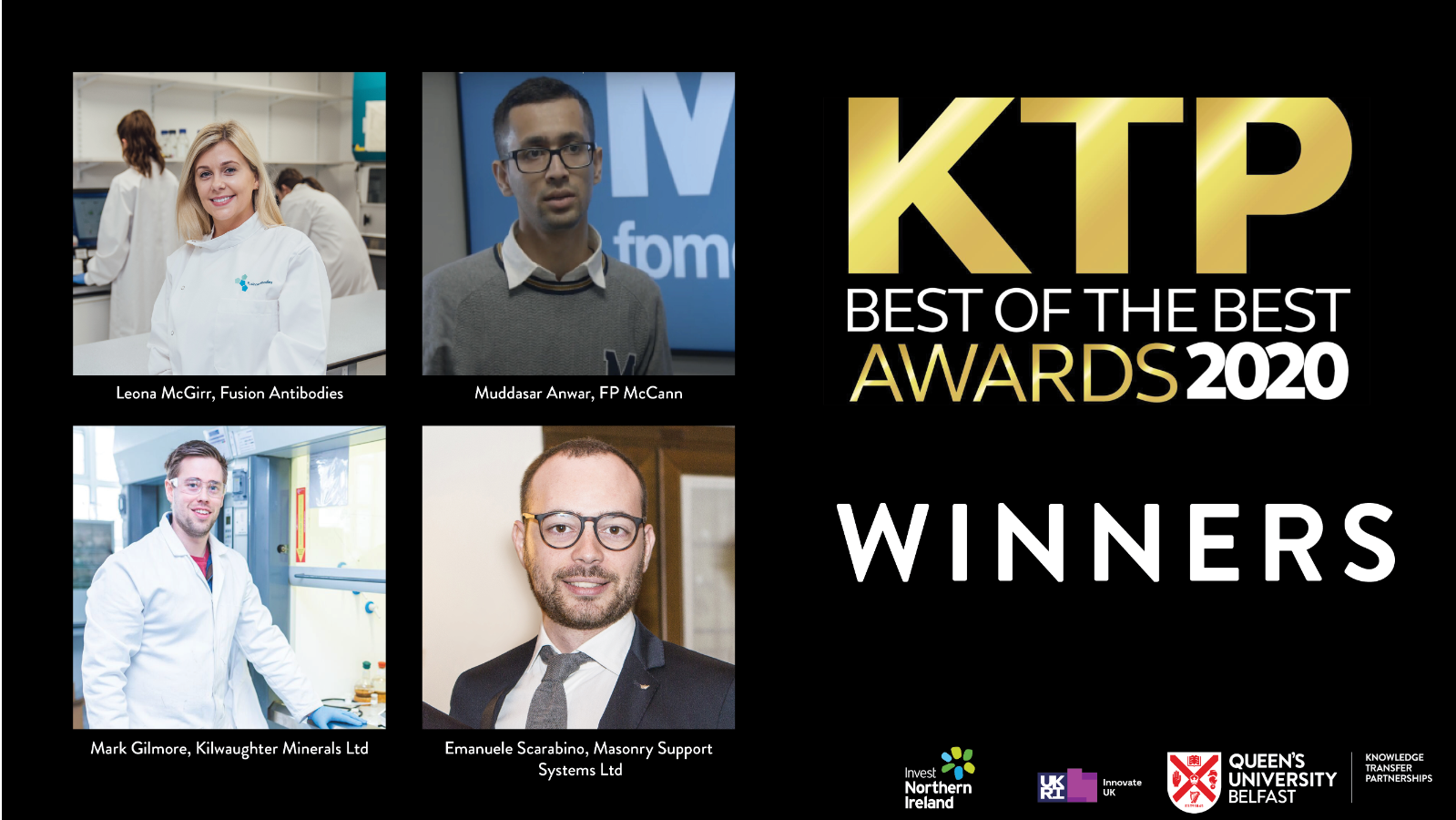 The winners of the annual KTP Best of the Best Awards were announced yesterday, 9th September 2020. As the Knowledge Transfer Network (KTN) adapted to the changing environment influenced by Covid-19, this year's awards were hosted virtually, albeit as interactive as ever.
Hosted by the KTN's highly experienced Senior Knowledge Transfer Adviser, Fiona Nightingale and featuring talks by Innovate UK Interim Executive Chair, Dr Ian Campbell and KTN's Chief Executive Officer, Dr Alicia Greated, the highly interactive awards saw winners take the virtual stage within an auditorium filled with peers and colleagues across the animated KTP community, and included some great celebratory dance moves and cheers throughout the ceremony. It was certainly a great celebration of the extraordinary transformation that KTP collaborations can deliver.
Lorraine Marks, Head of KTP and Business Engagement Programmes at Queen's commented,
"Queen's University Belfast is a leader in KTP development and delivery, working with over 400 companies, the majority of which are SMEs.
"Our dedicated KTP team always goes the extra mile to serve and support our company partners, academic researchers and the KTP Associates. We are proud and delighted to have our Partnerships recognised at the KTP Best of the Best Awards 2020."
Winner of the Engineering Excellence category
The 'Engineering Excellence' category celebrates the engineering ingenuity achieved through KTP collaboration and is always hotly contested.
Emanuele Scarabino, Masonry Support Systems Ltd
With tough competition, the KTP team at Queen's are thrilled that this award was presented to Emanuele Scarabino of Masonry Support Systems by Senior Knowledge Transfer Advisor, Gerry Black. Emanuele, in collaboration with Dr. Daniel McPolin from Queen's School of Natural and Built Environment has helped create a bespoke mathematical model to deliver 9,000 man hours in just 60 seconds, and eliminates all human error… innovation, at its finest.
This incredible accuracy pushed the project beyond any expectations set out in the original plan; the ability to predict physical behaviour with such precision has transformed product design with material savings and remarkable improvements in efficiency for Masonry Support Systems.
Winners of the Future Innovator category
With an incredible number of strong nominations in the 'Future Innovator' category this year, the KTP Team at Queen's were excited to have three fantastic Associates win the status. A Future Innovator is awarded for outstanding performance by a KTP Associate and the enormous positive changes they have created within their industry.
Leona McGirr, Fusion Antibodies
Leona began her KTP journey with Fusion Antibodies and in collaboration with Professor. Christopher Scott from The Patrick G Johnston Centre for Cancer Research at Queen's, Leona led the KTP project, supporting the company's service offering in antibody engineering; transforming capabilities and competitiveness in the antibody discovery space and helping biotechnology and pharmaceutical organisations speed up the development of the best antibodies possible, which has been highlighted as a result of Covid-19.
Leona created, and now leads a major new R&D project (Rapid Antibody Maturation Programme (RAMP) within the company following her ability to anticipate the market needs which led to a highly desirable product with very positive sales. Leona's creation of the affinity maturation platform developed through this KTP rivals the industry's current standard process.
Mark Gilmore, Kilwaughter Minerals Ltd
Mark's KTP project is with Kilwaughter Minerals, who in collaboration with Professor. Steven Bell and Professor. Peter Nockemann from Queen's School of Chemistry and Chemical Engineering seeked to develop an ionic liquid that is more environmentally friendly, with superior water repellent quality for incorporation into a coating for exterior paint. Mark was able to look beyond the development of just one liquid, but a new class of ionic liquids which not only can be used as a masonry coating, but also have the potential to be transferred into other industries. These developments have far exceeded the scope of the project and Mark has started taking steps to patent this technology for the company.
The methodology created as a result of this KTP project is now used as a benchmark for new product design within Kilwaughter.
Muddasar Anwar, FP McCann
Muddasar's KTP project with FP McCann, in collaboration with Professor. Gerard Hamill and Dr. Desmond Robinson from Queen's School of Natural and Built Environment is to develop an understanding of complex flow systems coupled with discrete particle tracking. Muddasar has been working on embedding this understanding across the company's design sections, while simultaneously developing and establishing an advanced hydrodynamic separator. This state-of-the-art product – now at prototype stage – will remove gross pollutants before it enters nearby water courses, otherwise causing significant environmental damage and the subsequent detrimental impacts to the society.
Muddasar's leadership has delivered greater manufacturing efficiencies and ultimately a more cost-effective product for the market such as stock management, transport and production planning. FP McCann has invested heavily in a state of the art research facility specifically to enable Muddasar to continue this work, and he will lead a team dedicated to solving the most critical issues in this industry.
Congratulating the winners, Dr Vicky Kell, Invest NI's Director of Innovation, Research & Development said:
"The KTP Programme is an integral part of Northern Ireland's business ecosystem with over 650 NI companies already participating in the Programme with Queen's University, Ulster University, the Further Education Colleges and CAFRE. The Programme is invaluable to industry, graduates and institutions.
"Northern Ireland is outperforming other regions in the UK in the delivery of KTP, so it is no surprise that five Northern Ireland companies have won awards at this year's national KTP awards. I would like to extend my congratulations to all the winners. We are proud to be a co-funder of KTP and look forward to being involved in its continued evolution in the coming years."
We would like to thank all the funders involved in making this hugely successful virtual awards ceremony possible,and congratulate the winners and nominees of each category- a true indication of how great collaborations can grow business and open new opportunities through innovation within industry.
Do you have an idea for an innovation or management project that could benefit from a collaborative partnership with a specialist academic team in a University or Business school? If so, a KTP or Management KTP might be right for you. Contact Lorraine Marks, Head of KTP at Queen's at l.marks@qub.ac.uk