Moving to Northern Ireland
Did you know that Queen's University is only a one hour flight away from most cities in England, Scotland and Wales?
In fact, Belfast has excellent travel connections, with two airports flying to 74 destinations as well as 99 ferry sailings per week.
For transfers to the University from airports, Belfast City Airport is only a 10-minute bus journey costing less than £2. From Belfast International Airport, it's a 40-minute bus costing just over £5.
So, how much does travel really cost?
The cost of getting to Queen's University is typically cheaper and quicker than travelling to other universities in England, Scotland or Wales.
Blog: Travelling to Belfast versus travelling to other UK uni cities

Check out the table to see the average costs of getting to university from across Great Britain:
* (Source: Google Flights, thetrainline.com)
| Destination | Travel Cost* | Time |
| --- | --- | --- |
| Getting to Queen's University Belfast | Flight: £45 (Newcastle to Belfast return £45, London to Belfast return £40) | 45mins- 1hour |
| Getting to a Scottish University | Train: £75-£161 (Newcastle to Glasgow £75.30, London to Glasgow £161) | 3-6 hours |
| Getting to a London University | Train: £90-£100 (Newcastle to London £90.10, Mancheser to London £100.50) | 3-6 hours |
| Getting to a North East University | Train: £84-£90 (London to Newcastle £90.10, Manchester to Newcastle £84.20) | 3-6 hours |
| Getting to a North West University | Train: £90-£100 (London to Manchester £100.50, Glasgow to Manchester £90.60) | 2-4 hours |

"After researching Queen's and watching videos of other students' experiences and accommodation options, I knew Queen's was the right place for me. I saw this as an opportunity to discover a new city which I'd never visited and a chance for me to grow as a person, as I would not be as close to home."Francesca D'Souza
Watford, England
Make the most of your GB Scholarship
"When I was busy making my uni decisions I can remember how confusing it felt," said Peter Moore, who studied for a BA in English and Linguistics.
"Queen's really stands out amongst scholarships at other universities."
If you qualify for the GB Scholarship 2023
The University will pay £2,500 towards Queen's Accommodation (or alternative contracted provider) in your first year of study.

You will also receive a sum of

£500

in your first year of study to support flights and costs associated with moving to Belfast.
With the extra money you save, there are some amazing things you could put the money towards.
Find out more about the GB Scholarship
"Queen's accommodation has a Residential Life Team who are always available to have a chat or give you help should you need it. If you spend time at the coffee bar and at events, they truly become your friends. They also run trips to other parts of Northern Ireland at the weekend, which are a great way to make new friends."Grace Williams
England
Settling in at Queen's University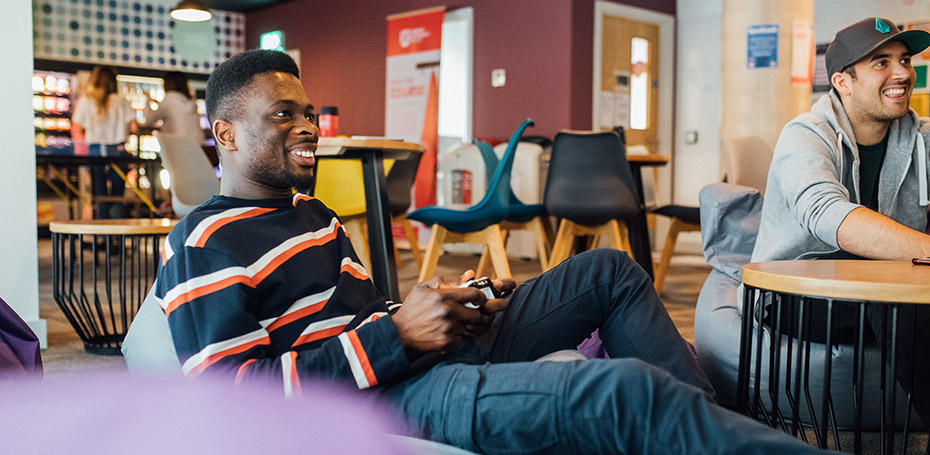 GB students are guaranteed university accommodation in first year and our Residential Life Team are able to offer support if you feel lonely or homesick.
They also organise regular socials and trips throughout each semester. These range from events like Disney karaoke to trips to ice hockey matches, IKEA, games nights and movie nights.
Blog: Guide to Getting to Belfast from GB
Blog: GB Students Guide to Living in NI
Blog: What it's really like arriving in Belfast as a GB student
Blog: What's It Like To Live in Queen's Accommodation?

Blog: 21 events and activities in Queen's halls that'll make you want to move in immediately
Find out more about Queen's Accommodation
Student starter pack
We know it's tempting, but don't go packing everything but the kitchen sink! When you arrive at the accommodation, you can buy a kitchen and bedding pack with all the things you need to get started. Here's what's included:
| | | |
| --- | --- | --- |
| Kitchen Pack | £35.00 | 1 White Ceramic Plate, 1 White Ceramic Bowl, 1 White Ceramic Bowl, 1 White Ceramic Mug, 1 Glass, 1 Table Knife (18+ only), 1 Table Fork, 1 Spoon, 1 Tea Spoon, 1 Medium Saucepan & Lid, 1 Frying Pan, 1 Utensil Set, 1 Can Opener, 1 Vegetable Knife (18+ Only), 1 Oven Tray, 1 Tea Towel. |
| Bedding Pack | £30.00- £40.00 (Depending on Bed Size) | 2 Pillows, 2 Pillow Covers, 1 Duvet, 1 Duvet Cover, 1 Sheet, 1 Mattress Protector. |
Book a personalised tour of Queen's
Seeing is believing, and we think you'll be convinced once you experience our stunning campus for yourself. If you're thinking of applying to Queen's, why not book a Campus Tour? You can request a bespoke tour that will introduce you to the people and places you'll interact with on your chosen course.
Take a 360 degree Virtual Tour of Queen's
Blog: 13 experiences that prove Belfast is the UK's hidden gem
Blog: New to Northern Ireland? Here are five great day trip ideas
Blog: 6 reasons why student life in Belfast is more affordable than other UK cities