Developing technologies to meet the PPE demand
Researchers at Queens have been coordinating their efforts to develop technologies to help meet the demand for Personal Protective Equipment (PPE).
---
Dr Eneko Larrañeta, Dr Juan Dominguez-Robles and Dr Dimitrios Lamprou from the School of Pharmacy have designed protective shield masks that can be produced using a 3D printer, while Professor Brian Falzon from the School of Mechanical and Aerospace Engineering is using laser cutting technology to produce the equipment in high volumes.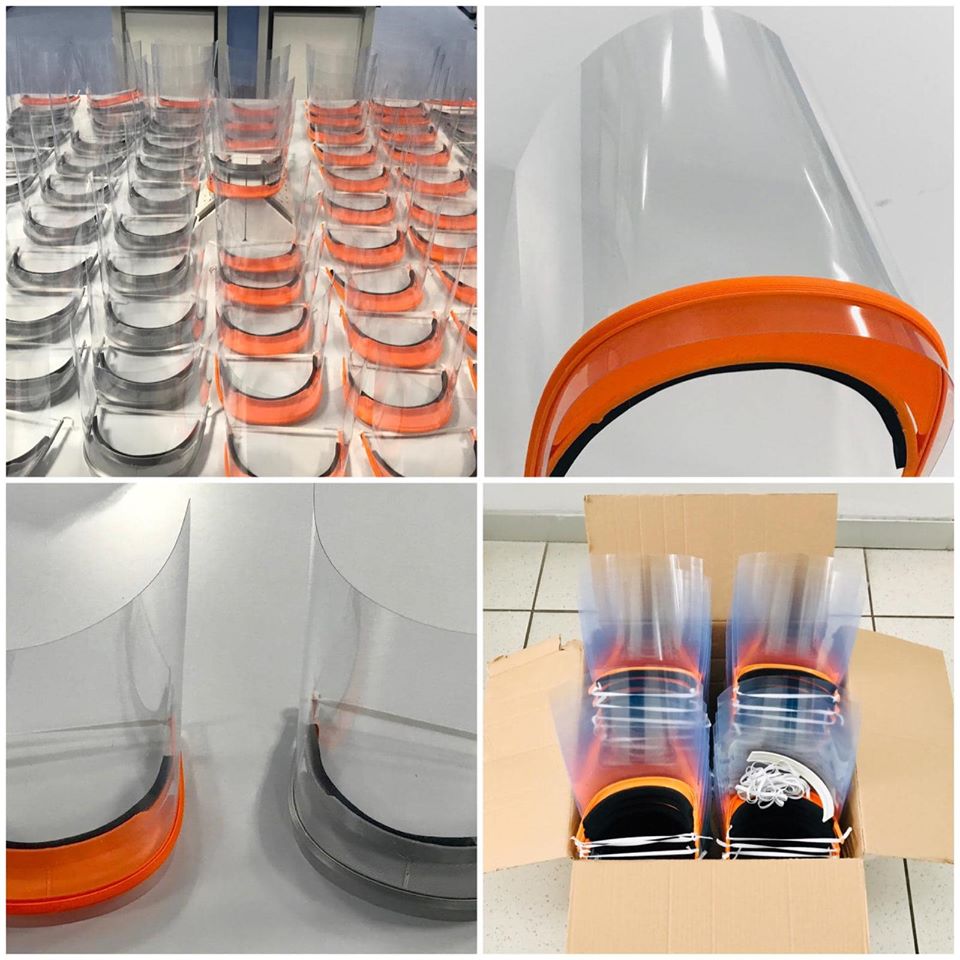 The 3D printer is normally used to manufacture a range of drug delivery systems and medical devices including catheters, microneedles and tablets. The experts have modified designs developed by a group of Spanish engineers, in order to help meet the demands of the healthcare staff across the Belfast Trust in supporting patients with COVID-19.
Dr Dimitrios Lamprou said:
"Everyone is thinking how they can help in this crisis situation. I've worked with 3D printers to produce a number of pharmaceutical devices to help patients, so together with my colleagues we decided to work on the prototype already developed in Spain to produce a mask that would work for healthcare staff here. "The masks can be produced relatively low-cost and we are providing these as a donation to the NHS in these crucial times."
Colleagues from the Sonic Arts Research Centre at Queen's have also been helping with 3D printing of face shields for use in local hospitals.
The team in the School of Pharmacy has also 3D printed over 600 door openers. These can be used for safely opening doors, as well as using keypads, elevator buttons, light switches and so much more. They are currently being used by hospital staff from Community Addictions Team, St Luke's Hospital, Armagh.

Laser cutting technology for rapid manufacture of face shields to meet NHS demand
Professor Falzon is pursuing high-volume production of face shields using laser cutting technology of polymer sheeting.
He has designed a new mask using laser cutting technology that can make 300 a day per laser cutter and can be easily assembled once the parts have been cut out.
Professor Falzon said:
"Simplicity is at the heart of these designs for ease of manufacture and assembly. We have the capacity to produce up to 300 per day per laser cutter and we have a number of laser cutters within the Faculty of Mechanical and Aerospace Engineering."
This video shows how Professor Falzon produces the masks using the laser cutting technology.
How to get involved
The team will continue to produce the face shields and ask that others with 3D printers do the same in order to increase supplies. If you have access to a 3D printer or laser cutter and would like to provide PPE to vulnerable workers in Northern Ireland, the printing and assembly instructions are available here.
We are coordinating the distribution of this PPE to NHS staff with the Belfast Trust. Please contact us using the email address at the bottom of the page to arrange the distribution of any PPE you have printed.
If you are an at-risk worker in Northern Ireland and would like to enquire about accessing our PPE, please contact us using the email address below.
Email covid19response@qub.ac.uk for more information.