What's key to Campus Life in Lockdown? Staying Connected
Conor Mullan at The Graduate School has had to find new ways of staying in touch with students. For him, it's all about recreating day-to-day life online.
Conor is a receptionist and a well-known go-to at The Graduate School, Queen's dedicated hub for Postgraduate students.


Conor (top right) on a call with Postgraduate students. Katie Goldsmith on the left, studying MA International Relations, Anna DeWitt on the bottom right is studying Conflict - Transformation and Social Justice.
He has continued his job as a point of information for postgraduate students from his home. It's similar work but with a virtual twist.
"Whenever we found out this (Covid-19) was happening, we knew a lot of students really wanted to talk about their concerns, so we were able to get a mobile and redirect the phone line to it. It's a 'virtual reception' and I now take a steady stream of calls every day."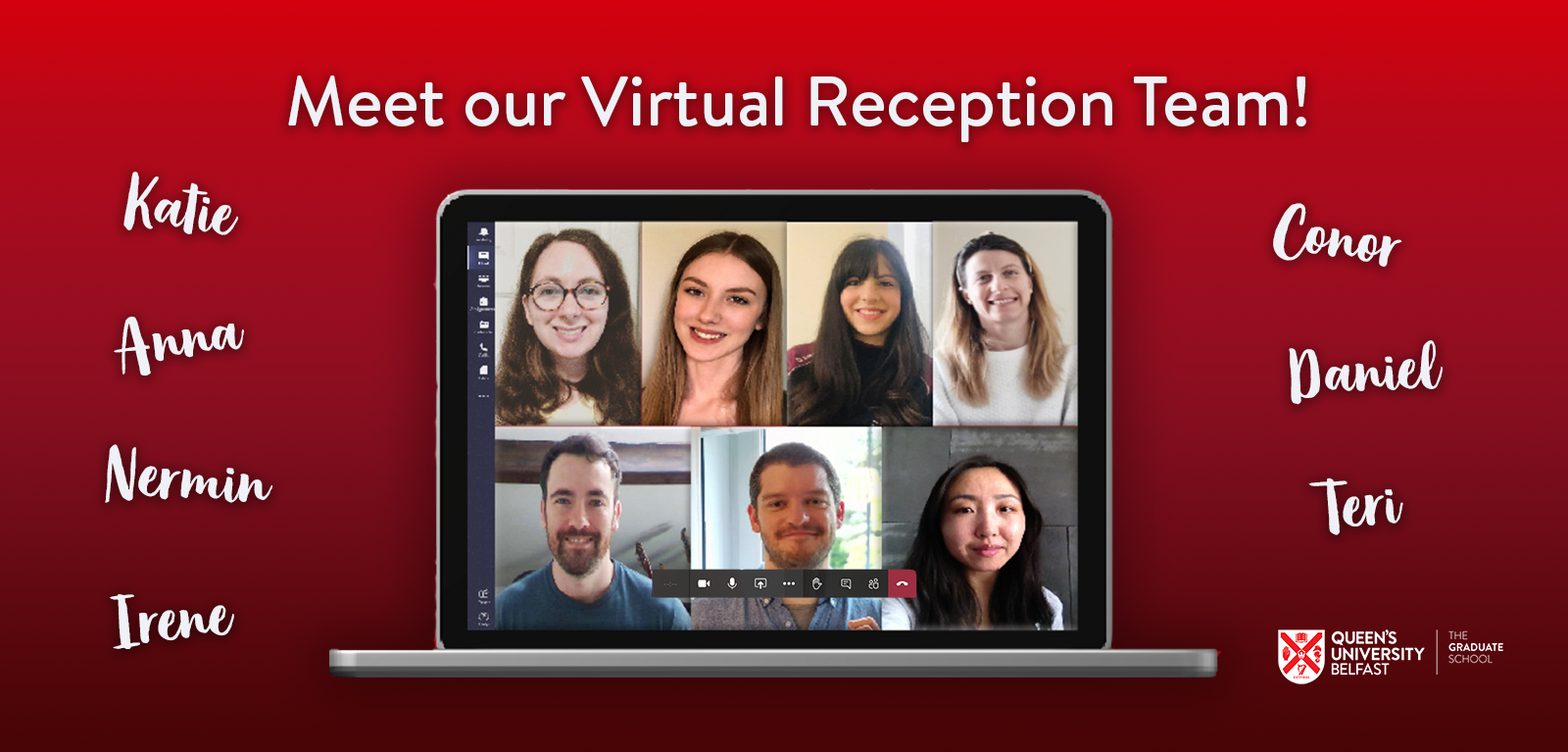 Face-to-face calling means being connected and working together
The 'virtual reception' service is where students come to ask for help, for queries about funding to lab work and everything in between.
"Firstly, it's always good to be able to actually see someone and vice versa!"
"For me as a staff member, the best interactions are when people come to the desk. So, we're trying to recreate the sort of support you'd get on a normal day-to-day basis at The Graduate School.
"Students now email us and request MS Teams meetings. We're offering this for all PG students who have queries. "For students who are perhaps worried about how they are coping, we're encouraging them to get on a Teams call.

He's working with Community Assistants on Graduate School programmes
"I supervise a small team of six part-time PGT and PGR students, domestic and international. It's been tough on them, as some live on their own. I make sure to stay in regular contact to make sure they are well. I have team meetings every week to keep them involved with The Graduate School through projects. Even in Sharepoint or Datapoint, it helps keep us all going.
"More importantly, they are helping us create our Summer Programme and Virtual Well-being programme. These ideas came out of our team meetings. They can see the gaps we can't. So, everyone's involved and staying involved."
While a successful blog is helping boost interactions
"It all helps when studying and working from home. One of our community assistants did a book review of a sleep Guide called "Why We Sleep", by Matthew Walker. Two of them run a book club, so it came out of that. You also get a chance to win a copy!"
Having the right answers keeps everyone positive
"Current students have a lot of questions: about research funding; taking a leave of absence. Some are struggling without lab work or access to labs and the library. There's a lot of worry about these things. We update our frequently asked questions page and provide advice, directly and put them on the right path.
"I get a lot of calls from worried students. They are very concerned about falling behind or wasting their funding.
"I've developed a relationship with many of them, who come to me for advice. I put them in touch with the right people."
Sometimes a simple chat is all that's needed
"PhD students are finding it tough. Scheduled landmarks in their studies, like Vivas or annual progress reviews are causing concerns. There are now a few different regulations round this. It's a lot of change for them. However, lots of them are stepping up to the plate.
"Stephen, a 1st year PhD student, emailed me over concerns about his lab work. He was finding it tough, trying figure out how to get books, online journals. I was able get onto MS Teams with him, guide him on connecting with his School directly and get what he needed."

Learning a Language is free lockdown learning
"Some students have actually been language lessons to staff in the Graduate School! There's a staff community event to keep everyone connected. We've just completed a course of Italian lessons – the next instalment is German!" It's our own free Lockdown Language Learning.
Generating new ideas keeps everyone involved
"There's lots in the pipeline. Especially a Virtual Summer Programme in The Graduate School, focussed on ." This includes embedding wellness programmes, as this is of very high importance at the moment.
Stay in touch with the Graduate School
If you are a current or prospective postgraduate student, with any concerns check our Advice page, call our Virtual Reception. The Graduate School Weekly update has information on our Virtual Programme.
We're celebrating acts of kindness in our postgraduate community across our social media channels.
Follow us to stay connected:
Website: https://www.qub.ac.uk/graduate-school/
Facebook: Twitter: @qubgradschool
Instagram: @qubgradschool