Higginson Leadership Award - Previous Winners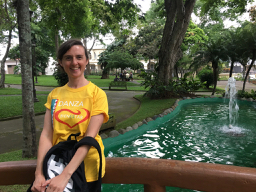 2019 Higginson Leadership Award
Recipient: Dr Paula Guzzanti
Now a Lecturer in Dance Studies at the University of Malta, Paula spent five weeks in Costa Rica working with women fleeing the conflict in neighbouring Nicaragua. The objective of the trip was to deliver psycho-social support for refugees through a dance for wellbeing programme, which was provided alongside food, shelter, medical assistance and clothing as an integral part of a humanitarian aid effort.
The ongoing political turmoil in Nicaragua impacted directly on each refugee's daily life. Many of them were involved in social activism, and their own health was last in their list of priorities. The dance workshops played an important role in making people feel they had a safe place. As participants learnt to relax using mindful movement, they started to experience new ways of thinking about their situation.
The project led Paula to expand her practice as an artist and educator. It was a reaffirmation of the powerful tools available via dance and mindfulness for supporting communities suffering from the loss and pain caused by violence.
"The members of the Higginson Trust were receptive to my ideas and awarded me £2,500 for carrying out my proposed plan. My Higginson award has played a very important part in taking me to my next stage in my career."
Paula Guzzanti, 2019 Higginson Leadership Award recipient
Hannah spent four weeks travelling to rural communities in Zambia to deliver and disseminate a life-saving device.