Personal Development Planning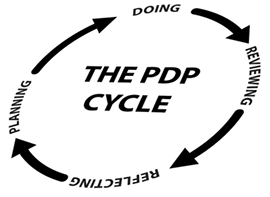 What is PDP?
The term PDP stands for Personal Development Planning. The process is similar to the practices of Workplace Appraisal and Continuing Professional Development (CPD) that most Queen's graduates will become familiar with when they enter full-time employment. At regular intervals throughout their course, students are encouraged to develop their academic, career and personal/professional skills by:
Developing self-awareness of their personal strengths and areas for development and relating these to academic performance and future employability (Reflect)

Deciding upon the next appropriate steps to take (Plan)

Making those steps (Do)

Monitoring and reviewing their own development as they go (Review)
What types of activities do students undertake as part of PDP ?
PDP is a relatively simple and logical process which draws on Kolb's Learning Cycle. Educational & Skills Development offers support to Schools for: linking and embedding of PDP within the curriculum; online tools; workshops and other supports to enable its students to engage with the process and, ultimately, to become the driver of their own development plan. Examples of processes which are part of an individuals personal development include;
Transitions: from school to university; from one academic level to the next; from univerisity to graduate employment or further study/research.
Skill and experiential development: academic performance; transferable skills and career-related activities.
Discussions relating to personal academic development, in particular, with their Personal Tutor (level 1 and 2 for undergraduates) or Supervisor (postgraduates).
Students also have opportunities for accreditation of developmental activities, that they have planned and undertaken themselves, through Degree Plus.
A Student PDP Page provides introductory PDP information and activities. It is made available to students via the Student Gateway.
What is an e-portfolio?
An e-portfolio is simply and electronic package helps students to record their skills and achievements in a way that they can ultimately use to help them e.g. produce CVs and Application forms.an appropriate way. It also assists them in setting out formal goals and plans for their own development. Students can use a range of tools to do this, one option offered by the Univeristy to its students is the Myfuture Career Management System and its e-portfolio.
Further information and help
Further information for regarding PDP is provided on the resource page for academic staff or, for other support requests please e-mail ced@qub.ac.uk