Introduction to Risk Management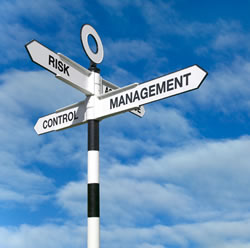 Accidents hardly ever happen without warning. The combination or sequence of failures and mistakes that cause an accident may be unique, but individual failures and mistakes are rarely unique and often attributable to poor risk management . Contemporary thinking on risk management is that that it is everyone's business within an organisation and in the interests of prevention of incidents, an organisation should be open, proactive and responsive to risk management, including the creation of an internal culture that learns from its incidents and the mistakes in order to prevent recurrence.
Risk Management is the culture, processes and structures that are directed towards the effective management of potential opportunities and adverse effects. It is a system "…intended to identify, evaluate and take corrective action against potential risks that could lead to the injury of patients, staff or visitors, or harm to the organisation" (Sullivan and Garland 2010). It is problem-focused and is a planned programme of loss prevention and liability control and is an essential element of a quality management programme within the health care arena. Successful Risk Management is ongoing and at all levels within an organisation, consists of early detection of risk, education and intervention.

Learning Activity 1

Review Health and Safety Executive guidance on Risk Management

http://www.hse.gov.uk/managing/index.htm
Risk Management is about complying with the law to protect patients, staff, visitors and premises. It is a process whereby risks that have the potential to do harm are identified and managed. Risks can be divided into those that have the potential to cause serious harm and those that are more straightforward and easily avoided. It may not be possible to eliminate all risk, thus the law only requires that 'reasonably practicable' steps are taken to assess and manage a risk.
Risk Management has been recognised within the business world and industry for years and has been an intricate part of care management since the early 1990's. Its practice has increased within statutory, voluntary and independent health care and should is recognised within an organisation's culture as a fundamental part of good practice. It should be integrated into the organisation's philosophy, practices and business plans, and not viewed or practiced as a separate entity or something that can be overlooked.
When an organisation adopts good approach towards risk management, all persons within it have a responsibility their own remit and for ensuring that they contribute to the overall risk management strategy.