'"The work you do, the person you are": Intentional process in institution building to reclaim the past and create cultural legacy.'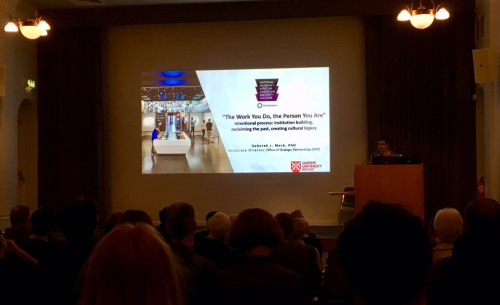 Ulster Museum lecture theatre
---
Dr Deborah Mack is Associate Director for Strategic Partnerships at the National African American Museum of History and Culture (NMAAHC), Smithsonian Institution.
Dr Mack is responsible for overall planning, management and coordination of professional partnership programs and international activities. As a member of the NMAAHC senior management team Mack also participates in the overall planning, direction and management of the Museum's programs and operations. From 2000 to 2012 she was an independent museum consultant, advising extensively on museum organizational planning and strategic planning, on interpretive and exhibition development, and on cultural and heritage tourism with organizations nationwide and internationally.
Mack served on the advisory Smithsonian Council from 1999 – 2005, as a Fulbright Senior Specialist at the Musée Théodore Monod, Dakar (Senegal) in 2010, and from 2005-2011 on the Scholarly Advisory Committee for the National African American Museum of History and Culture. She is an active service member of several professional organizations, among them the Association of American Museums; Association of African American Museums (Board of Trustees and Vice President 2011- 2015); Board of Trustees, the Southeast Museums Conference; editorial board of The Public Historian, National Council on Public History (2013-2018); peer and field reviewer for the National Endowment for the Arts, National Endowment for the Humanities, the Institute of Museum and Library Services and the National Trust for Historic Preservation.