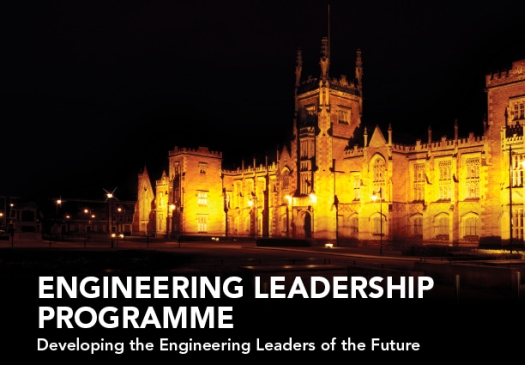 Company Information
The aim of the Engineering Leadership Programme (ELP) is to develop effective engineering leaders ready to face the challenges of industry and business today. In order to become future engineering leaders our graduates must have an awareness and experience of issues in much greater detail than is available through an engineering degree. Example topics include:
Communications and people skills
Influencing and motivating skills
Interdisciplinary decision and teamwork capability
Financial management
Market and customer focus
"Big picture" engineering
Leadership abilities and organizational social awareness
Enterprise understanding
Management tools and processes
Competitiveness
Taking responsibility to prevent failure
We have worked closely with industry in the development of this programme, thus ensuring that the content and delivery of the programme is that which is required to develop engineers who are capable of integrating seamlessly into a company and who will be capable of leading complex projects early in their careers.
The Programme
The best engineering students from across our degree programmes (Mechanical Engineering, Aerospace Engineering, Product Design Engineering) will be selected at the end of their first year of the degree to participate in the programme which will be structured as shown in Figure 1.
| | | |
| --- | --- | --- |
| Year of ELP | Year of degree programme | Activity |
| 1 | 2 | Students will attend a training session per week (approx. 3 hours) for 2 semesters. In addition to this they will complete a 1 day workshop between semester 1 and semester 2. |
| 2 | Year out | Guaranteed 1 year paid placement with sponsoring company |
| 3 | 3 | Students will attend a training session per week (approx. 3 hours) for 2 semesters. |
| Summer Year 3 | Summer Year 3 | Leadership training activities |
Figure 1. Structure of the ELP
The training delivered to the students over years 1 & 3 of the ELP will include the following:
Self assessment: identification of strengths/weaknesses
Communications skills
Team building
Problem solving
Project management
Business awareness
Financial management
Innovation
Negotiation
Influencing
Leadership
Lean manufacturing
Energy management
Company projects
Class room based training and workshops will be supplemented with industrial visits, attendance at QUB master classes delivered by visiting experts and online training.
The role of the partner company
As a partner company on the ELP you will provide a one year paid placement at the end of the second year of the degree programme. It is expected that the students will have the ability and opportunity to apply the skills and knowledge gained from their training to challenging problems in a technical/business context within their placements. Partner companies are also asked to provide the student with a mentor . The mentoring element of the ELP will provide the student with direct, personal contact with a practicing senior engineer in order to enhance their intellectual, social and professional development.
How to become a partner company on the ELP
If you believe that your company can provide a demanding yet supportive environment in which our future engineering leaders will will have the opportunity to demonstrate their capabilities then please complete this form.