Visit of Dr Brian O'Dwyer to Irish Studies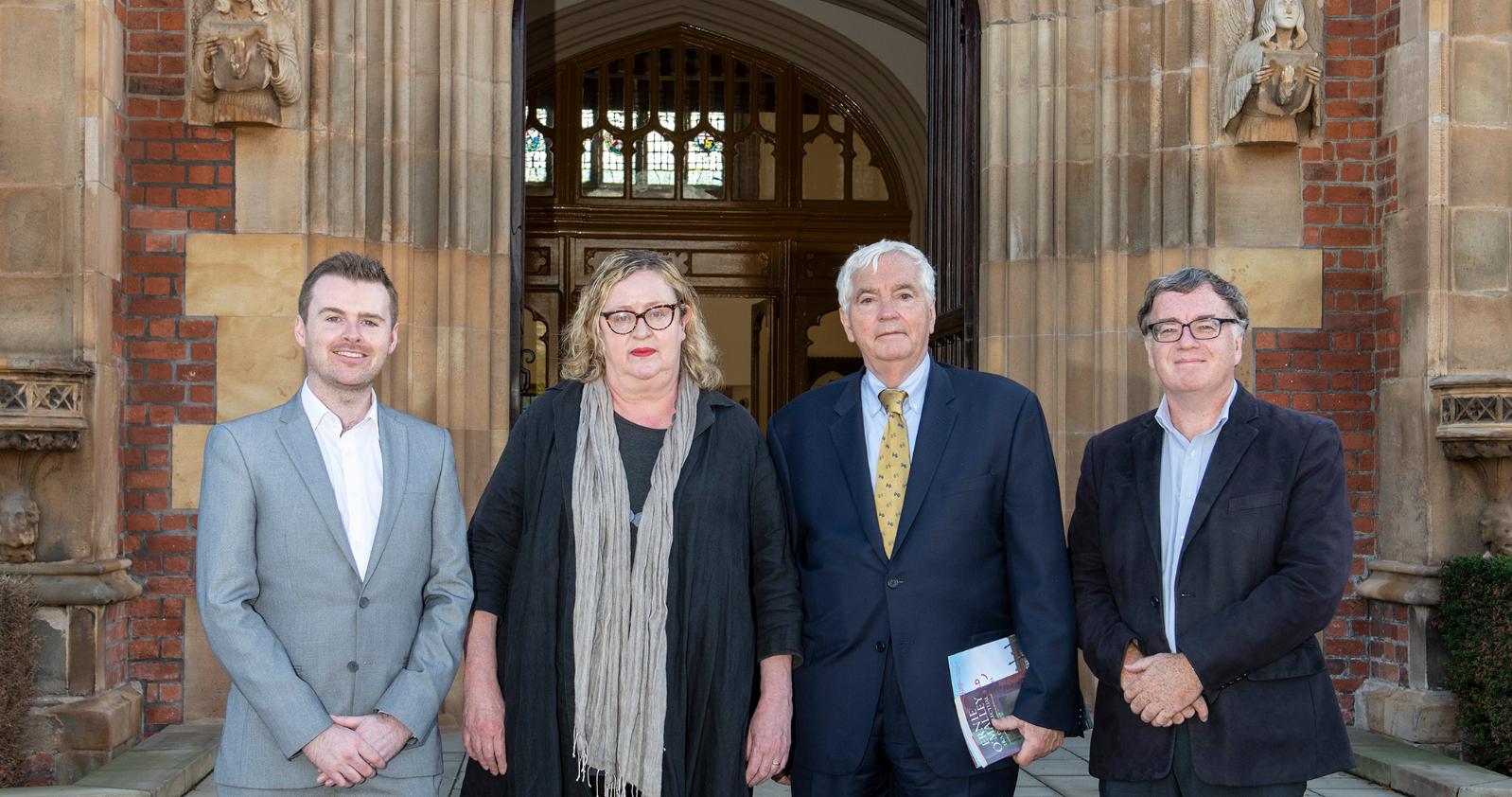 The Institute of Irish Studies welcomed Irish-American political leader and activist, Dr Brian O'Dwyer, back to Queen's as part of the institute's Global Irish Studies initiative.
Dr O'Dwyer met with members of the senior management team, academics in the Institute of Irish Studies, and history students at the University. Pictured with Dr. O'Dwyer are Dr. Darragh Gannon, Acting Director of the Institute of Irish Studies Dr. Margaret O'Callaghan, and Director of the Institute of Irish Studies Prof. Peter Gray.
Welcoming Dr O'Dwyer, Dr Margaret O'Callaghan said: "We were delighted to welcome Dr O'Dwyer back to Queen's and to the Institute of Irish Studies to showcase the research and teaching our colleagues in the institute are doing across multiple disciplines relating to Ireland and the impact this work is having internationally." An alumnus of both George Washington University and Georgetown University, Dr O'Dwyer has been a leading political figure in the Irish-American community over the last thirty years. He founded the Emerald Isle Immigration Centre in New York in 1988 (the largest not for profit Irish immigration centre in the US); served as national chairman of 'Irish-Americans' for Clinton-Gore in 1992 and 1996 (and again for Gore in 2000); and was appointed by Hillary Clinton as Commissioner of the United States National Commission for UNESCO in 2011.
A member of the Democratic Party, Dr O'Dwyer was a member of the Clinton delegation who came to Belfast almost 25 years ago.
Speaking about his visit back to Queen's, Dr O'Dwyer said: "It means a lot to me to be back at Queen's and Belfast after 25 years and to see how much progress has been made in terms of a safe and secure city and society. But it also brings to mind how much more still needs to be done.
"I have been enormously impressed by the Irish Studies Department at Queen's which is helping people understand their identity and what it that means to them."