Current Seminar Series
Our Irish Studies Research Seminar Series runs weekly on Monday afternoons at 4.30. Seminars are open to members of the university and the public.
Our Spring 2021 seminars will all be held online via Micosoft Teams -please register via Eventbrite (we will post a link here each week for this) and we will email you a link to join before the seminar starts.
Next Seminars
Our next seminar is on Monday 19 April 2021 at 4.30pm, and will be held online via Microsoft Teams. Emilie Pine (UCD), will speak on 'The witness as commodity: The value of testimony in recent Irish culture'. For more information and registration, please visit our Eventbrite page:
All welcome.
Eventbrite Page
Spring 2021 Seminar Series
Our Spring 2021 seminar series begins on 1 February.
All welcome - come and join us online!
Previous Seminars
A number of our previous Seminars are available online for audio/video streaming.
CLICK HERE to see the programmes and access the streams.
Irish Studies International lecture
The Institute hosts an annual International Irish Studies Lecture given by a distinguished academic or figure in public service.
Previous lecturers have included Prof Pat Palmer (Maynooth), Prof David Lloyd (University of California, Riverside), Prof Richard Kearney (Boston College), Prof Joe Lee (New York University), Prof Joep Leerssen (University of Amsterdam), Prof Elizabeth Malcolm (University of Melbourne) and Prof Marianne Elliott (University of Liverpool).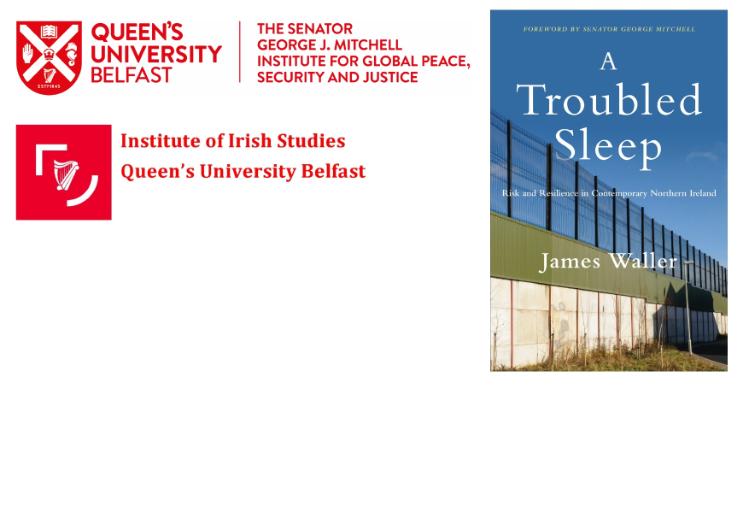 Workshop / Seminar / Course
Dates: 13/04/2021 - 17/05/2021
Time: 1:22PM - 7:00PM
Location: Online via MS Teams
Irish Studies Postgraduate Symposium: Digitising Ireland
Has the past year caused you to look to digitised collections for your research? If so, why not join the conversation?
The Institute of Irish Studies at Queen's University, Belfast presents a one-day postgraduate symposium, via Microsoft Teams, on Thursday 13 May 2021. It seeks to explore and promote the use of online collections in PGR Research. CFP closes 26 March. Contact Lucy Wray (lwray04@qub.ac.uk)
Partition and the Limits of Irish Commemoration
Prof. Ian McBride (Oxford), ''Partition and the Limits of Irish Commemoration: Reflections on 1921'
Following the keynote lecture, Professor Richard English, Pro-Vice-Chancellor, Queen's University Belfast will moderate a Question and Answer session. Questions can be submitted during the live feed. Event details: Wed, 31 March 2021. 16:00 Welcome and Introduction by Professor Richard English 16:05 Lecture by Professor Ian McBride 16:30 Q and A 16:55 Closing comments by Professor Richard English
RECORDING AVAILABLE HERE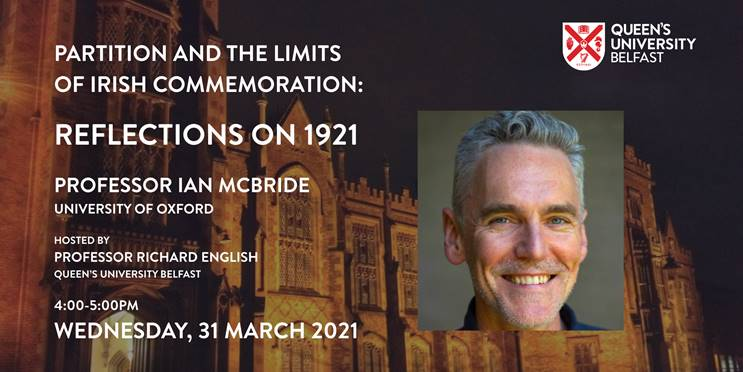 Brian Moore at 100 Project
A project to celebrate the centenary of the birth of Brian Moore, led by Dr Alison Garden (QUB) and Professor Sinéad Moynihan (Exeter)
Designed to coincide with the centenary of his birth, Brian Moore at 100 seeks to critically appraise, and thus revive scholarly and public interest in, the work of neglected and important Belfast-born writer, Brian Moore (1921-99). Throughout 2021, we will be organising at series of public-facing and academic events to celebrate, revisit and evaluate Moore's life and career. The project has been generously funded through a British Academy/Leverhulme Trust Small Research Grant. - Launch Event for Brian Moore at 100: Roundtable Discussion (20 Jan. 2021, 6.30) - CFP: Brian Moore in Context (21-23 April 2021)
Project Blog and Events
Postgrad Reading Groups
The Reading Group in Irish Studies is open to all interested postgrads (MA and PhD), and is run by the Postgrads.
It meets monthly in term time.

Irish Studies Reading Group
Details to follow
The Troubles Reading Group
Details to follow
‌‌
---