Realising the full potential of your LGBT+ talent
PwC are delighted to announce the external launch of their new report: Out to Succeed: Realising the full potential of your LGBT+ talent.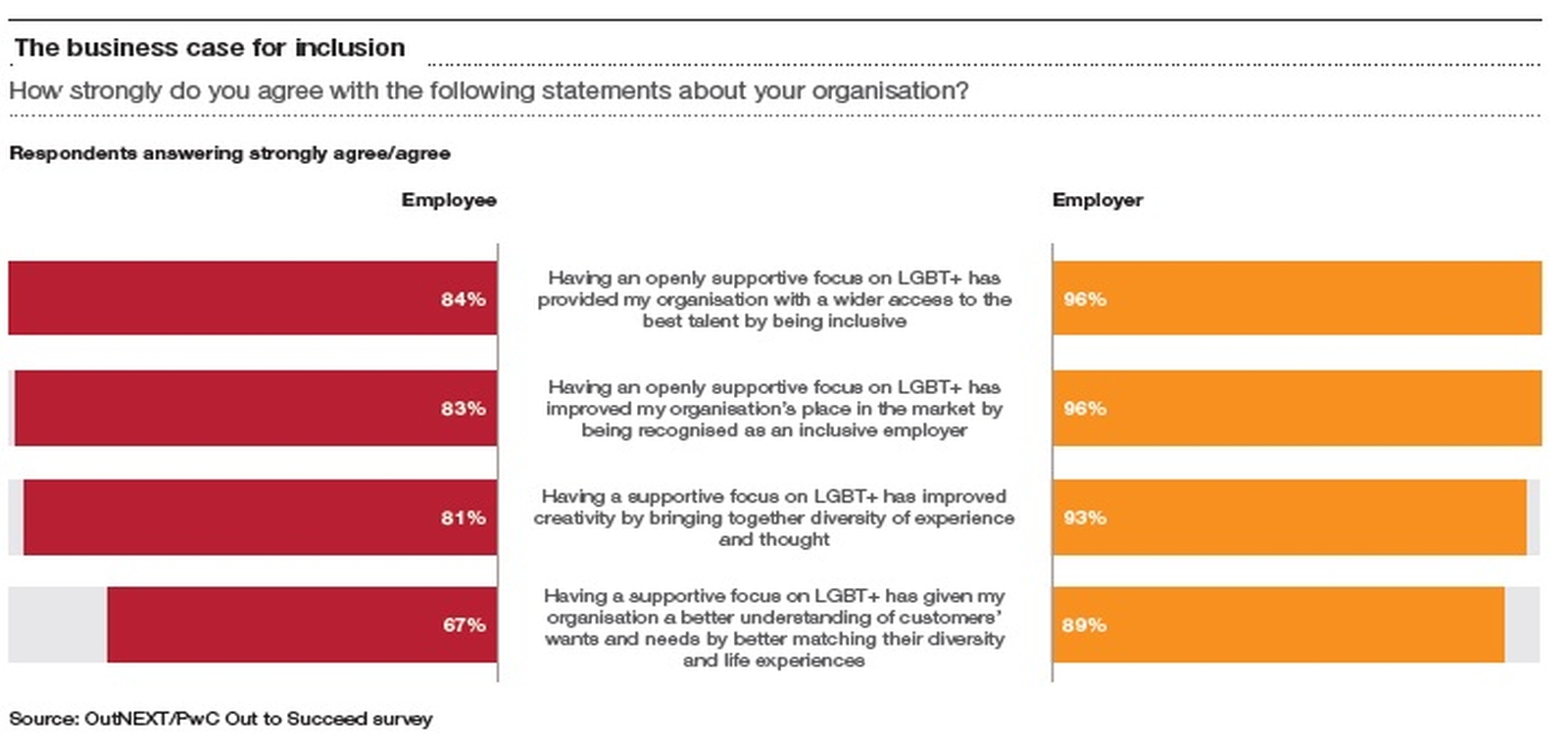 PwC have announced the launch of their new report on LGBT+ people in the workplace.
While the majority (85%) of high performing LGBT+ employees feel comfortable being out at work – indicating that tremendous progress has been made in just a short time – most employers are still not doing all they can to support them and are missing out on the business growth opportunities true LGBT+ inclusion can drive.
New research by PwC and Out Leadership highlights a gap between what high potential LGBT+ employees want from their career and what employers offer. The report – Out to Succeed: Realising the full potential of your LGBT+ talent – is based on a survey of 231 high-potential LGBT+ employees from different employers in 17 countries, as well as 28 corporate leaders from Out Leadership member organisations in five countries.
This report launched at the Out Leadership Summit on April 30, 2018, in New York City. Check out the following social media links for further information:
Twitter:
LinkedIn/Facebook:
What do high-potential LGBT+ employees want from employers, and are businesses delivering? Our report looks at the issue in-depth. See here: https://pwc.to/pwcON10
OutNEXT/PwC Out to Succeed survey: Are businesses doing all they can to attract LGBT+ talent? See what our report reveals: https://pwc.to/pwcON10
Key findings of report:
Career progression and reputation matter
All the LGBT+ employees surveyed said career progression is important to them. Yet, only 29% of the employers surveyed have programmes specifically focused on the retention of LGBT+ talent. And only 12% of LGBT+ employees are aware that such programmes exist within their organisation.
While nearly 60% of employers say they take steps to create a pathway to senior management for LGBT+ people, only 43% of employees believe this is the case.
To help LGBT+ talent reach their full potential, organisations need to put the right programmes in place and communicate them widely. The shortfall in support for LGBT+ talent is further highlighted by how few of the employees have LGBT+ mentors (28%) or LGBT+ sponsors (10%).
For people who've traditionally been underrepresented in management or who may lack the confidence to push themselves forward, this kind of active support is especially valuable for their career progression. But a focus on career progression alone isn't enough to be a magnet for LGBT+ talent.
Nearly all (99%) of the LGBT+ employees surveyed cited an organisation's reputation as a fair and equal employer as important when deciding where to work. Surprisingly, 43% of employers don't see this as a prominent factor in their ability to attract LGBT+ talent
Why LGBT+ inclusion makes business sense
The business case for LGBT+ inclusion comes through loud and clear from the survey - a key benefit includes a stronger brand
83% of the LGBT+ employees surveyed believe that having an openly supportive focus on LGBT+ has improved their organisation's place in the market by being recognised as an inclusive employer - almost all (96%) the 28 employers surveyed agree
Around two-thirds (67%) of employees believe that having a supportive focus on LGBT+ has given their organisation a better understanding of customers' wants and needs by better matching their diversity and life experiences.
Employers agree even more strongly, with 89% believing that a supportive LGBT+ focus has enabled them to gain a better understanding of customer demands.
Five ways forward

The report sets out five areas organisations should focus on to support LGBT+ equality:

1. Setting the right tone from the top, and engaging CEOs
2. Creating clear pathways for career progression
3. Advocating equality
4. Building and empowering ally networks
5. Creating inclusive communications

PwC are very excited to have collaborated with OutLeadership on what is the PwC Network's first ever international LGBT+ thought leadership publication. They ask that you help them promote this report by sharing our social media messages across your profiles, sharing the report with appropriate clients and letting them know if you have any questions. Given the varied legal landscape on LGBT+ matters in various parts of the world PwC recognise that there will be legal and cultural sensitivities to promoting this thought leadership in some of your company's markets. Please consider the local legal context in which you operate when making the decision to promote. For those markets in which it is safe and legal to do so, PwC very much encourage you to promote this thought provoking research.