International Women's Day Event 2022- Menopause: Time for Change
School of Psychology - CANCELLED DUE TO UNFORESEEN CIRCUMSTANCES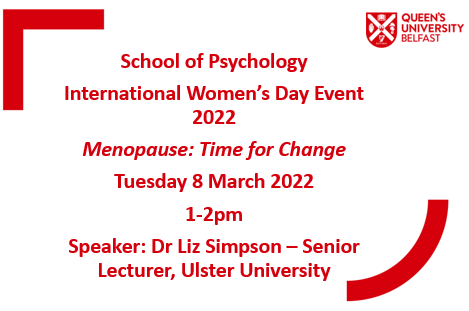 PLEASE NOTE THAT THIS EVENT HAS BEEN CANCELLED DUE TO UNFORESEEN CIRCUMSTANCES - THE SCHOOL OF PSYCHOLOGY HOPES TO REVISIT THE SEMINAR LATER IN THE YEAR.
The School of Psychology SWAN committee invite staff across the University to join them for an International Women's Day lunchtime seminar; 'Menopause: Time for Change'. The online seminar is on Tuesday 8th March 2022, from 1-2pm and can be accessed via Microsoft Teams with a link sent to you once registered. Dr Liz Simpson (Senior Lecturer, Ulster University) will provide an introduction to the menopause and its symptoms, looking at biological, psychological and social factors that may impact on health and well-being. The seminar will consider the menopause more positively and as a time for change, looking at ways to promote health and quality of life at this key developmental phase in a woman's life.
About Dr Simpson: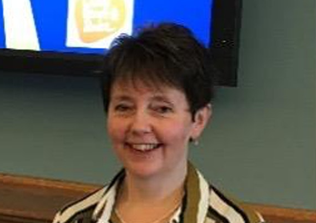 Dr Simpson is a registered Health Psychologist (HCPC), a Chartered Psychologist (BPS), and a volunteer with The British Psychological Society (BPS). She is interested in biological mechanisms and their interplay with psychological and social factors such as immune function and cognition, HRT use and psychological well-being during the menopausal transition. Her research also focuses on public health issues and the use of theoretical models to understand health behaviours, contributing to the design and implementation of behaviour change interventions on dietary intake, physical activity, and e-cigarette use. Liz has over 20 years' experience of research in the menopause, having spent over 5 years in the HRT clinic at the RVH, whilst completing her PhD, with the late Prof William Thompson (then Head of Obstetrics and Gynaecology). She has supervised several PhD projects and numerous MSc projects through to completion investigating factors that contribute to health and wellbeing during the menopausal transition. She has published high quality papers on this area, presenting her work at national and international conferences, advised on menopause policies in the workplace and given numerous talks on menopause to other health professionals and community groups.