Queen's tree needs your vote!
A tree with strong links to Medicine at Queen's has made it to the final of the Woodland Trust's NI 'Tree of the Year' competition - please vote today!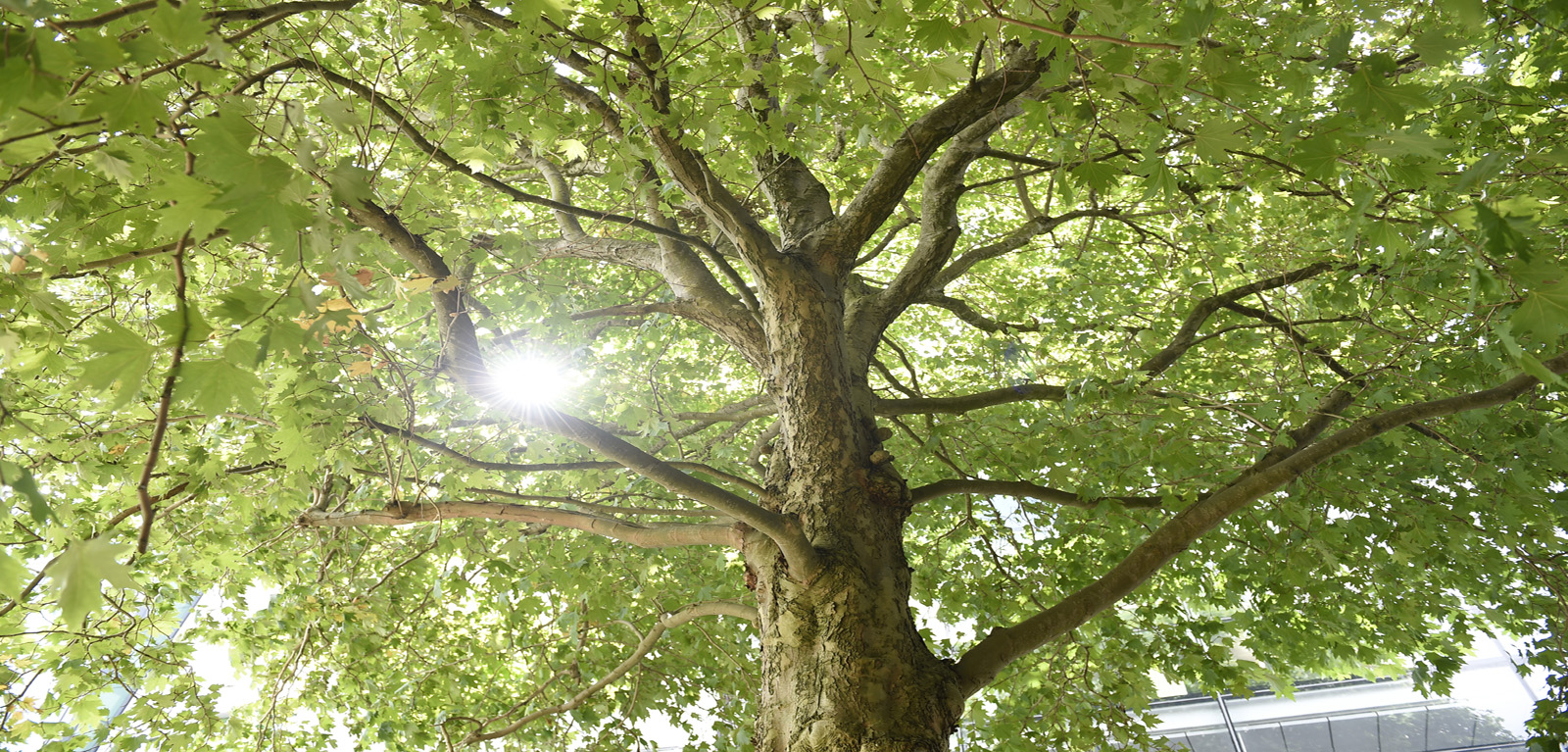 The Erskine House tree, which borders CCRCB, the MBC and Belfast City Hospital, is a direct descendant of the 'Plane tree of Kos' - a famous oriental plane tree under which Hippocrates, the Father of Modern Medicine, first taught on the island of Kos in 500 BC.
It was planted from seeds gifted by Greek physician, Dr Dimitrios Oreopoulos in the 1960's, who was undertaking an MD in kidney research at Queen's University and working at the renal unit at Belfast City Hospital.
After completing his studies, Dr Oreopoulos moved with his family to Canada, where he later became Professor of Medicine at the University of Toronto. He made many contributions to the treatment of renal disease, as well as the promotion of medical ethics and humanitarian principles. Dr Oreopoulos also went on to develop ambulatory Peritoneal Dialysis, a type of dialysis which is now used throughout the world.
The tree was nominated for 'Tree of the Year' by Dr Gerard Gormley, Clinical Senior Lecturer and Professor Peter Maxwell, Clinical Professor from the School of Medicine, Dentistry and Biomedical Sciences, and Dr James Douglas, former Nephrologist at Belfast City Hospital.
One of several trees planted at the time by the seeds gifted by Dr Oreopoulos, the Erskine House tree is the only tree that has survived. In order to preserve and also celebrate the tree, a new circular bench and plaque in memory of Dr Oreopoulos, have been installed so the area can now be enjoyed by staff, students and patients.
Dr Gormley said: "The Erskine House tree is a magnificent oriental plane tree and a direct descendent of the original Plane Tree of Kos. This tree is not only a symbol of the link between medicine, humanity and nature, but also the links Belfast has internationally."
Dr James Douglas, added: "Surrounded by high-rise buildings the tree acts as an oasis of calm for staff, patients and students. A beacon from nature, the tree represents humanity and hope in our changing world, reflecting Hippocrates' belief that medicine, although based in science, is also a humane activity. Northern Ireland should be proud of this tree and its rich heritage."
Please vote today for the Erskine House tree! Visit: http://www.woodlandtrust.org.uk/visiting-woods/tree-of-the-year/northern-ireland/