Queen's Celebrates Black History Month 2021
Staff and students came together on Monday 4 October to celebrate the opening of an engaging and informative programme for Black History Month hosted by Queen's African and Caribbean Society.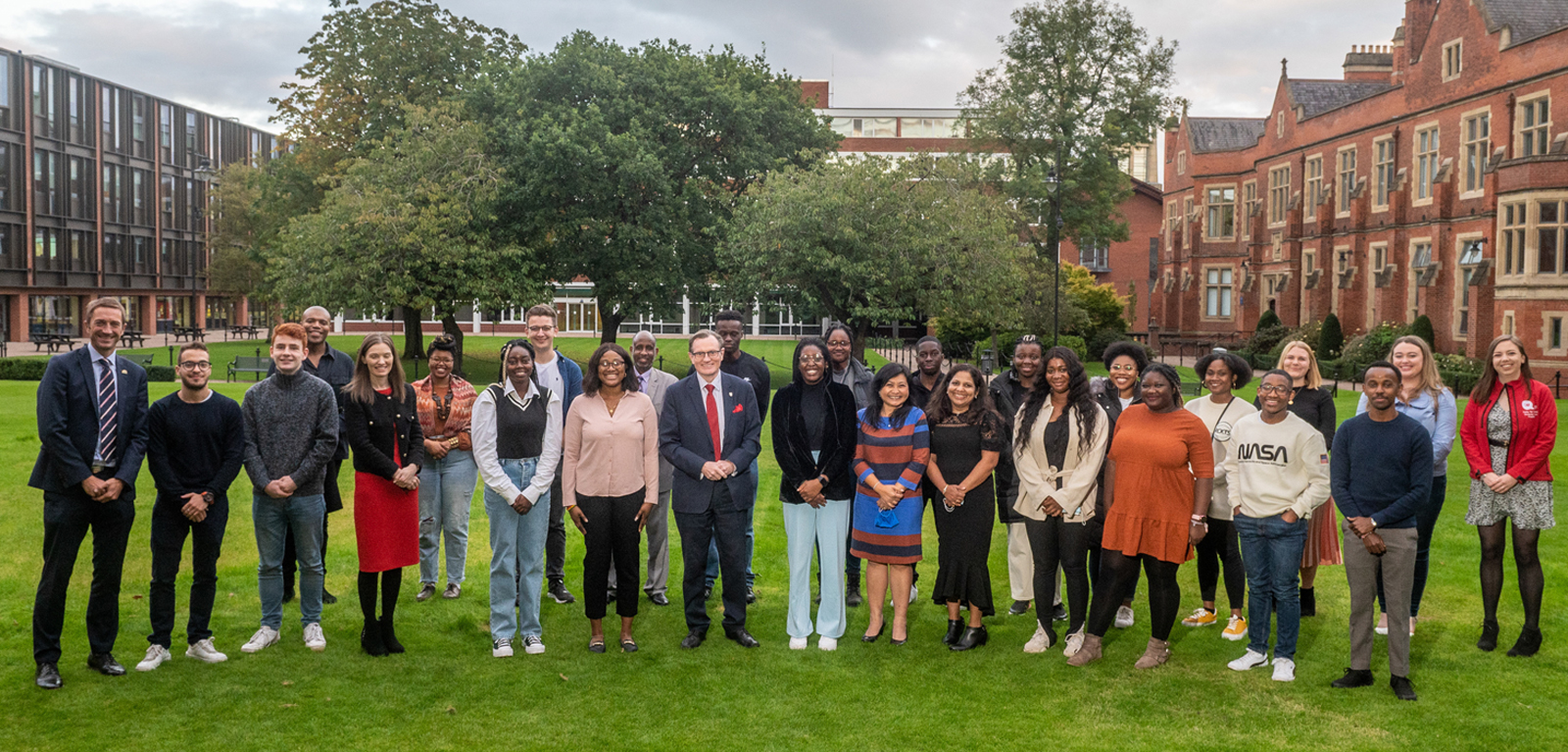 The opening ceremony, held in the Great Hall, included a drum performance delivered by Wilson Magwere, a celebration of poetry and spoken word, and an informative presentation on the work of Horn of Africa People's Aid NI, a local community-based charity that supports and empowers individuals from the Horn of Africa (Djibouti, Ethiopia, Eritrea, Somalia, and Sudan) and beyond in Northern Ireland. African Caribbean food was provided by Yetunde from Yetunde's Kitchen, a local business that supplies African and Irish take-away meals in Belfast.
Adebola Akintonde President of the Queen's University African and Caribbean Society, commented:
"The African and Caribbean Society is delighted to host the Black History Month programme at Queen's for 2021. We are a student-led society at our university and aim to promote the rich heritage of the African and Caribbean continents by opening a space wherein we can teach, share and celebrate the beauty of our diverse cultures with all. We believe it is of vital importance to address these ongoing issues that the black community faces on a daily basis. As a society we aim to amplify the voices of the black community within Belfast. We are excited to welcome students and staff from across Queen's to the various events, panel discussions and celebrations taking place throughout October."
Staff supporting the event included President and Vice-Chancellor Professor Ian Greer; Professor Karen McCloskey; Conor Curran; Dr Adone Tielenius Kruythoff-Mohd Sarip, iRise Co-Chair; Nimmy John, iRise Co-Chair; and Heather Callighan.
Commenting on the event, President and Vice-Chancellor Professor Ian Greer said:
"Black History Month provides an important opportunity to celebrate the rich diversity of our student and staff community, while reflecting on our responsibility to keep challenging all forms of racism, injustice and discrimination.

"The University's African and Caribbean Society is leading Queen's Black History Month (BHM) celebrations this year with an excellent programme of events through which our University community can come together to celebrate the culture and histories of black communities. These events are informative and impactful, and engage in important discussions, and I would like to encourage everyone to get involved and join our celebrations."
Conor Curran, Head of Diversity and Inclusion, said:
"With a range of events taking place throughout October, I would encourage all students and staff to attend, get involved and engaged and support our students as they seek to raise awareness of issues relating to race, allyship and discrimination, in a safe and inclusive setting."
Upcoming Black History Month 2021 events: