Origins
Community Archaeology is still a developing field within our discipline, but exceptional levels of relevant expertise and experience have been gained over more than two decades by members of the Centre for Community Archaeology. Dr Colm Donnelly's involvement commenced in the Summer 1993 when he was employed as a Student Intern with the Crow Canyon Archaeological Center, Cortez, Colorado, a not-for-profit organisation that facilitates educational programmes and the direct involvement of the public in archaeological excavations and fieldwork at Ancestral Puebloan sites, while in 1998 and 1999 excavations were undertaken at Reyfad, Co. Fermanagh, led by Donnelly and Dr Eileen Murphy and crewed by adult volunteers from the QUB Certificate in Archaeology.
This was followed by the first ever excavation in Ireland to directly involve school children in fieldwork, led by Donnelly and Sarah Gormley and undertaken by the Centre for Archaeological Fieldwork (CAF) in 2002 at Ballynashallog on the outskirts of Derry City as a cross-community project for St Oliver Plunkett's Primary School and Maydown Primary School, with funding from the British Telecom Schools Awards Scheme. The CAF continue to facilitate community involvement in archaeological fieldwork programmes and currently have an annual average of 1,500 school children and 400 adult volunteers taking part in their projects.
The involvement of the Ulster Archaeological Society (UAS) with volunteer-based fieldwork projects commenced in 2005 with the establishment of their Survey Group; the group now comprises 50 members who meet up once a month during the period between April and September each year and conduct topographic surveys at ancient monuments across Northern Ireland. Led by Dr Harry Welsh and June Welsh, the results of these surveys are then written up by the team and placed as pdfs on the UAS website.
Finally, in 2006 the Belfast Young Archaeologists' Club was established by Naomi Carver and Dr Eileen Murphy as an official QUB Outreach activity. Administered through the Council for British Archaeology, the club has a membership of 60 children aged between 8 and 16 and meets once a month for classroom based activities and fieldtrips. The Centre for Community Archaeology now provides a vehicle for all three QUB-based organisations to come together to deliver quality projects for local communities and schools across Northern Ireland and beyond.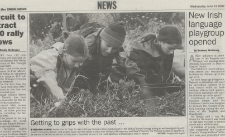 Sarah Gormley at Thornhill, June 2002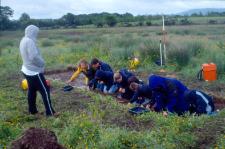 School children excavating at Thornhill, June 2002
Sarah Gormley supervising schoolchildren at Thornhill, June 2002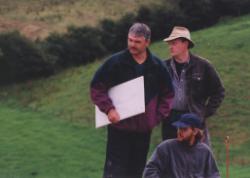 Reyfad 1998 - Harry Welsh, Colm Donnelly and Neil Yeaman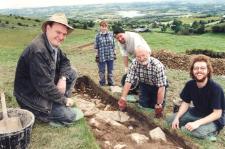 Community excavation at Reyfad, Co. Fermanagh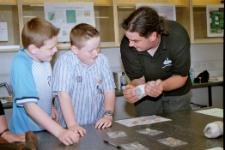 Launch of the Belfast branch of Young Archaeologists' Club