5th IFAC Conference (ICONS 2019) will be held at Queen's University Belfast, Northern Ireland, 21-23 August 2019. Experts will share knowledge in intelligent control and automation, and discuss it's impact on industry and society.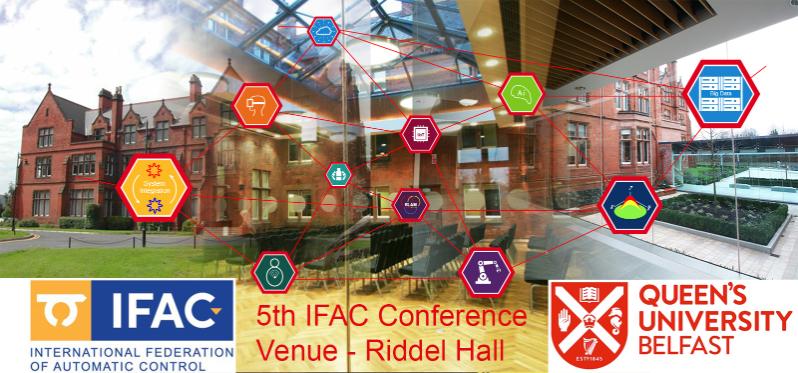 August 21, 2019 - August 23, 2019
Riddel Hall, 185 Stranmillis Rd, Belfast, BT9 5EE
---
ICONS 2019 serves as a platform for scientists, researchers, and practitioners to discuss their forefront research results and findings, to shape their future directions and development, and to exchange their knowledge and perspectives in the field of intelligent control, automation science, engineering, and its integration into industry and society. It constitutes the primary forum for cross-industry, multidisciplinary research, and provides an opportunity to have a unique and rich cultural experience with excellent technical and social programs.

ICONS 2019 will feature keynote addresses, tutorials, and peer reviewed technical presentations and special sessions. Application areas of interest include transport, medical and biomedical, biology, aerospace, automation, biotechnology, manufacturing, process control, industry 4.0, additive manufacturing/3D printing, mechatronics, robotics and autonomous systems, power electronics, power systems, smart grids, agriculture, environmental systems, economics and business systems, smart cites, assisted living technologies, healthcare, and emerging areas.
Keynote speakers:
Professor Frank Allgower, Department of Mechanical Engineering, University of Stuttgart, Germany, Director of the Institute of Systems Theory and Automatics Control, and President of the International Federation of Automatic Control (IFAC)
Professor Manuel Giuliani, University of the West of England, Bristrol, working in the Bristol Robotics Laboratory (BRL), leading research into embedded cognitive AI for robotics.
Professor Robert Babuska, Delft University of Technology, Netherlands, leading research into intelligent control and robotics.
Dr. Coorous Mohtadi, Senior Academic Technical Specialist, MathWorks, with a talk entitled; "Are you ready for AI? Is AI ready for you?"
Department

Electronics and Computer Engineering Cluster