Results of the Jack Trial So Far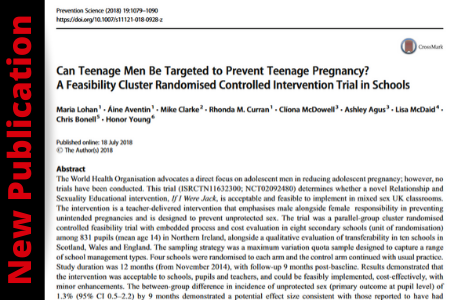 Prof Maria Lohan and colleagues report the results of the Jack Trial to date in an article published in Prevention Science.
The abstract for the paper is below:
The World Health Organisation advocates a direct focus on adolescent men in reducing adolescent pregnancy; however, no trials have been conducted. This trial (ISRCTN11632300; NCT02092480) determines whether a novel Relationship and Sexuality Educational intervention, If I Were Jack, is acceptable and feasible to implement in mixed sex UK classrooms. The intervention is a teacher-delivered intervention that emphasises male alongside female responsibility in preventing unintended pregnancies and is designed to prevent unprotected sex. The trial was a parallel-group cluster randomised controlled feasibility trial with embedded process and cost evaluation in eight secondary schools (unit of randomisation) among 831 pupils (mean age 14) in Northern Ireland, alongside a qualitative evaluation of transferability in ten schools in Scotland, Wales and England. The sampling strategy was a maximum variation quota sample designed to capture a range of school management types. Four schools were randomised to each arm and the control arm continued with usual practice. Study duration was 12 months (from November 2014), with follow-up 9 months post-baseline. Results demonstrated that the intervention was acceptable to schools, pupils and teachers, and could be feasibly implemented, cost-effectively, with minor enhancements. The between-group difference in incidence of unprotected sex (primary outcome at pupil level) of 1.3% (95% CI 0.5–2.2) by 9 months demonstrated a potential effect size consistent with those reported to have had meaningful impact on teenage pregnancy. The study responds to global health policy for a paradigm shift towards inclusion of men in the achievement of sexual and reproductive health goals in a practical way by demonstrating that a gender-sensitive as well as a gender transformative intervention targeting males to prevent teenage pregnancy is acceptable to adolescent men and women and implementable in formal education structures. If I Were Jack now merits further effectiveness testing.