BT9 Allotment: Ready, Set, Grow!
Are you keen to get green at Queen's? The Elms BT9 allotment offers an opportunity to reconnect with nature, meet new friends and gain skills in sustainable gardening. Plus you can help save the bees!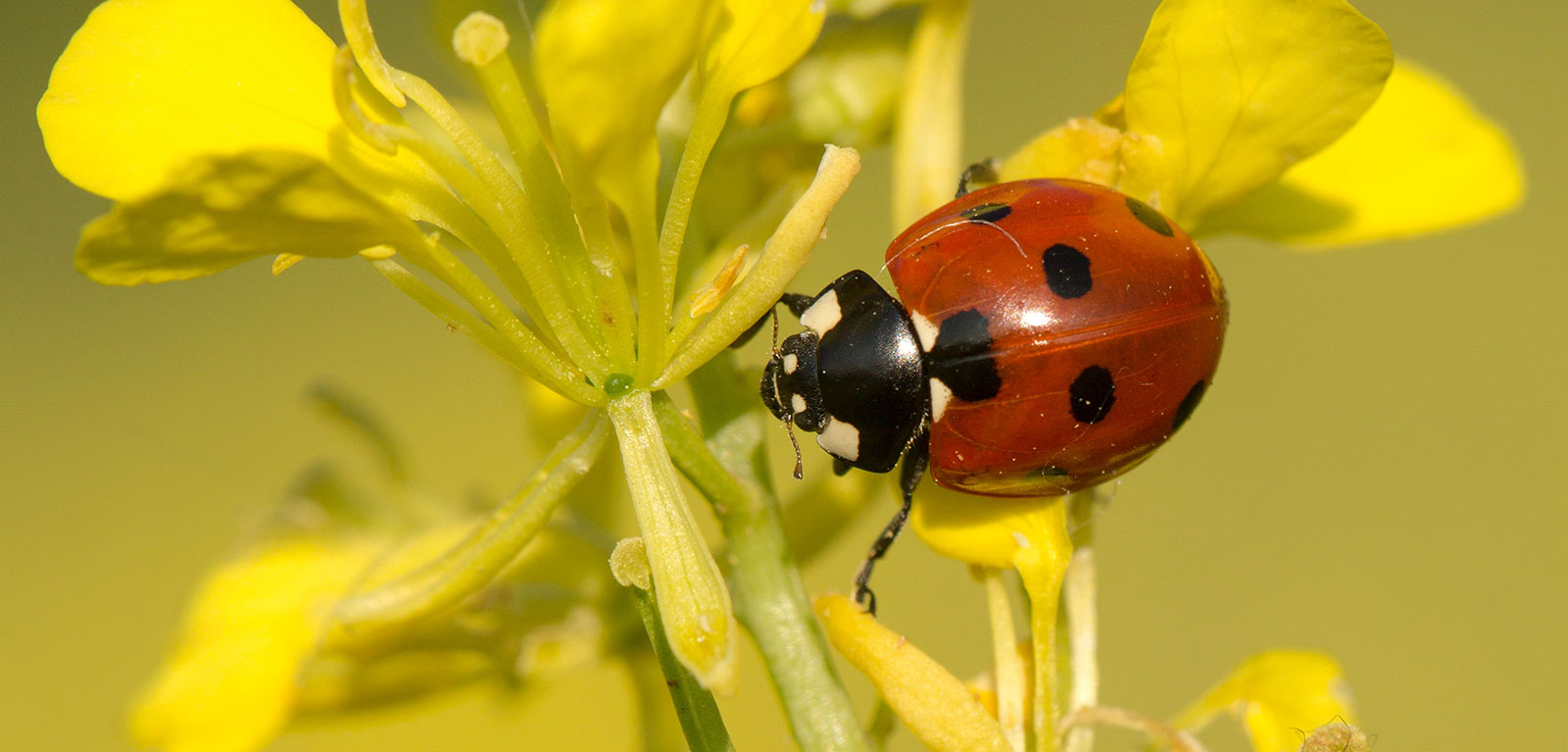 Facilitated by the Residential Life team at BT9 and The Conservation Volunteers (TCV), the allotment is a great initiative to get involved with.
Here are some seasonal highlights from the allotment: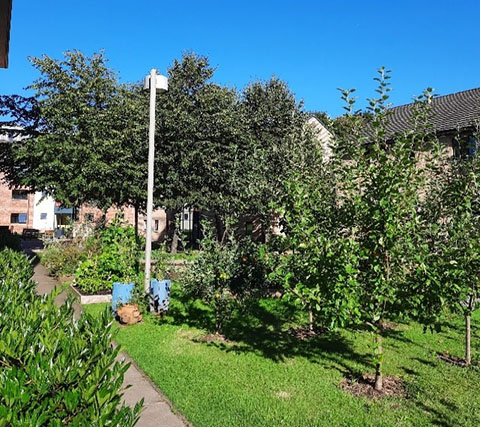 Winter
Meeting on Wednesday mornings at 11am, we learnt how to plant and care for the garden ecosystem using environmentally-friendly methods.
Armed with our rakes and spades, and getting a warming workout in the process, the soil was prepared to create snug beds for the onion seeds and garlic cloves that can be sown in winter. This was our introduction to eco-friendly gardening measures, as these act as natural insect repellants providing protection to the other vegetables.
The rainy Belfast skies cooperated with our efforts and in a few weeks the beds were coloured with pops of green as the first shoots emerged, determined to brave the cold. While these shoots were starting their journey, at the other end of the allotment, the end was drawing near for the riotous branches of some apple trees, that had to be pruned to make way for new branches to develop.
The apple orchard was also extended after a determined group digging effort, with two rows of young trees whose fruit will no doubt be enjoyed in the coming years.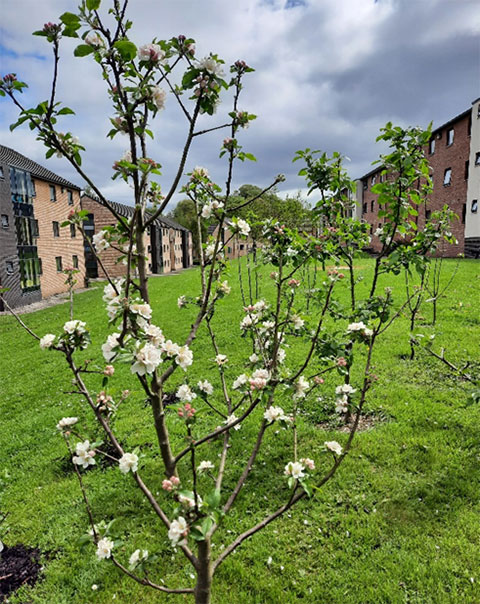 Spring
The basketball court was temporarily converted into a woodwork workshop, as we sawed, drilled and hammered our way to new window boxes. An assortment of pastel-coloured petunias and fragrant coriander, parsley and dill herbs then graced our boxes.
We also placed potatoes in pots alongside the beds, and re-used the compost packaging as potato planters too. After a few weeks, the leaves of the potato plants were covered with more compost, to encourage the growth of new tubers. Old newspapers were repurposed into biodegradable seedling pots for beans and peas, that were then stored in the TCV greenhouse, to be planted once it was warmer.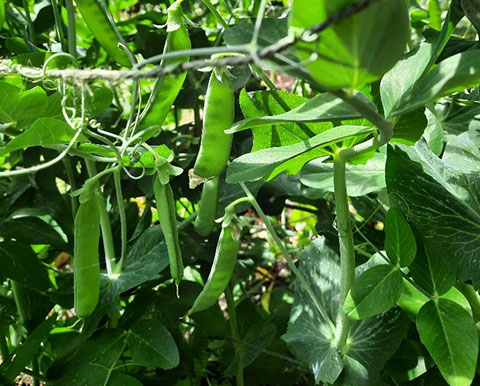 By the end of spring, bamboo sticks held together with string were used to create structures onto which the growing beans and peas could creep up on. Pepper seedlings were kindly donated to the allotment, which we protected by recycling plastic bottles to act as miniature greenhouses enclosing each seedling.
Not surprisingly, after been taught and shown the resilience of plants, we did not have the heart to condemn some calendula seedlings that sprouted in the vegetable beds to the compost bin, and so we replanted them under the apple trees.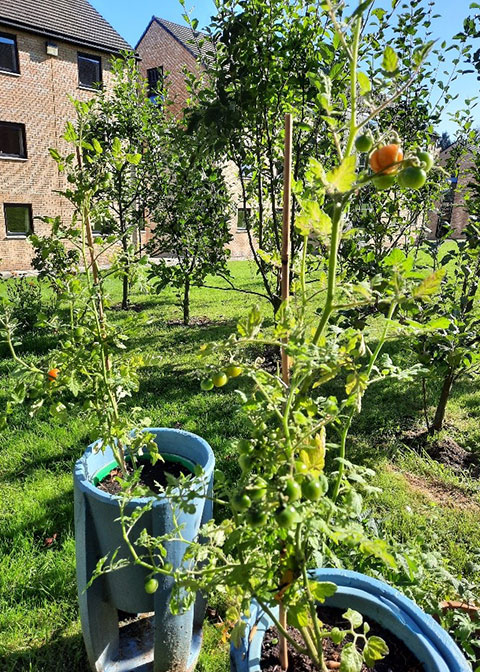 Summer
The allotment was a wonderful sight in summer, lit up with an array of natural colours. Matte red apples overwhelmed their branches, almost bending low to say hello to the now fully grown bright orange calendulas. Sparkling redcurrant berries showed off against plump lime-green gooseberry lanterns whilst butterflies and bees whirled amongst the lavender, lemon balm, rosemary and nasturtiums.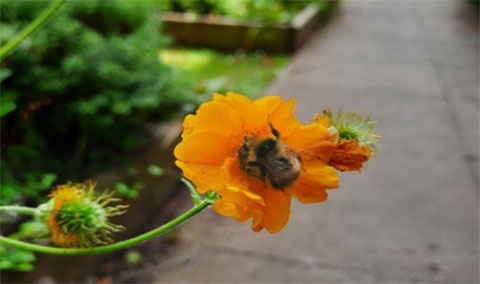 Ladybirds were spotted content on branches and leaves, and we realised with amusement that some curiously jagged and incomplete kale leaves had been the work of snacking snails and pigeons. We reaped the benefits of our winter and spring preparation, with a harvest of apples, beans, carrots, garlic, kale, onions and spring onions, peas and potatoes, that were shared between us, staff and students at BT9.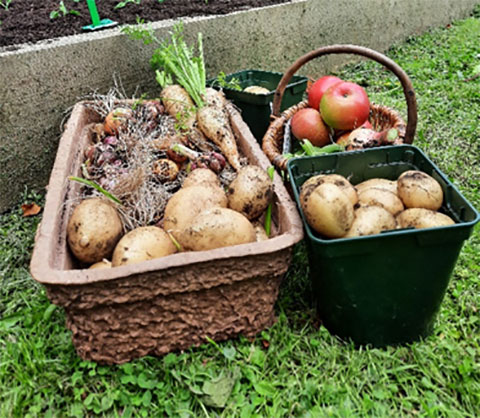 Growing friendships as well as veg
During our gardening sessions, we chatted about our interests, studies, plans and of course shared recipe ideas, but we could also sometimes be found silently weeding, embracing the peacefulness of the garden. After many months of growing and maintaining the garden together, we all shared in the excitement leading up to the graduation of some of our gardeners, but also wished them well on their new path ahead with a bit of sadness as they bid farewell to the allotment.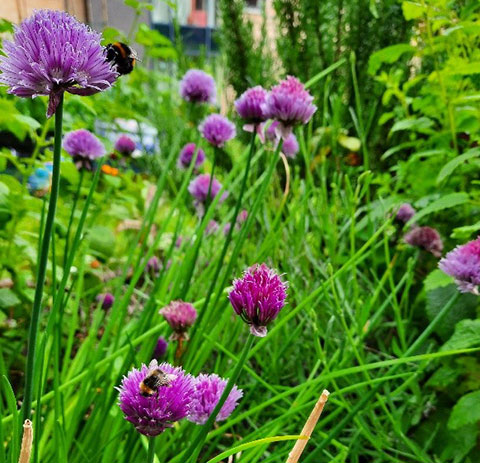 Come and join us!
The allotment has been one of the highlights of my time at Queen's, and the different characters of flowers, fruit, vegetables and various crawling or winged visitors that have temporarily made the allotment home, reflects how the garden makes space for everyone, allowing us to appreciate and engage with nature and each other. Grab your gloves with us on a Wednesday at 11am, or contact the Residential Life team to be included on the mailing list, or to arrange an alternative time if needed.
Find out more
Sustainability at Queen's- Student Initiatives
Jayati Moodley

LLM Law | Postgraduate Student | South Africa

My name is Jayati and I am an LLM Law student graduating in December, having started during the 2021/2022 academic year. I am from South Africa and have enjoyed being involved with different activities available at Queen's, ranging from gardening and carbon literacy training to a foreign-language course and volunteering at events. I hope this blog post encourages students who are curious about the allotment or gardening in general.