Amazing Pics and Vids That Show What A Cultural Melting Pot Queen's Campus Is
Events such as the Qulture Roadshow highlight the varied cultures and nationalities that enrich our student body. Here, Elen Nahapetyan and Suvekshya Dhungana share their photo diaries from the event.
Elen Nahapetyan, Armenia
Every year, the Queen's International Students' Society organizes a Qulture Roadshow. During this diverse event, students or societies from different countries represent their home's culture, food and traditions.
11:00 AM
After bringing three full bags of different items, I am ready to set up our booth for Armenia! My colleagues also start to arrive in Elmwood hall and set up their booths, with their tasty smelling food, interesting musical instruments, and folk art.
12:00 PM
Almost time to start! The doors are open and the first guests of the roadshow arrive! Seeing them trying our traditional dishes that we either spend many hours cooking or something that we brought all the way from home is very rewarding and exciting! And telling them about the origins of the food, the culture and the country itself is always interesting and engaging!
13:30 PM
Time for some dancing! This year I wanted to teach some students an Armenian old wedding dance called Tamzara, but I wanted to do it in a more interactive way. So the QISS Team and I came up with an idea to actually teach the dance on the go. Alongside three other international students, I performed the dance first and then gave a chance to anyone who was there to take part in the dance and learn it! And then we all performed it together one more time, which hopefully created the feeling of unity that is very valuable in Armenian culture!
14:00 PM
Time for another highlight of the day: The Fashion SHOW! Featuring almost 20 different costumes from all over the globe, the fashion show is a chance to see different nations through colourful costumes! Costumes from Pakistan to Indonesia, and from Malaysia to India were all represented. This was definitely a big part of the event, as everyone in the crowd was curious to see where the next costume will be from!
15:00 PM
Another dance! This time an Indonesian solo performance, full of extraordinary and beautiful movements.
16:00 PM
As word spreads around campus, new people join the event all curious to learn about the various cultures!
16:30
More dancing! This time an old traditional Malaysian dance performed with special sticks to create a beat.
18:00PM
The event is over for another year.
Suvekshya Dhungana, Nepal
Coming to Belfast from Nepal, I did not know much about the place and hence I didn't know what to expect. I thought I would find very few people from Asia, let alone Nepal. Little did I know that I would get to experience the best mix of cultures here, celebrated through the Queen's International Student's Society.
One of the flagship events of the society is the Qulture shock, which is a series of two main events Qulture Roadshow and Qulture Night, which is one of the biggest student-led culture programs in UK and Ireland.
The fashion show
The main highlight was the Fashion show. There were representatives from 15+ countries, including Sri Lanka, Vietnam, India, Philipines, Mongolia, Africa, Indonesia, Armenia, Pakistan, Malaysia, Myanmar, South Korea etc. I was decked in my traditional attire 'Gunyo Cholo' as well.
Traditional dishes
Besides that, there were booths from different countries, such as Australia, Armenia, Nepal, SriLanka, China and so on, and they had their native dishes in the booths. I did go to all the booths to taste the dishes on display. There was dosa from India, Dolma from Armenia, begedil from Malaysia and other delicacies from Honk Kong, Bangladesh and so on. Most of the dishes were completely new to me and it was a good chance to know more about them.
Amazing performances
There were amazing performances from these representatives; experiencing and living the cultures of so many countries in just one event was unique. One of the first performances was traditional Malaysian music with the instrument Gamelan. This was followed by a splendid performance on violin by some international students.
There was also traditional dances, which were beautiful to watch. I had experience of listening to Indonesian music while I was in Bali in one of my trips. Looking at this performance, I was nostalgic and felt like I was back in Bali again.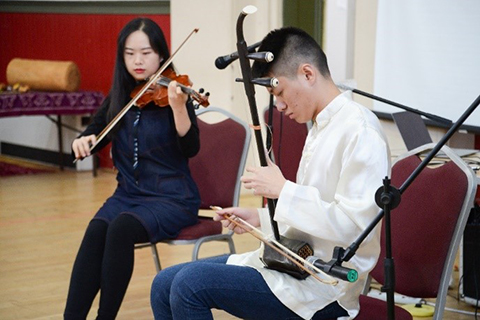 There was also a traditional bamboo dance, which was exciting to see. The precision and practice required is immense, given that a small mistake could badly hurt the ankle. The speed with which the dance was performed was amazing, although I was scared and was hoping that the dancers wouldn't get injured. What made it more interesting was that the performers were willing to teach us the dance and let us have a go at it, which obviously was way more difficult than it looked.
Overall, I had one of the best times, meeting new people and learning about different cultures. I am more aware and knowledgeable about people from different countries now. I'm looking forward to future events, such as Qulture Night - a formal dinner and a night of celebration of different cultures.
Discover more about the International Student's Society at Queen's via Facebook or Instagram
Elen Nahapetyan and Suvekshya Dhungana