Making Friends at Uni : How to meet your new best bud!
Joining university can be quite a daunting experience especially if you don't know anyone who's doing your course. Georgia has some tips on how to find your squad.
I joined QUB in September 2019 and was the only person from my school doing my degree pathway so I had to quickly make friends and chat to people on my couse in order to get to know other people.
Get in the group chat
I recommend joining groups on Facebook e.g. yearly intake groups for QUB as a whole and then finding course specific group pages to join this way you'll see who's on your course and who may be living in student accommodation so you can see who your new flat mates may be before starting!
Create a course group chat as soon as you can and trying to arrange a night out as a course so you can all get together and see each other before the academic year starts. Freshers week is great for things like this as everyone is making new friends, trying new things and going to new places at the same time.
I created a course group chat for my course and three years later it's still active with everyone asking questions and people inviting each other to events or asking if anyone else is signing up to something! (and of course it is helpful to have a place where you can ask questions about your assignments as many of us have the same questions - there's always someone who knows the answer.)
Say yes to everything!
Try your best to chat to people and just say yes to everything! It can be quite isolating if you don't know many people. For my first day of uni, one of my (now) closest friends texted me the day before asking could we meet up and go in together as we didn't want to walk into Riddel Hall on our own and we've created a great bond from something so simple!
Everyone is in the same boat so chances are they'll want a friend to do it with too. I stayed at home during my time at university and I definitely can see a difference in how many friends I've made compared to those who moved into student accommodation or a student house.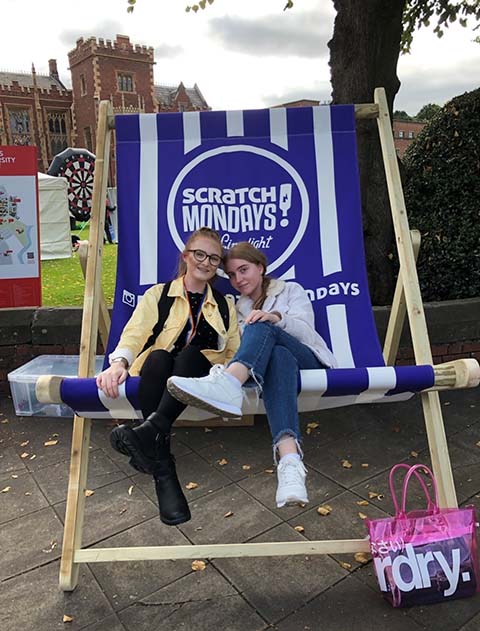 Georgia and Claire on a big deck chair outside the Lanyon during Freshers Week
Join a Club or Society
Signing up for societies is a great way to meet new people, the RAG society (Rise and Give) at QUB do a great pub crawl/White Lies night out at the start of the year, this is a great way to meet new people! It's also quite fun and light hearted as everyone's "white lie" is something unique to them and an easy conversation starter to ask what their white lie means!
Definitely also buy tickets for the freshers' events. This is something I actually really enjoyed and they took me to new bars and places I'd never been to, including Ollies, The Botanic Inn, The Parlour Bar and Ryan's Bar. I actually worked for the Unifresherz company for the freshers event and it was so much fun. It was really good money as well which was also a bonus!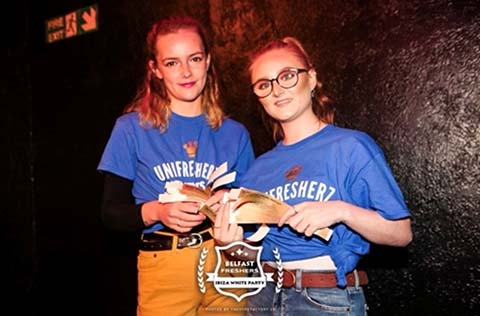 Fresher's Ibiza White Party
Bond over exam stress!
When it comes to exam time, I found it easy to make and maintain friendships by going to McClay Library together as everyone has deadlines approaching and exams coming up so everyone has work to get done. It can be handy to book a group study room so you can all sit together in one room and engage in a bit of conversation too.
I also recommend engaging with QUB groups on Facebook as these pages always has posts of people looking for friends and creating group chats for those who want to do activities during the day! There is also a page for those looking for roommates if you need to fill a room in your student house, this is another easy way to find new friends.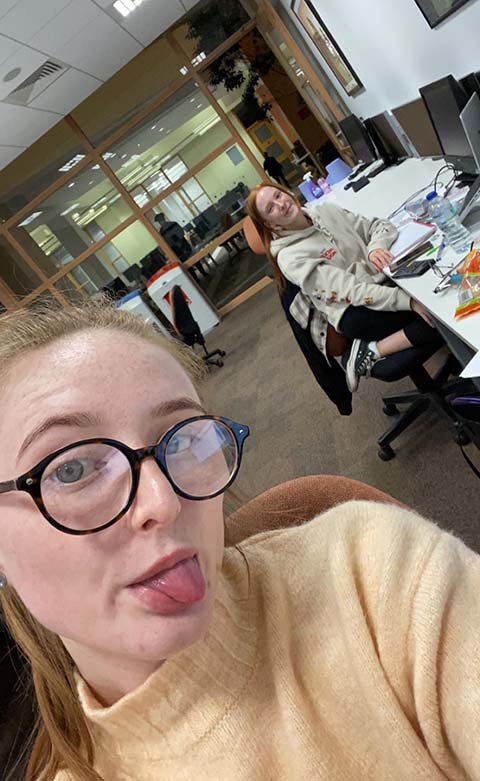 Ciara and Georgia in McClay Library
Find out more
More Student Life blogs
Georgia Thornton-Smith

BSc Business Management | Undergraduate Student | Belfast, UK

I am a 21 year-old from Belfast and I'm currently in my third year at QUB on placement with ICC Belfast. I have acquired Degree Plus from my work with the Management Society at Queen's and my work with the Pathway Opportunity Programme. When I was completing my A-Levels I was a Pathway student myself and I thoroughly enjoyed it. It helped me get my place at Queen's University! I have many interests which include going to the cinema and travelling. I'm trying to get as many city breaks in this year as possible, before returning to university for my final year in September 2022.