Global PhD Conference: Medicine, Health and Life Sciences
EXPLORING INSIGHTS, IDEAS AND IMPACT
Join us online for The Global PhD Conference: Medicine, Health and Life Sciences event that's designed to stimulate thinking and accelerate key debate on the pressing health challenges facing our planet .
Gain access to a unique series of thought-provoking interdisciplinary talks featuring leading academics across the Faculty of Medicine, Health and Life Sciences at Queen's University Belfast and delve deeper in discussion through live interactive seminars. Discover a thought-provoking seminar menu and we welcome you to contribute to key debates and future policy - from areas across Health and Life Sciences.
GLOBAL PHD CONFERENCE SEMINARS
How Gender Equality can lead to Good Health and Wellbeing: The Challenge of Engaging Males
How can we reduce gender inequality in order to improve health and wellbeing? How can we address these two sustainable development goals in unison? One of the key messages I hope to convey today is that this challenge concerns us all. Crucially, we need to engage males as well as females.
Supporting those who are living with and beyond cancer – an ever growing global issue
The number of people diagnosed with cancer, and surviving is continually growing. Life after cancer presents lasting challenges, it means living with the impact of having had cancer and the side effects from treatments. Our aim is to ensure all those living with and beyond cancer, do not simply live, but live well.
Fighting organised crime in the global food supply system
More money is made in cheating the global food supply system than in the world's heroin trade. with organised crime gangs becoming more involved. Work within the Institute for Global Food Security is using cutting edge science and technology to detect and deter the cheats.
Sustainable food production and the circular economy
Using palm oil as a case study we begin to explore sustainability and circular economy in the food industry, the trend of clean labels, zero waste as well as our awareness and responsibilities as consumers
mRNA: the future of vaccination
Are the mRNA Vaccines the future of vaccinations or are they a one off because of the COVID19 pandemic?
Public health and the planetary crisis
Malnutrition, infectious diseases, social unrest, and mass migration. How can we assess the impact of mitigation and change the narrative?
The planetary crisis: the scientific evidence base
Unpacking some of the evidence which points to a changing climate and looking closer at the organisations behind the hard science of climate and biodiversity.
Managing farmed landscapes for food and nature
Agriculture is a prime cause of the planetary emergency but how do we feed an ever-growing human population whilst minimising our ecological and climatic footprint?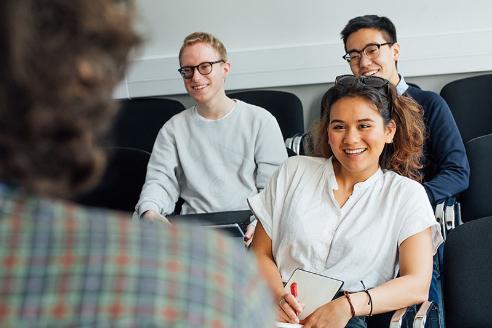 HOW DO I APPLY? APPLYING FOR A PHD AT QUEEN'S UNIVERSITY BELFAST
Join Professor David Grieve, Dean of Internalisation at an information session on how to apply for a PhD at Queen's Unviersty. This session will cover how to identify your potential supervisor, what to include in your proposal and discover research active areas in the areas of Medicine, Health and Life Sciences.
WHY ATTEND THE GLOBAL PHD CONFERENCE?
HERE ARE SOME OF THE BENEFITS
ENGAGE IN KEY DEBATE ACROSS A WIDE RANGE OF ENGAGING SEMINAR THEMES
HELP TO SHAPE FUTURE THINKING AND POLICY ON HEALTH CHALLENGES ISSUES
ACCESS IN-DEPTH VIDEO TALKS FROM LEADING ACADEMICS ACROSS DISCIPLINES
BUILD NETWORKS WITH OTHER STUDENTS INTERESTED IN DEBATE AND MAKING AN IMPACT