STUDENT EXPERIENCE
In 1849, when Queen's College Belfast opened its doors, there were 195 students and 20 professors.
In the early days, facilities for students were limited. Today, Queen's is home to a thriving multicultural community of over 24,000 students from 85 different countries and an award-winning campus.
BAZAAR GOINGS-ON
The year was 1894. It all began with a bazaar to raise funds for a Queen's College Students' Union building.
The event was a great financial success and also a social highlight attended by members of the local aristocracy who also ran their own stalls. In 1896, a stone laying ceremony took place for the new Students' Union.
Pictured: Bazaar, 1894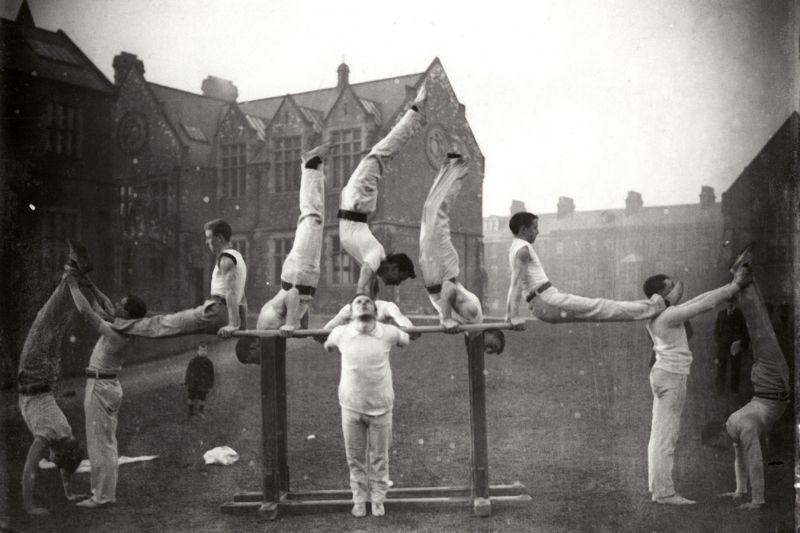 JOINING THE CLUB
When the Students' Representative Council was formed in 1900, it recognised ten societies and clubs.
Today there is an eclectic mix of over 200. Originally, there were six sports clubs plus the SU Society, the Medical Students' Association, the Literary and Scientific Society and the Christian Union.
Pictured: Students perform gymnastics outside the Lanyon building
A HOME FROM HOME
In 1936, Queen's Chambers was opened, a residence for 42 male students.
Riddel Hall, for Protestant female students, had been opened about 20 years before and in the 1940s Aquinas Hall was opened for Catholic women students. All of this was the forerunner of today's Queen's Elms village on the Malone Road and our city centre accommodation.
Pictured: Riddel Hall
IT'S RAG DAY
RAG (Raise and Give) is the Students' Union official charity fundraising group.
RAG Day, with outlandish floats and hundreds of students in crazy costumes, reached its peak of popularity in the Fifties. PTQ, the longest-running RAG magazine in the UK, was launched in 1927 and has been instrumental in raising many thousands of pounds for good causes.
Pictured: RAG continues to raise funds and awareness for local charities and international partners.
THE HEROIC 700
For 175 years, Queen's students have made their mark.
In July 2020, the AIB NI Student of the Year Award went not to an individual but to 700 graduating students from across the university who joined the frontline in the fight against COVID-19. At a virtual awards ceremony, the Vice-Chancellor, Professor Ian Greer, called their selflessness and willingness 'both humbling and inspiring.'
TO THE FUTURE…
In 2018, the Students' Union building on University Road closed its doors.
Now work has begun on a new Student Centre which will incorporate a new Students' Union facility. To be opened in 2022, it will transform services and support, catering for the changing needs of students and creating an exciting new heartbeat for campus life.
Pictured: New Student Centre, University Road
British Universities Students' Congress, 1908
The Hamilton Gate Lodge, Queen's University Belfast
QUB Athletic Club, 1912
Hot air balloon at the 1894 fair