With our world-class developments for staff and students, Queen's has some of the best campus facilities in the UK and Ireland.
Investing £700m over a 20 year capital development programme, we are continuing to transform Queen's historic campus into a beacon of learning and innovation.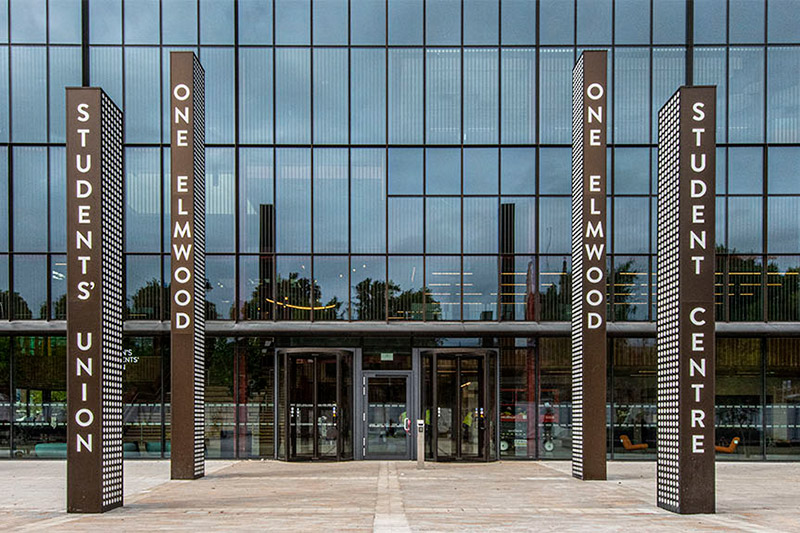 New Student Centre
Creating a social, open and flexible space, which can cater for the changing needs of students and create a new heartbeat for life on campus.
Construction is complete on the new Student Centre on University Road on the site of the former Students' Union building.

The new Student Centre transforms the provision of student services and support offered by the University and the Students' Union, sharing one central, state of the art facility for our 25,000 students.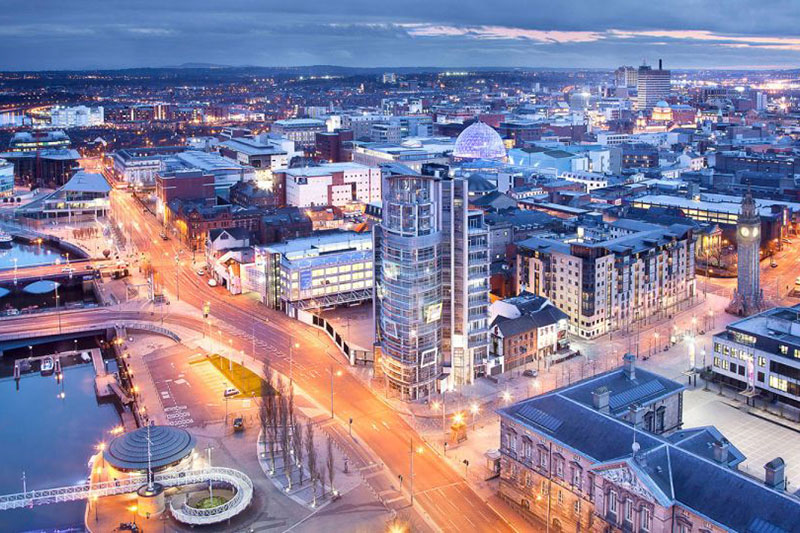 Queen's-led City Deal Innovation Centres
Queen's will build three Innovation Centres, as part of the Belfast Region City Deal. The Advanced Manufacturing Innovation Centre (AMIC), the Global Innovation Institute (GII) and the Institute of Research Excellence for Advanced Clinical Healthcare (iREACH) represent a total investment of over £200m from City Deal, the University and its partners, and will all be operational by 2026.
These projects, which build on areas of our research strength, are key to the local economy in Northern Ireland as they focus on collaborative university-industry R&D to harness additional investment, create new jobs and accelerate inclusive growth.
Working in partnership with industry, government and healthcare organisations, the centres will drive momentum in fields including advanced manufacturing, clinical research and secure, connected digital technologies through impact-focussed innovation to create global impact.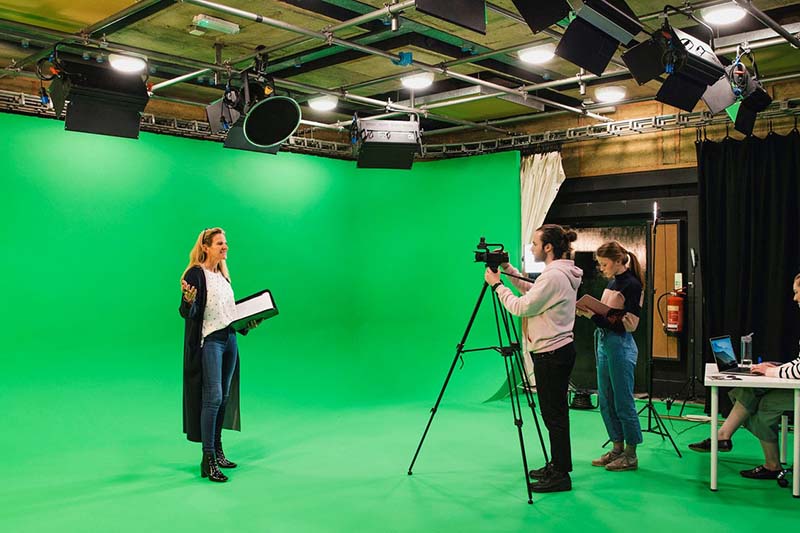 Queen's MediaLab
We are investing £2.5 million to develop an interdisciplinary research facility, MediaLab, focusing on virtual production that will help drive R&D for the screen industries and upskill the local sector in Northern Ireland.
Building on our excellence in storytelling, performance arts, computer vision and machine learning, The Medialab will be a facility positioned to take advantage of step change opportunities in virtual production, enhance digital transformation for the media and performing arts sectors and provide an inter-disciplinary space for collaboration across the sciences and arts. Spread across three labs, the media lab will offer a wide range of facilities for commercial, collaborative and research needs.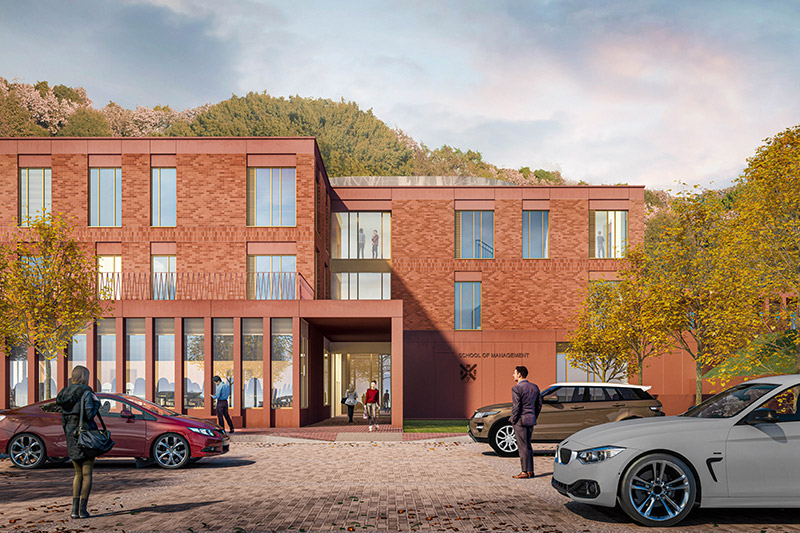 Riddel Hall
A new purpose-built teaching facility will extend and enhance the Riddel Hall campus and contribute to the on-going success of the Queen's Management School and Leadership Institute located at the sit
The expansion of the School will ensure that it is fit to serve the changing educational needs of a rapidly growing postgraduate community, who will prove invaluable to the progress of the Northern Ireland economy.
The new building will consist mainly of postgraduate teaching spaces supported by project rooms, flexible quiet study space/breakout rooms, space for corporate engagement, a placement/employability suite, and staff offices and ancillary accommodation to support student engagement.
SIMULATION CENTRE
Our aim is to promote excellence in education of the healthcare professionals through an inter-professional simulation-based approach that drives safe, effective and collaborative care now and in the future.
The aim of the Centre is to better prepare the next generation of healthcare professionals by mirroring procedures and events in key areas such as acute and emergency care, chronic illness, paediatrics, mental health and maternity services.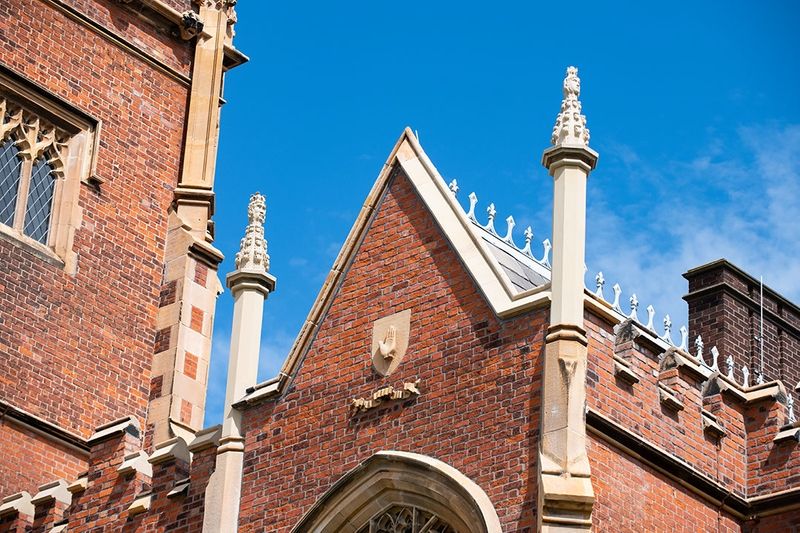 Lanyon Building Restoration project
Important conservation and restoration work was completed in 2019 on the iconic Lanyon building, the showpiece of Queen's.
This involved the refurbishment and replacement of stone, brickwork, windows, leadwork, and rainwater goods.

The Lanyon project demonstrates our ongoing commitment, as custodians of our built heritage, to preserve and maintain our historic buildings for future generations.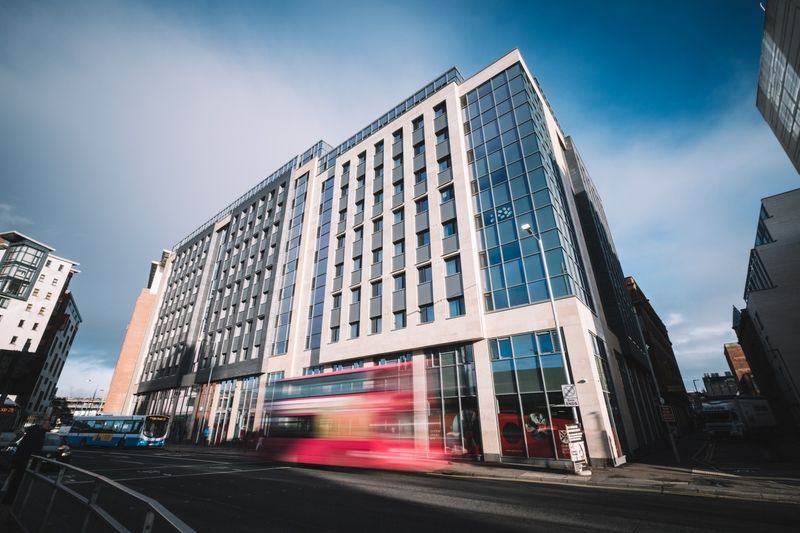 Accommodation
A key part of our investment has been in new City Centre accommodation.
Work has completed on two new student developments in Belfast City Centre, providing 1,237 bedrooms in studios and clustered apartments, including gyms and social spaces.
We also continued our investment in existing accommodation, with over 1,750 rooms upgraded.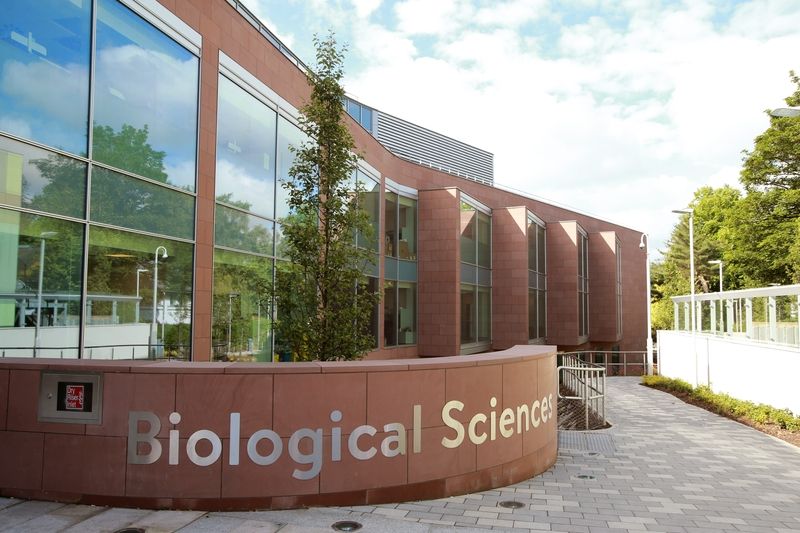 SCHOOL OF BIOLOGICAL SCIENCES
Driving agri-food and life sciences in Northern Ireland
The new Biological Sciences building recently opened at Chlorine Gardens, which is the
new hub for the School of Biological Sciences and our Institute for Global Food Security. It will be key to the development of the life sciences and agri-food sectors in Northern Ireland.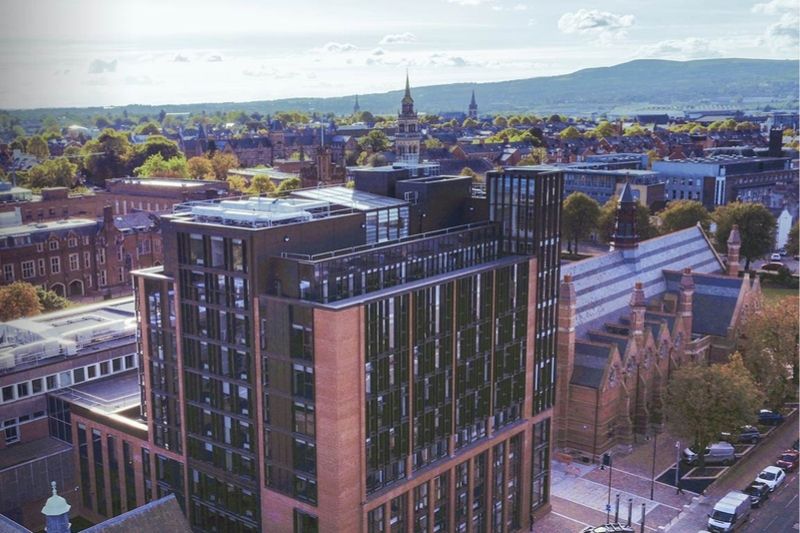 SCHOOL OF LAW
The new space for School of Law features bespoke facilities to support an innovative culture of learning.
It has includes a number of advanced teaching spaces, central to which is the Moot Court Room interactive teaching space; a digital recording studio and vibrant social hub on the ground floor.

The development recycled the former Library Tower and added a three-storey building to the Peter Froggatt Centre for study and collaboration under one 21st century roof.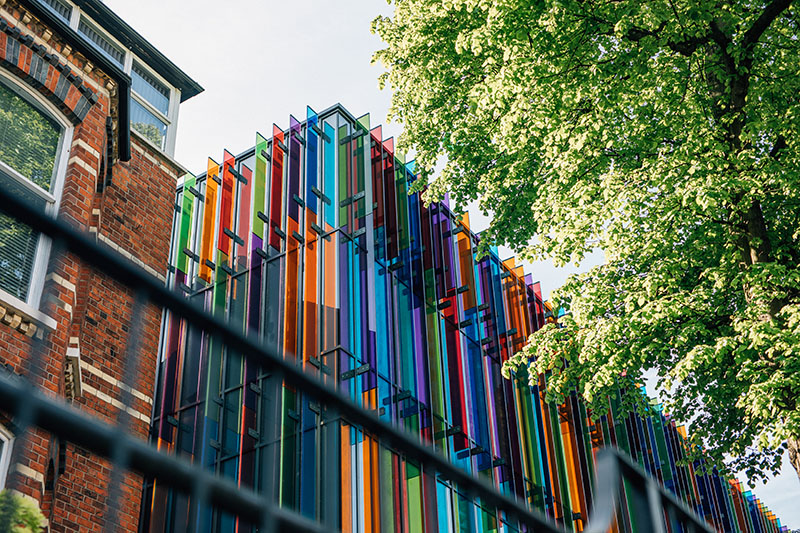 COMPUTER SCIENCE BUILDING
An iconic new landmark building with world-class IT facilities
The new Computer Science building integrates teaching and research, delivering a stimulating environment for staff and students and group and project work.
It provides an expansive interior for classrooms, computer laboratories, interactive lecturing space, project spaces, technical support, office accommodation, and study/lounge areas. The colourful exterior boasts glass fins which represent digital code – a main mathematical aspect of computer science.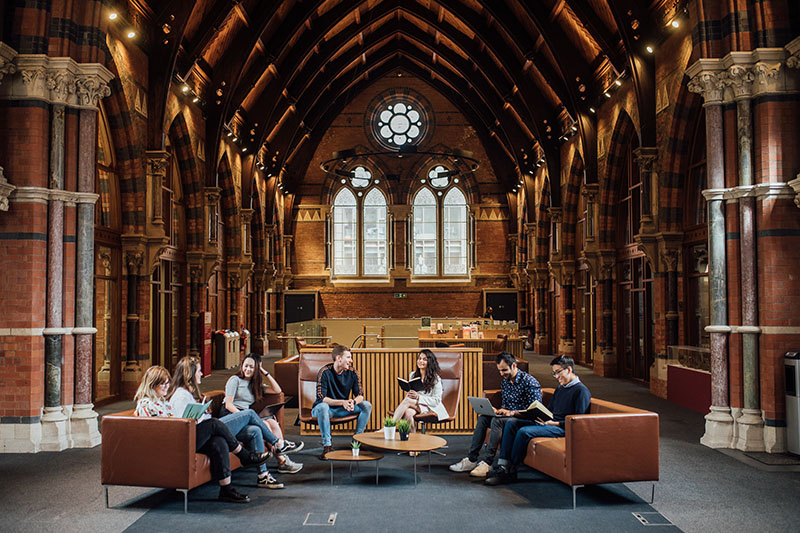 THE GRADUATE SCHOOL
A state-of-the-art hub for our vibrant Postgraduate community
With the power to encourage creativity and open up new ways of thinking, Queen's Graduate School represents a quantum leap in postgraduate provision.
This fully accessible space has modern, hi-tech meeting and group study rooms, a silent study area and social spaces. It is a vibrant hub, inspiring intellectual exchange
and collaboration.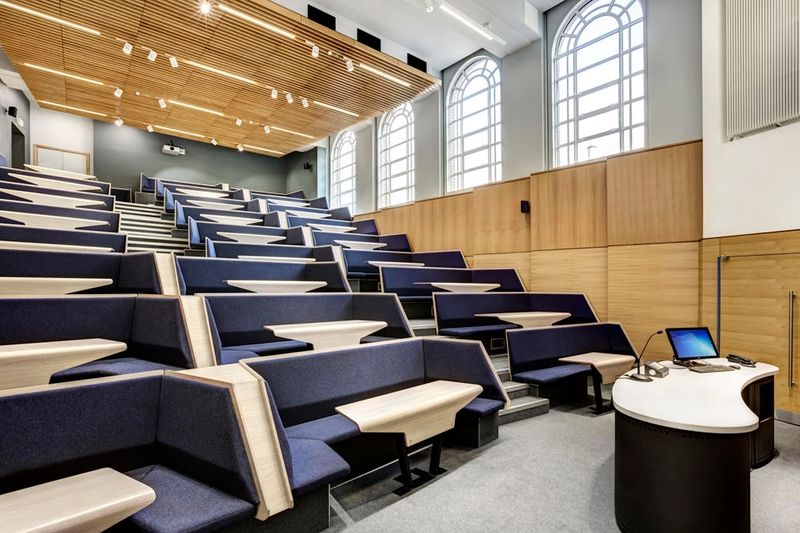 MAJOR LECTURE THEATRES
Ongoing investment across the University is continually improving teaching space.
Improving our facilities across the campus enhances the student experience to allow standard teaching, interactive group work, and other informal teaching in stimulating environments. All spaces have IT access points and WiFi.
Our new fully-immersive online learning environment installed by the Faculty of Engineering and Physical Sciences, allows participants from all over the world to participate in discussions, interact via real-time polls, and collect learning materials.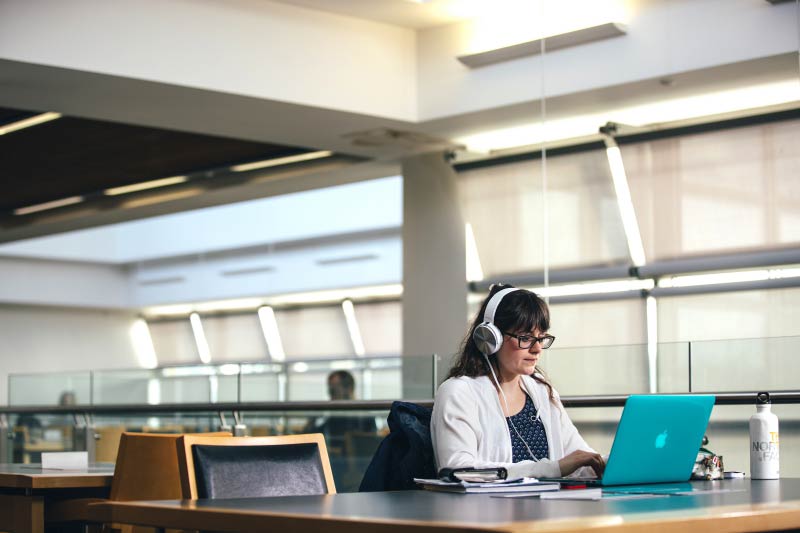 FULLY CONNECTED WITH THE WIFI PROJECT
The Wireless Campus Project, a £1.93m investment, brings a state-of-the-art wireless service to all areas of the Queen's campus.
It enables users to have anytime, anywhere access to the resources they need and to work in a fully-flexible 21st century environment.
AWARD-WINNING SHELF SERVICE AT THE MCCLAY LIBRARY
The McClay Library is the result of a £50m investment and won The Society of College, National and University Libraries (SCONUL) Award in 2013.
Designed with students in mind, the Library blends the best features of a traditional library with the latest technology and is both a centre for learning and a place to collaborate. With 2,200 reader seats in a mixture of formal and informal spaces, the Library offers places for quiet study and significant provision for group work.
The current refurbishment and extension of the McClay Library aims to offer an improved layout which provides an additional 320 reader spaces.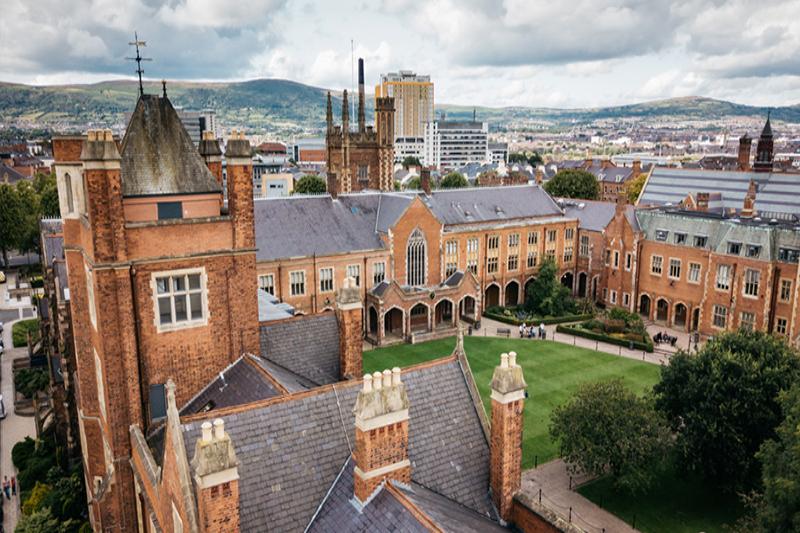 CONSTRUCTION MADE SUSTAINABLE
We are committed to ensuring sustainability is incorporated into every aspect of our operations, teaching and research. The Estates Directorate ensures all development projects are designed to a high, sustainable standard.
All projects greater in value than £1 million are designed to a BREEAM Excellent standard, whilst refurbishments achieve a BREEAM Very Good rating. Development projects at Queen's take into consideration many aspects, including sustainability, energy performance, water efficiency and biodiversity.