WHERE IS QUEEN'S?
IT'S CLOSER THAN YOU THINK
All major UK cities are within an hours flying time of Belfast* and Dublin is just a couple of hours drive away.
Belfast has two airports and great transport links from both Dublin and all major ports.
* (Complete University Guide, 2016)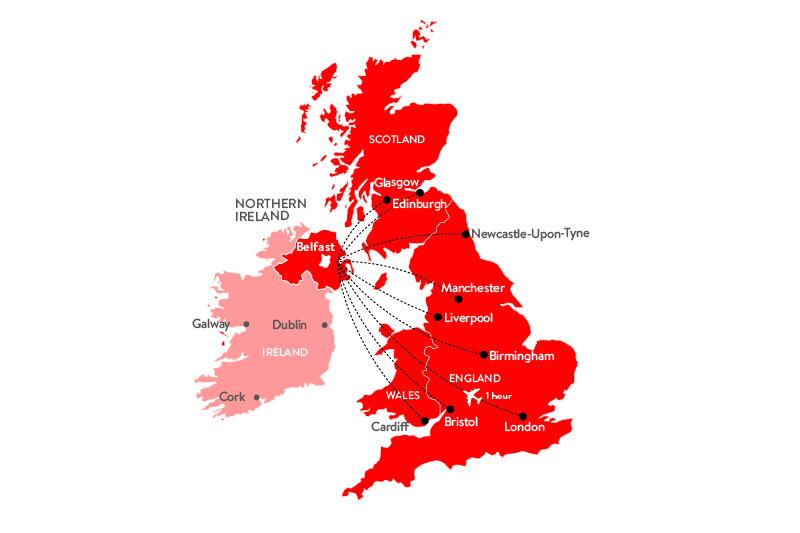 Belfast - Northern Ireland's capital city
Belfast is connected to the rest of the UK, Ireland and Europe by sea, road, and air.
Key information:
58 direct flight destinations from Belfast to the UK, Europe and the USA
99 cross-channel sailings each week
2 airports in Belfast
Dublin airport is just 90 minutes away
Don't let travelling put you off, once you get here Belfast has the lowest cost of living in the UK (Mercer Cost of Living City Ranking 2023).
Belfast is a compact city that is really easy to get around on foot. If you need to take public transport, the metro bus stops right outside Queen's main building.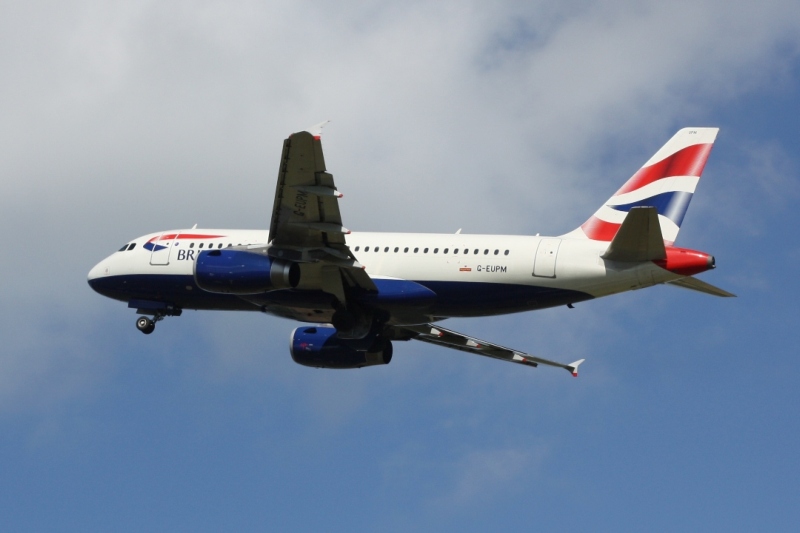 FLY TO
Belfast International Airport
Located 13 miles (21 Kilometres) northwest of Belfast.
Getting from the airport to the City
By Bus: The Airport Express Bus Service (Service 300) operates a regular service on weekdays and weekends. The bus leaves from the bus stop located opposite the terminal exit. More information
By Taxi: The International Airport Taxi Company, official taxi operator for the Belfast International Airport, are available for hire 24 hours a day 7 days a week outside the right hand door of the airport Exit lobby. Only taxis approved by Belfast International Airport are permitted to use the taxi rank. A list of sample fares is displayed in the exit hall of the terminal building. A taxi share scheme to Belfast is available for those who wish to use it. For bookings, contact the Belfast International Airport Taxi Company on +44 (0)28 9448 4353. For more information and to book online visit www.belfastairporttaxis.com.

For additional travel arrangements visit the Belfast International Airport Website
Read more
Read less
---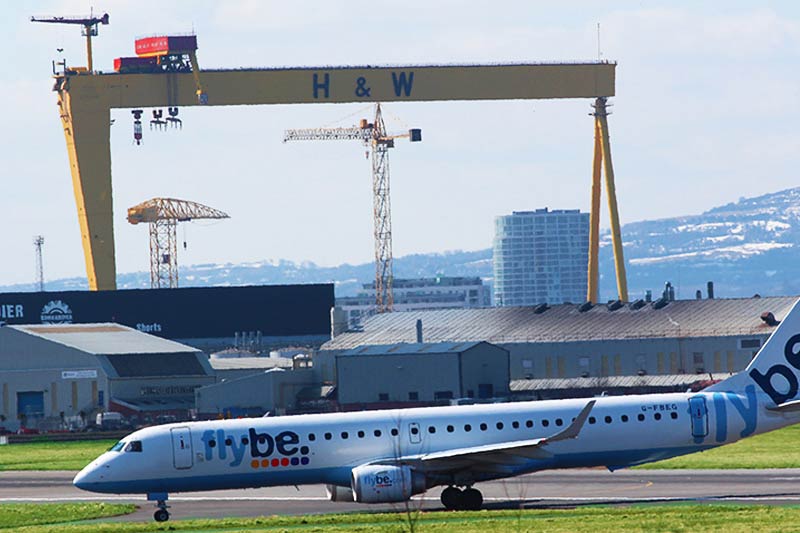 FLY TO
George Best Belfast City Airport
Located just three miles (5 kilometres) from Belfast City Centre.
Getting from the airport to the City
By Bus: The Airport Express Bus Service ( Service 600) operates every 30 minutes Monday to Saturday and every 40 minutes on Sunday from outside the airport to the Belfast Europa Bus Centre adjacent to the Europa Hotel, in the heart of the city. The service, Airport Express 600, operates between 5.45am and 9.25pm.
By Train: When travelling to the airport by train, you'll want to disembark at Sydenham train station.Translink operates a rail service (0600-2300) Monday-Saturday to Central and Victoria Street Stations every 20 minutes. The service is hourly on Sundays (0900-2200). Connections are available from Central Station to the rest of the rail network in Northern Ireland and the Irish Republic. A shuttle bus service operates between the airport terminal and the rail halt at Sydenham. Please go to the information desk and ask for the service. You'll be instructed to wait by the taxi rank where the shuttle bus will collect you.
By Taxi:Approved taxis operate from the Airport taxi rank outside the terminal building. Wheel-chair accessible taxis are available. The approximate cost of a taxi to Belfast City Centre from Belfast City Airport with our approved taxi provider is £10.00 (including £2 surcharge). All fares are subject to a £2 surcharge). For more information or to book a taxi, (028) 90 809080 or visit the Value Cabs website.
For additional travel arrangements visit the George Best Belfast City Airport Website
Read more
Read less
---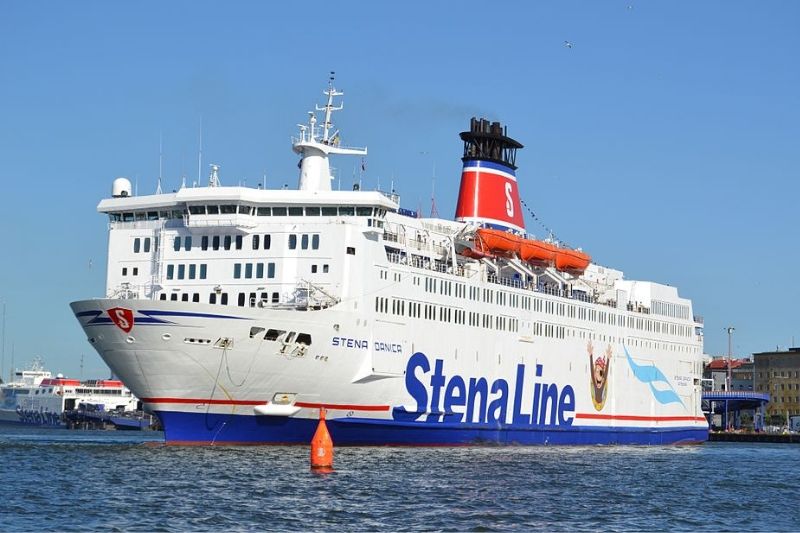 SAIL
Take the Ferry to Belfast
Fast ferry services including Stena Line and P&O Ferries make multiple daily crossings from Northern Ireland to ports in Scotland and England. The two main Belfast routes are from Liverpool and Cairnryan, both provided by Stena Line. An alternative route runs from Holyhead to Dublin, with excellent motorway connections between there and Belfast.
---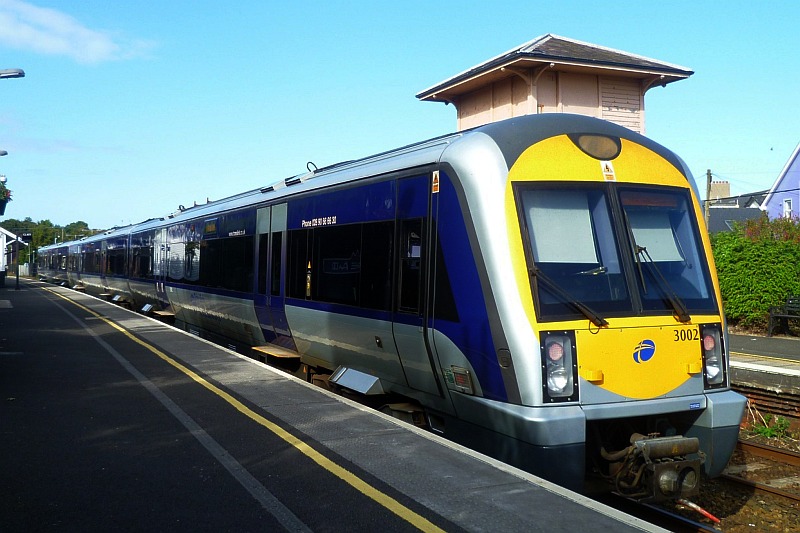 PUBLIC TRANSPORT
TAKING THE BUS AND TRAIN
Queen's is a five minute walk from Botanic Train Station on the Bangor, Larne, Newry and Derry~Londonderry lines. Coach and bus services arrive at Great Victoria Street, which is also connected by rail (or alternatively is a ten-minute walk).

The Enterprise Train service runs from Dublin to Belfast with an average of 8 trains per day with an estimated travel time of 2h09. Trains from Dublin to Belfast depart approximately every 1h40mins. A regular bus service also runs from Belfast Europa station to Dublin city and Dublin airport.
All public transport in Northern Ireland is organised by the Translink company. Visit their website for more information on fares, timetables, journey planners and online ticket bookings. Below is a list of their main services:

Student Discount
If you are aged 16-23 you can avail of the ylink card which offers a 1/3 discount of all fares on both train and bus services provided by Translink.
Read more
Read less
---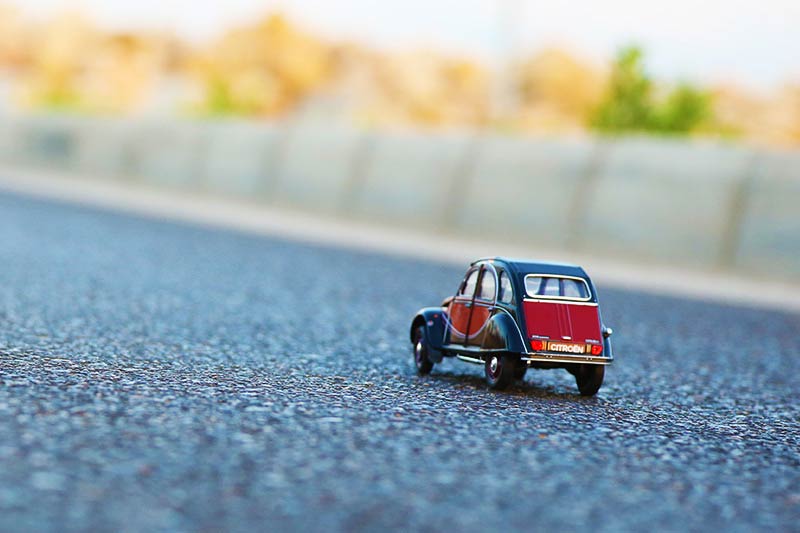 BY CAR
Driving to Queen's
Queen's is located in south central Belfast and as such is close to the both Northern Ireland's main motorways, connecting it easily with the rest of Ireland.
Travel Times to Queen's
The table below highlights the distance and approximate journey times for a number of cities and towns across the north and south of Ireland.
| | | |
| --- | --- | --- |
| Starting Point / Location | Journey Distance (Miles / Kilometres)* | Approximate Journey Time** |
| Dublin | 103 / 166 | 1 hour 45 minutes |
| Derry / Londonderry | 75 / 120 | 1 hour 30 minutes |
| Coleraine | 57 / 91 | 1 hour 10 minutes |
| Newry | 39 / 62 | 45 minutes |
| Antrim | 20 / 33 | 30 minutes |
| Lisburn | 9 / 14 | 20 minutes |
| Galway | 230 / 370 | 3 hours 45 minutes |
| Enniskillen | 81 / 133 | 1 hour 30 minutes |
* All distances are based on a central starting position within the city/town named and on your final location being the main Queen's Campus (The Lanyon Building or McClay Library)
** All Journey times are approximate and are subject to traffic/road works and other potential delays. It is advisable that you check the conditions before commencing your journey and plan alternative routes accordingly.
SAT NAV address
If you are planning on driving to Queen's and have a SAT NAV available you can use the following address:
Queen's University Belfast,
University Road,
Belfast,
BT7 1NN,
Northern Ireland, UK
Read more
Read less
---
---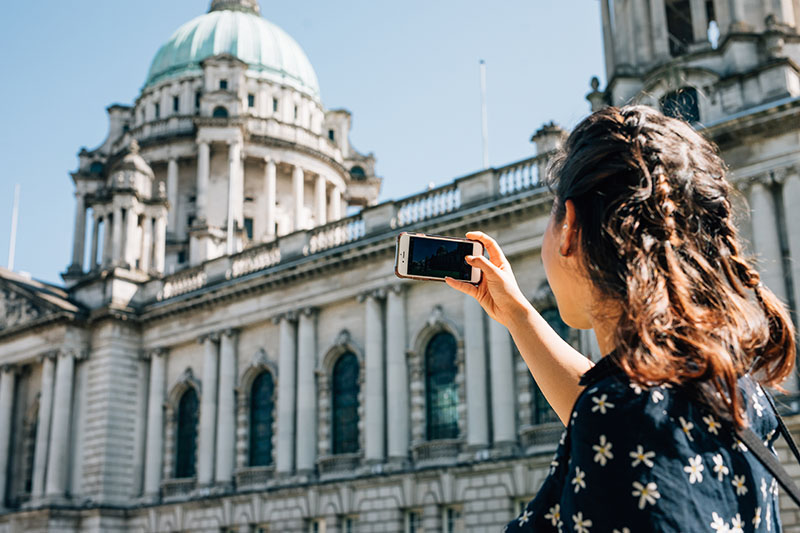 Visit Belfast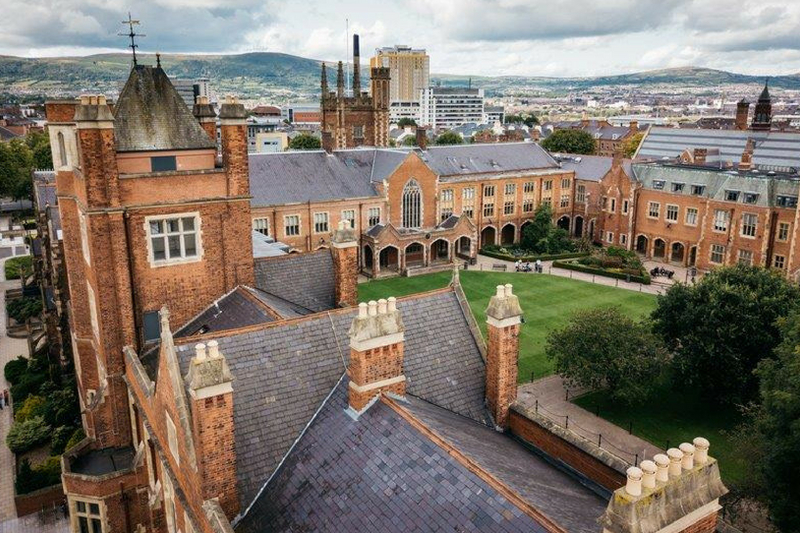 Faculties and Schools

Find your way around