Vice-Chancellor's Update - December 2021
Last week saw a welcome return to in-person Graduation Ceremonies as well as Celebration Events for those who graduated during COVID restrictions.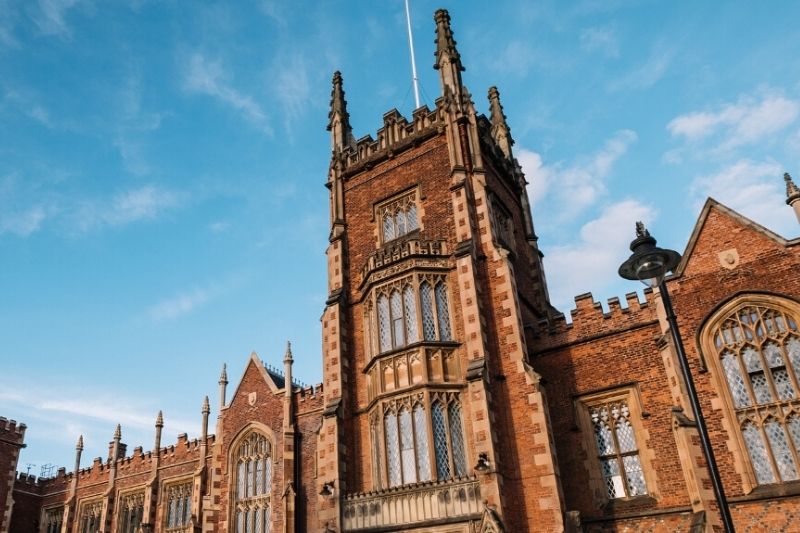 Graduation is the highlight of the academic year and it is really important that our students and recent graduates have the opportunity to experience the occasion, particularly, given the challenging circumstances in which they have completed their degrees. There are 27 ceremonies in total over the course of two weeks, which, as with all the activity at the University, are taking place in line with current COVID guidelines. Organising graduation ceremonies and events on this scale is a huge undertaking and I am extremely grateful to all the individual staff and teams from across the University for their hard work and efforts to ensure it will be a memorable experience for all our graduates and their families.
It is this type of teamwork that has been evident throughout the year as we have dealt with, and continue to deal with, the ever-changing environment as a result of COVID. Whilst COVID has provided the backdrop to many of our activities in 2021, we have continued to look to the future with the development of our new Strategy. As we approach the end of the year, I thought it would be useful to provide an update on some of the progress that has been made in the implementation of the Strategy since it was approved by Senate in June 2021.
A Strategy Delivery Group, chaired by the Registrar, has been established to oversee the delivery of Strategy 2030 and is currently finalising an Action Plan for the current academic year. Faculty Plans for 2021-22 have been developed and approved as well as a number of Strategy Investment Proposals. These include: £5m investment in the Digital Transformation Roadmap and investment in the Research and Innovation Strategic Priority, including contract and research governance, enterprise plan, research excellence and an innovation centre. A new integrated academic planning process has also been approved by UEB and the annual timeline agreed with planning for 22/23 through to 24/25 commencing in February 2022.
Progress is also being made across all the Strategic Priorities:
Research and Innovation
As mentioned in my last Update, research performance has improved significantly over the past year and against the three year average with an increase in research awards, research contribution and the proportion of grants over £1m. The proportion of PG students has increased to 32% of the total student population while the PGR student satisfaction has increased by 3% to 84%. A new Postdoctoral Development Centre has been launched to support postdocs and researchers while the Fellowship Academy continues to grow with a further 10 prestigious externally funded fellowships awarded since the Academy was launched in 2020. A new governance model has been implemented for our Global Research Institutes and the roll-out of the global research engagement plan is on track. We have established the All-Island Research Excellence Network and are developing projects in support of new cross border collaborations between universities and industry.
Pictured at the Launch of the Postdoctoral Research Centre are left to right: Joanne Clague, Registrar and Chief Operating Officer; Dr Rebecca Loader, Research Fellow in the School of Social Sciences, Education and Social Work; Dr Alice Dubois, Head of the Postdoctoral Development Centre; Dr Suha Dadou, Research Fellow in the School of Pharmacy; Professor Ian Greer, Vice-Chancellor; Dr Ahmed Ibrahim Osman, Research Fellow in the School of Chemistry and Chemical Engineering; Professor Emma Flynn, Pro-Vice-Chancellor for Research and Enterprise.
Education and Skills
The work undertaken to-date by colleagues across the University in the area of education and skills has positively impacted two key success measures: as well as an improved relative NSS position to joint 2nd in the comparator eight and joint 6th in the Russell Group, we have improved our position in National league tables moving 13 places to 33 in the Guardian and 7 places to 24 in the Sunday Times. Having delivered improved rankings during the pandemic and some of the best graduate outcomes in the UK, we have successfully transitioned back to campus with 94% of teaching delivered face-to-face throughout semester 1.
We continue to invest in the virtual learning environment and are currently rolling out enhanced lecture capture infrastructure across the University. Work is also continuing on a number of priority projects, with detailed work underway on business cases for Queen's Institute of Learning and Teaching, rebalancing assessment, and transformation of the curriculum.
Global Partnerships and Reputation
The Pro-Vice-Chancellor for Internationalisation is leading the delivery of an updated 2021-22 Reputation Action Plan to enhance the University's global reputation and ranking. Our USA Strategy is being rolled out as well as a new Podcast Strategy to showcase the breadth of the work taking place across the University. Extensive public and political engagement is ongoing and in recent weeks this has included visits to the University by the Secretary of State for the Department of Business, Energy and Industrial Strategy, Kwasi Kwarteng MP and by Anne-Marie Trevelyan MP, the Secretary of State for International Trade. Visits like these are important to be able to highlight the unique role that Queen's plays in research and development, the opportunities from the UK Industrial Strategy and to enable us to feed into the levelling up agenda. In other developments, we have also established a new Business Advisory Group to enhance our links and engagement with business.
Secretary of State for the Department of Business, Energy and Industrial Strategy, Kwasi Kwarteng MP pictured with the Vice-Chancellor, Professor Ian Greer and Pro-Vice-Chancellor for Research and Enterprise, Professor Emma Flynn.
Social and Civic Responsibility, and Economic Prosperity
As part of this Strategic Priority, four projects have been identified for early implementation: City Deal, Sustainability, Civic University and Widening Participation.
The City Deal represents a major opportunity for the University, Belfast and Northern Ireland. As part of the Deal, Queen's is leading the development of three major Innovation projects to accelerate economic growth. Business cases for the Advanced Manufacturing Innovation Centre (AMIC), Global Innovation Institute (GII), and the Institute for Research Excellence in Advanced Clinical Healthcare (iREACH) are ready for Government approval before the end of 2021.
In recent months, progress has been made on the sustainability agenda. As part of our commitment to embed the Sustainable Development Goals across all our activities, we have signed the UN SDG Accord and have pledged a multi-million pound investment in a new sustainability action plan to help us play our part in tackling the global climate emergency.
A group, led by Professor Michael Alcorn, has been established to co-ordinate work across the University in relation to sustainability. Further information can be found on the recently launched Sustainability at Queen's webpages.
Other areas of progress in this Strategic Priority include the launch of the Queen's Communities and Place (QCAP), a new initiative based on partnership between communities, policymakers and academics which highlights our role as a Civic University.
In relation to widening participation, the 2022-23 Widening Access and Participation Plan (£3.7m) has been approved by the Department and our successful Pathway Opportunity Programme has expanded to 250 students.
While we are still very much at the beginning of the implementation of Strategy 2030, I am pleased with the progress that has been made over recent months. Our people are at the heart of Strategy 2030 and are key to the success of this university. I would like to thank you all for your professionalism, dedication and hard work over the past year and hope you enjoy a relaxing Christmas break.