Vice-Chancellor's Update - May 2020
As we continue to deal with the challenges of COVID-19, I wanted to reassure all staff that we are continuing to operate University business as best we can, whilst also planning for the future in this uncertain environment.
Throughout this pandemic, the health and wellbeing of our staff and students have been, and remain, our key priority. As I have said on a number of occasions, you have all demonstrated considerable resilience and agility over the recent weeks and months, particularly within the context of the numerous caring and family responsibilities that so many of you are dealing with and my thanks again to all staff.
You will be aware that we have committed to the 20/21 academic year beginning on 21 September 2020. I know that many of you are anxious to understand when we will transition back to life on campus and how the University will operate within the context of social distancing. There are many challenges that lie ahead as we understand emerging Government advice and how best this can be implemented. I want to reassure all staff that our primary concern will always be your safety and wellbeing. The planning processes for reopening the campus are underway, taking into account the many uncertainties and scenarios. Regular updates will be provided as soon as we are in a position to offer details on the plans. I have been invited to join a UUK Project Group to deal with the transition from lockdown across the UK HE sector. This Group met for the first time this week and I will keep you up to date with key developments from these discussions.
I understand that colleagues will also be concerned about the wider economic impact of COVID-19, with job security on many of your minds. We undoubtedly will have a financial challenge. However, with many uncertainties, not least around student recruitment for the next academic year, it is difficult to predict the magnitude of any such challenges. At this stage, detailed planning is underway to determine the likely financial impact on the University and, more importantly, to identify actions we can take to mitigate projected losses. As an institution, we have a strong track record in responsible financial planning, with low levels of debt and a solid balance sheet position. Despite lower levels of funding compared to other UK regions, we have always operated within our means. This financially responsible approach means that our starting point differs from that of many HEIs across the UK since even before COVID-19, a considerable number of those other UK universities were already facing significant financial challenges. The University Executive Board is considering, on a weekly basis, the emerging financial pressures and I will share key decisions and interventions with all staff on a regular basis. The most recent decisions made can be accessed here. As a University, we will continue to work to mitigate the potential impact and to maximise our own opportunities, particularly around international and PGR recruitment. It is important that all colleagues help with these latter priorities in any way that they can.
It is also important to highlight that our new Strategic Plan continues to be developed. The COVID-19 issues overlay these plans and whilst these issues might impact on some aspects of how we operationalise the plan, they actually emphasise our direction of travel in terms of our role in the socio-economic development of Northern Ireland. This has been ever more evident given the enormous role that Queen's has played in responding to the crisis, of which we can all be very proud.
Highlighting the significant challenges facing the sector, as a result of COVID-19, is a key priority for me personally. I am in regular contact with the Minster for the Economy, Diane Dodds, and officials in the Department for the Economy, the Department of Health and the NIO. I joined a recent meeting of the Economy Committee at Stormont, along with the interim Vice-Chancellor of Ulster University, to apprise MLAs of our response to the pandemic and the challenges facing the sector. I am also engaging extensively with colleagues in Universities UK and the Russell Group to ensure that the Northern Ireland voice is heard in UK-wide discussions and decisions relating to HE. This week, I also met (virtually) with Vice-Chancellors from across the island of Ireland to consider the scope for collaboration with our colleagues in RoI, particularly around the role of universities in the recovery from COVID.
In the midst of such uncertainty, the recent announcement by the Northern Ireland Executive of £700 million investment for the City and Growth Deals across NI was welcome news. As you will be aware, Queen's is a partner in the Belfast Region City Deal (BRCD) and has been working with Ulster University to collaboratively drive projects that will foster innovation in key sectors including data science, creative industries, advanced manufacturing and health. The announcement by the Finance Minister of match funding brings the overall investment in the BRCD to £850 million. Prior to the COVID-19 pandemic, we talked about the BCRD representing a once-in-generation opportunity for inclusive growth and being a major boost to the local economy. This funding is now all the more crucial as we emerge from these challenging times and look towards recovery and regeneration.
We know that economic and societal recovery will require extensive investment, collaboration and innovation. The BRCD and the other Growth Deals are a major part of this, but we also have an important leadership role to play in supporting those sectors of our economy and society most impacted by the pandemic and, in particular, reskilling our community. Over the past couple of months, colleagues have been looking at ways in which we can support upskilling and retraining and I am delighted that we have now received approval from the Department for a new online Postgraduate Certificate in Software Development. The course, which will begin at the end of May and run until September, will ensure that those sections of NI's workforce, most impacted by this crisis, can access skills training in areas that will develop their employment opportunities within a matter of months, and support the regrowth of our economy as we emerge from this global crisis. I would like to thank all those involved in the development of this course - it is just one example of how flexible and agile staff have been in developing new ideas and ways of working that will make a real difference to society. It is also good to know that there are at least two courses of this type in advanced stages of development.
Over the course of these past few months, no one has been more flexible and agile than our final year medical, nursing and midwifery, and social work students who completed their studies early to join the NHS workforce. Their willingness to join the frontline has been humbling and inspiring, and I was delighted to be able to congratulate our medical students as part of a virtual event which celebrated their success. During that event, our Chancellor Secretary Hillary Rodham Clinton also shared a message, congratulating our future healthcare professionals on their achievements and wishing them well in the careers. It really was an uplifting event and I would like to thank colleagues in School of Medicine, Dentistry and Biomedical Sciences and the staff from Professional Services who made this celebration possible.
In these strange times, it is more important than ever that we celebrate good news. On 29 April 2020, it was announced that Professor Stephen Smartt from the School of Mathematics and Physics has been elected a Fellow of the Royal Society (FRS), the highest recognition of scientific endeavour in the UK. I am also delighted to announce that Professor Stuart Elborn, Pro-Vice-Chancellor for MHLS, has been elected a Fellow of the Academy of Medical Sciences for his contribution to advancing biomedical science. These are significant achievements for Stephen and Stuart and a great source of pride for the University. I am sure you will join me in congratulating them both.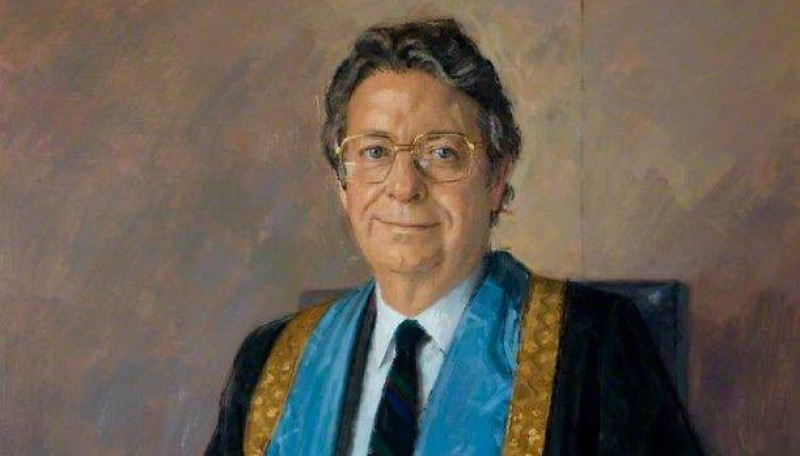 Sir Peter Froggatt
On a sadder note, our former President and Vice-Chancellor, Sir Peter Froggatt passed away on 3 May 2020. Sir Peter was Vice-Chancellor from 1976-86 and after his retirement he maintained his connections with Queen's. I understand that many of you, who were also students at Queen's, will have received your degree certificate from Sir Peter. A tribute to Sir Peter can be accessed here and I am sure all staff will join me in passing on our condolences to Sir Peter's wife Norma, their four sons and the wider family circle.