Cancer Care
What we did during COVID-19: Working to improve cancer care
Our world-leading experts at The Patrick G Johnston Centre for Cancer Research were among the first to shed light on the negative impact that COVID-19 was having on cancer services - ultimately influencing policymakers at a local, national and international level.
After a colleague remarked that "the public are more afraid of COVID-19 than cancer", Professor Mark Lawler, Associate Pro-Vice-Chancellor and Professor of Digital Health, embarked on a research project exposing delays in patient referrals and critical treatment as a result of government-imposed lockdown measures.

Shaping healthcare policy
His research paper, published in the European Journal of Cancer in April 2020, highlighted how the repurposing of health systems and implementation of social distancing measures, including national lockdowns, have had negative effects on patients with cancer.
Professor Lawler subsequently brought his findings - including that some patients had had critical chemotherapy or surgery postponed - to the upper echelons of policymakers, including to Dame Cally Palmer and Baroness Blackwood. Speaking about his research at a number of influential all-party talks on healthcare, Professor Lawler has advocated for adequate cancer services for patients across the UK.
Professor Lawler explained: "We must encourage cancer patients, or citizens who are worried that they may have cancer symptoms, to continue to access health systems and we must ensure that those health systems are fit for purpose to support them. Cancer must be firmly in our cross wires, so that we avoid adding the lost lives of cancer patients to the COVID-19 death toll."

Working to save 18,000 lives
When he released a collaborative analysis of data from 3.5 million cancer patients in late April, Professor Lawler prophesied that 18,000 more cancer deaths were predicted in England over the next year in people who have been newly diagnosed with cancer.
Professor Lawler emphasised: "The results are extremely concerning. We believe countries need to rapidly understand how the emergency is affecting cancer outcomes, otherwise we risk adding cancer and other underlying health conditions to the escalating death toll of the COVID-19 pandemic."

Turning the media spotlight
Evidenced by a paper he co-authored in the Lancet Oncology in July 2020, Professor Lawler warned that the two-week cancer referral pathway during the COVID-19 pandemic was jeopardising the early warning system typically employed for cancer treatment.
It was a wake-up call for the media, the public and policymakers that a crucial window of time used to dismiss or confirm the suspicion of cancer was getting loss – and 20% more people may die as a result.
Appearing on BBC's Panorama, Professor Lawler has successfully put the UK's cancer crisis firmly in the media spotlight.
Professor Lawler commented: "This current research and our use of real time data, that we have reported on previously and which featured in the recent Panorama programme, has shown that seven out of 10 people who may be at risk of developing cancer are being missed by the system. I want to emphasise that this is a UK-wide problem that must be addressed as a matter of urgency."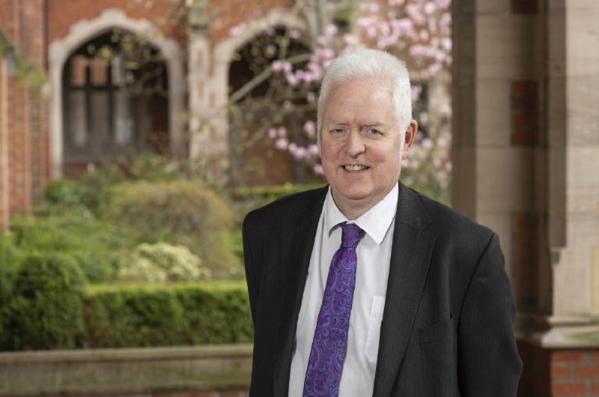 Meet the Expert - Mark Lawler
Associate Pro-Vice Chancellor and Professor of Digital Health, Chair in Translational Cancer Genomic
Professor Lawler is an internationally renowned scientist with over 30 years experience in cancer research, who is passionate about translating his research for the benefit of patients and society.
---
Timeline of events
March - a conversation between Professor Mark Lawler and a colleague in Croatia prompted a concern for cancer patients during COVID-19
April – New research from Queen's, the University of Split, Croatia, and Kings College London, shows COVID-10 has significantly delayed the treatment of cancer.
April – Professor Lawler warns policymakers that a future cancer epidemic could follow the COVID-19 outbreak resulting in 18,000 more deaths
May – Professor Lawler attends all-party healthcare talks urging policymakers to improve cancer care.
July – Professor Lawler co-authors a paper in the Lancet Oncology warning that the two-week delay for referrals was putting cancer patients at risk.
July – Professor Lawler appears on the BBC Panorama episode 'Britain's Cancer Crisis'
---
Media summary
Researchers highlight the impact of COVID-19 pandemic on patients with cancer, 21 April, The Times
New study warns of the possibility of a "cancer epidemic" in Europe once the pandemic has passed.
Academic warns about risk of `cancer epidemic´ following Covid-19 impact, 21 April, Daily Mail
There is a risk of a cancer epidemic following the response to Covid-19, an academic has warned.
Coronavirus crisis 'could trigger a cancer epidemic', expert warns expert, 21 April, The Mirror
Queen's University's Professor Mark Lawler has warned there is a risk of a future cancer epidemic following the worldwide coronavirus outbreak.
HIDDEN THREAT Coronavirus crisis could trigger a cancer epidemic affecting millions, expert warns, 21 April 2020 The Sun
Scientists warn that the pandemic may have impacted treatment of cancer patients, a dangerous disease, 23 April, International Business Times
Coronavirus: Thousands of cancers going undiagnosed, warns charity, 29 April, The Guardian
18,000 more people could die of cancer because of coronavirus, 29 April, Metro
Almost 18,000 more people could die of cancer due to coronavirus, study shows, 29 April, The Independent
COVID-19 crisis could trigger cancer epidemic, claims new study, 23 April, International Business Times
Watch: Cancer Care in the Era of COVID-19
Podcast Episode 5 - Cancer collaboration in Ireland, and mental health care in a crisis
Associate Pro-Vice-Chancellor and Professor of Digital Health, Professor Mark Lawler, will feature in BBC Panorama episode, 'Britain's Cancer Crisis', airing on 6 July 2020, 6th July 2020
Good Morning Ulster Radio Interview, 7th July 2020
Ted X 42:26 'COVID-19, Cancer and Comorbidities: A Deadly Triumvirate'
Professor Mark Lawler, Associate Pro-Vice-Chancellor and Professor of Digital Health. Faculty of Medicine, Health and Life Sciences; Chair in Translational Cancer Genomics, Patrick G Johnston Centre for Cancer Research, Queen's University Belfast: Associate Director, Health Data Research Wales-Northern Ireland: Scientific Director, DATA-CAN, The Health Data Research Hub for Cancer