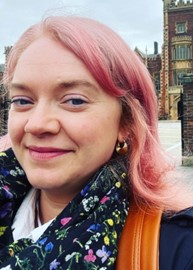 ---
Stefanie Campbell
Senior Educational Projects Manager
Email: stefanie.campbell@qub.ac.uk
---
Background
Stef has been working in education since 2004, focusing on 14-19 education in schools, community and college settings.
Having worked in schools and communities on programmes with young people, Stef moved to South Eastern Regional College (SERC) in 2009, as a lecturer in Skills for Your Life and Essential Skills, and then English Literature for A Level and University access programmes. In addition to teaching, from 2011, Stef worked as a peer mentor, supporting teaching and corporate colleagues in pedagogy and digital technologies, which led to her becoming a professional development manager full time from 2018. Supporting both corporate, academic and management services within the college, Stef developed her project management skills and worked with international partners in UK, Ireland, Slovakia, Italy, Finland, Japan, Uganda, Malaysia, Pakistan and South Africa to deliver funded programmes.
In 2021, Stef moved to Enterprise, Entrepreneurship and Environment department in SERC, developing and expanding the entrepreneurial ecosystem in the college, and working on strategic projects both internally and within the wider FE sector.
Responsibilities within the University
Stef is Senior Educational Projects Manager, working with the Centre for Educational Development on collaborative strategic projects across the University.
External Recognition
Stef was recognised as Digital Innovator of the Year in 2020, receiving a Gold award from the UK-wide Pearson National Teaching awards. She has gained Chartered Manager status from the Chartered Management Institute, has been a Microsoft Innovative Educator Expert since 2020, and is a Microsoft Certified Educator. She also has Senior Fellow status from Advance HE since 2021.
Stef has spoken at numerous conferences, including Association of Learning Technologists, and most recently, Bett2023 in London.
Professional and Personal Interests
Professionally, Stef is excited by collaboration, and working with others to inspire and create real change and impact for staff and students in educational settings. With a passion for using technology as a tool to increase accessibility and inclusivity within education, Stef also enjoys exploring new innovations, and identifying ways to work and connect more effectively and efficiently.
Personally, Stef is a keen supporter of the creative arts, as a musician, a carnival performer, and in a more formal capacity as a director on the Board of Beat Carnival in Belfast.