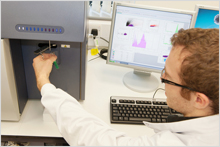 Other services available to researchers at Queen's include:
High Performance Computing (HPC) - a number of HPC platforms are available to perform data intensive tasks such as simulation and modelling, data mining, and visualisation.
Printing – Information Services has a large-scale colour plotter which can produce posters up to A0 (34 inches x 44 inches) on standard or satin-finish photo paper. There is also a colour laser printer which can be used for printing on A3 and A4 paper and A4 transparencies. Visit the Printing section for more information.
Web Hosting – servers are available to host database driven websites. Note: researchers looking for assistance in setting up such a site as part of a research project should contact the Research Computing team at an early stage in the project – preferably during the project proposal stage.
MATLAB – a high-performance language used for mathematical computation, modelling, simulation, data analysis, visualization, engineering graphics and graphical interfacing building.