AFBI (Agri-Food and Biosciences Institute) Library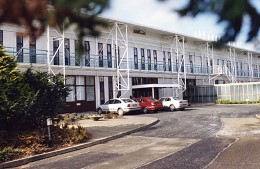 ‌
The AFBI Library provides a service to staff and students of Queen's University as well as to staff of the Agri- Food and Biosciences Institute (AFBI). Libraries are located at Newforge, Stormont, Loughgall and Hillsborough, with the central service available from the Newforge site.
The AFBI Library is located in the main building on the AFBI Headquarters site in Newforge Lane. The Library has a large collection of books and journals on various aspects of environmental, food and agricultural sciences which would be particular interest to staff and students in the School of Biological Sciences. In addition there are student computing services (SCC) and MFD facilities.
Address: AFBI Library, AFBI HQ, Newforge Lane, Belfast, BT9 5PX
Tel: 028 9025 5227
Email: Issue Desk - afbilib@qub.ac.uk
Full details about these libraries, their services and staff contacts are available via AFBI Library Online at https://www.qub.ac.uk/sites/afbi/ContactUs/