Journals contain original academic research in the form of articles. They are published at regular intervals, such as monthly or quarterly. Each journal issue has a volume or part number and usually contains a number of articles written by different authors.
Most journals subscribed to by the Library are available online and are accessed via the Library website. However, the Library still has some journals in print, hard-copy format.
In order to find a print journal, you will need to search for the journal title (not the article title) on Library Search. When you retrieve the record, you should be able to identify in which library the journal is located and the shelfmark.
When you click on the arrow beside shelfmark, it will display holdings information further down on the record.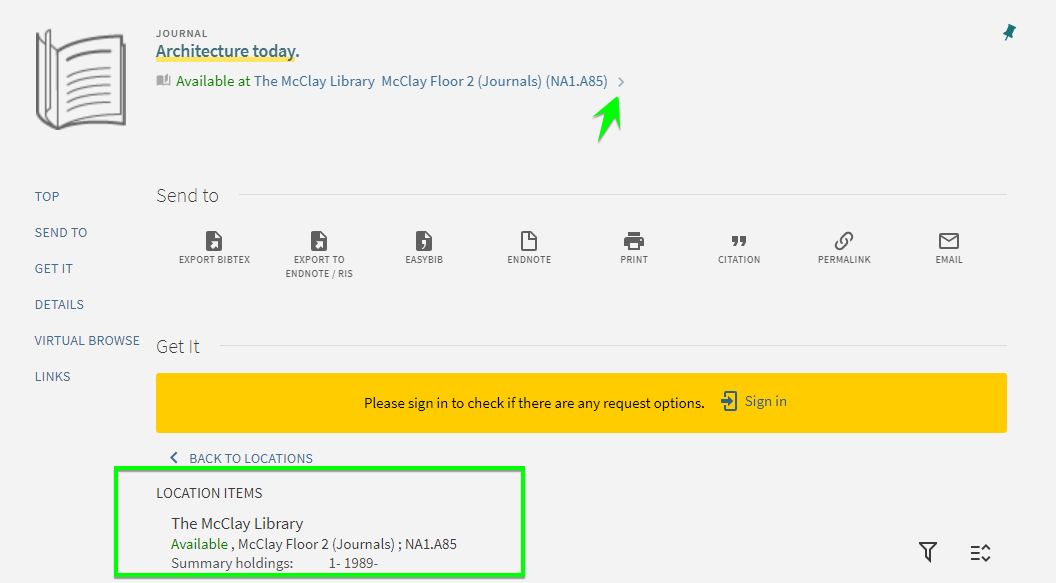 In the example above, the journal is a print journal, is located in the Floor 2 Journals section in The McClay Library and can be found at shelfmark NA1.A85 and we hold issues from 1989 to present.
The Library uses the Library of Congress classification system and it is important to record the shelfmark as this will help you locate the item on the shelves.
Some of the print journals in The McClay Library are located in mobile shelving. Further information about how to use the mobile shelving can be found in the Library Frequently Asked Questions or please ask a member of staff at the Enquiry Desks in The McClay Library.
As a Queen's student, you may have been directed to read specific journal articles and these may be provided for you in the relevant module in Canvas.