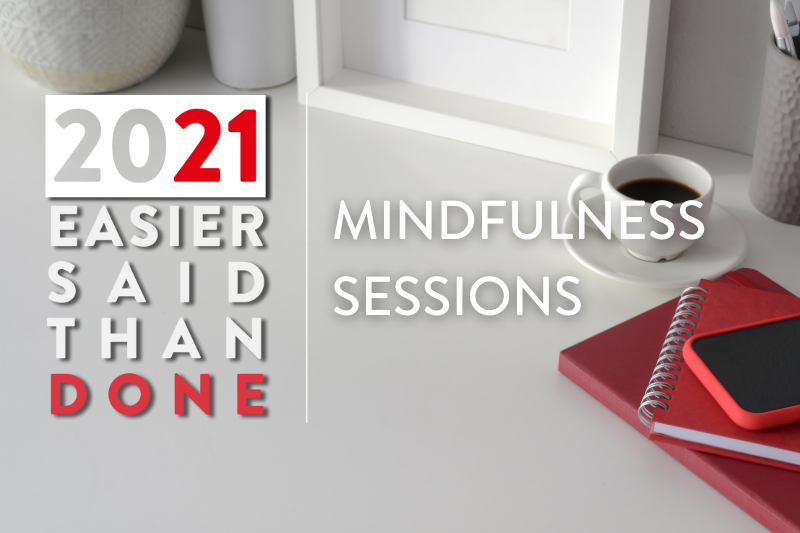 Online - Zoom links to be sent after registration
---
Due to popular demand, the Student Wellbeing Service has arranged for new live mindfulness sessions to be offered virtually to staff and students on Mondays and Fridays throughout January from 10:00am-10:30am.
Mindfulness will help you to set goals, focus on the achievements you have made, and appreciate what you have. Sessions will help you to embed kindness and compassion within yourselves, and towards others.
Are you tired of seeing "New year, New you" everywhere? With the challenges of 2020, we need to be mindful of the goals we set ourselves, and be kind to ourselves.
It takes 21 days to make a new habit, or change an existing one, so get involved with our 21-day campaign – with a twist!
You are welcome to attend as many, or as few, sessions as you would like. We recommend attending as many as possible to get the most benefit.
The Zoom links for each Monday & Friday will be the same. You may wish to save the links somewhere safe, so that you can easily locate them.
Please click 'Book now' to join our mailing list, and we will let you know when the Zoom links / joining instructions are ready!
Sessions will take place on the following dates & times:
Monday 11 January & Friday 15 January 2021 – 10:00am-10:30am
Monday 18 January & Friday 22 January 2021 – 10:00am-10:30am
Monday 25 January & Friday 29 January 2021 – 10:00am-10:30am
If you have any questions, please contact the Event Organiser below.
___________________________
This event is being ran as part of the "2021: Easier Said Than Done" campaign, organised by the Student Wellbeing Service. Please click here to view the rest of the programme, and explore how you can get involved!
Join our Mailing List to be kept up-to-date about the campaign, or follow us on our Instagram, Twitter, and Facebook where we will also be posting lots of handy tips on goal-setting for the new year!
Department

Student Wellbeing Service