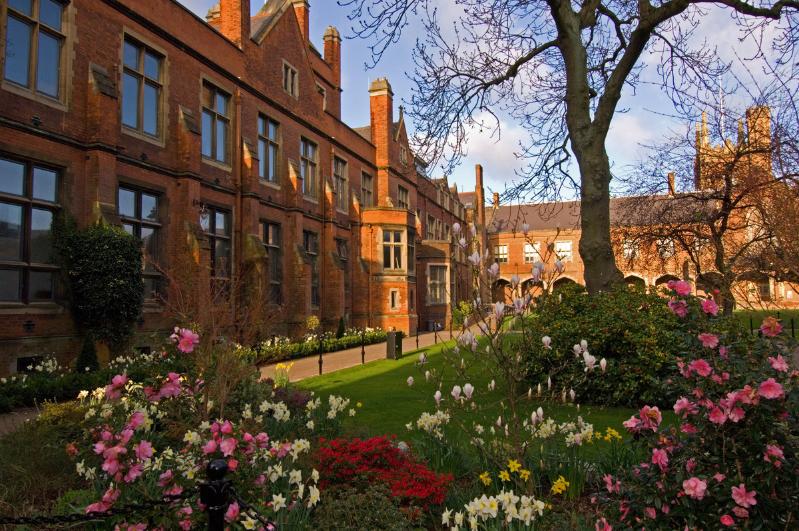 More Information
Policies & Procedures
At Queen's, we are focused on promoting activities and services which help create an environment where students thrive, both academically and personally, to better reach their potential.
The Student Wellbeing Strategy

Queen's aspiration is that every student leaves the University confident that they have achieved their academic potential, equipped to cope with the next phase of their life whatever that is, and feeling connected and hopeful about their future.
The University recognises that each student will have a unique set of hopes, ambitions and needs, and that these will change throughout their journey through University life. In order to respond to the full range of needs that will be experienced by students Queens will work alongside them in ways which are empowering and which build on their own resources and resilience. Queen's will work in partnership will students encouraging them to be proactive in realising their own potential and finding solutions which suit them best.
In order to achieve this Queen's will offer a comprehensive range of support services which are accessible, flexible and responsive. The University is committed to promoting a safe and supportive environment for students in which they can thrive and grow in independence, and which celebrates equality, diversity and inclusivity. This commitment is underpinned by Queen's Core Values of Respect, Integrity, Excellence, Ambition and Connect which keeps the student at the heart of service planning, development and design.
Guidelines on Fitness to Continue in Study on the Grounds of Health and/or Safety
Queen's University is committed to providing a supportive environment for its students, takes a positive attitude to the management of students' physical and mental health, and recognises that the wellbeing of students is critical to their learning, academic achievement and wider student experience.
Students Under the Age of 18
Queen's University Belfast is committed to supporting all students throughout their time at Queen's. A range of support services are available to all students, providing information, advice and specialist services. We encourage students to engage with support services, and to ask for assistance where needed.
The University requires all parents/guardians of students who will be under 18 on their first day of studies to complete a consent form acknowledging that they have read the University's Supporting Students Under the age of 18 Policy and understand what the University can and can't do to support students under 18, and the implications for communication with parents arsing from data protection legislation. We hope that this information helps to clarify the scope of the University's role in supporting your child and supports you in considering the safety and wellbeing of your child as they make this transition to University life.
As you can see from the Policy, we will write to all students under the age of 18 outlining support available to them and ensuring they are aware of specific legal points relating to being under the age of 18.
Further Information About Parental Consent
Student Support Protocol
The University has a range of supports available to students experiencing difficulty throughout their studies. On rare occasions, a student's behaviour or actions may become concerning. The Student Support Protocol offers guidance on how to identify and act on concerns about a student's wellbeing and includes a range of support options for different situations.
Where significant and complex situations arise, the University has a Protocol for co-ordinating support to students. Click here for the Student Support protocol.
We aim to make a range of policies relating to student support available from this section of the Wellbeing site. Please note, Adobe Reader is required to view the files - please click here to download a copy of Adobe Reader.
Student Equality and Diversity
Queen's University Belfast is committed to the promotion of equality of opportunity and to creating and sustaining an environment that values and celebrates the diversity of its staff and student body.
Bullying and Harrassment
Students who believe they are being harassed or bullied have a number of options to consider, and every situation is different, with actions dependent on individual circumstances.
Sexual Misconduct
Any form of sexual misconduct is regarded completely unacceptable and taken very seriously by the University. If a student believes they have been sexually assaulted or harassed, there are guidance and support options available.
Student Maternity, Maternity Support and Adoption Policy
This Policy provides advice and guidance on issues related to study, health and safety, and finance to students who become pregnant during their studies, prospective students who are already pregnant when they commence study, students who have given birth within the previous 26 weeks (or are continuing to breastfeed) and/or their partners and those who have recently become parents (e.g. through adoption). The policy also advises University staff who may have a role in advising students coming to them with these issues.
Student Policy on Alcohol and Drugs
The University is committed to promoting a safe and supportive environment in which to study and work. The University wishes to ensure that the health, safety and wellbeing of students and staff, and the reputation of the University and its students, are not jeopardised through alcohol or drug misuse.
A Guide for Parents/Guardians
Going to University marks a new chapter in a young person's development. Moving to independent learning and living is an exciting time – one of exploration, not just of the subject that they have chosen to study in more depth but also exploration of themselves as people.
Read the Guide for Parents/Guardians