Inspiring Queen's student overcomes illness to graduate
Frances Logan (aged 23) from Holywood, Co. Down, was diagnosed with an aggressive form of leukaemia when she was just 19 years old and studying at St Andrew's University in Scotland.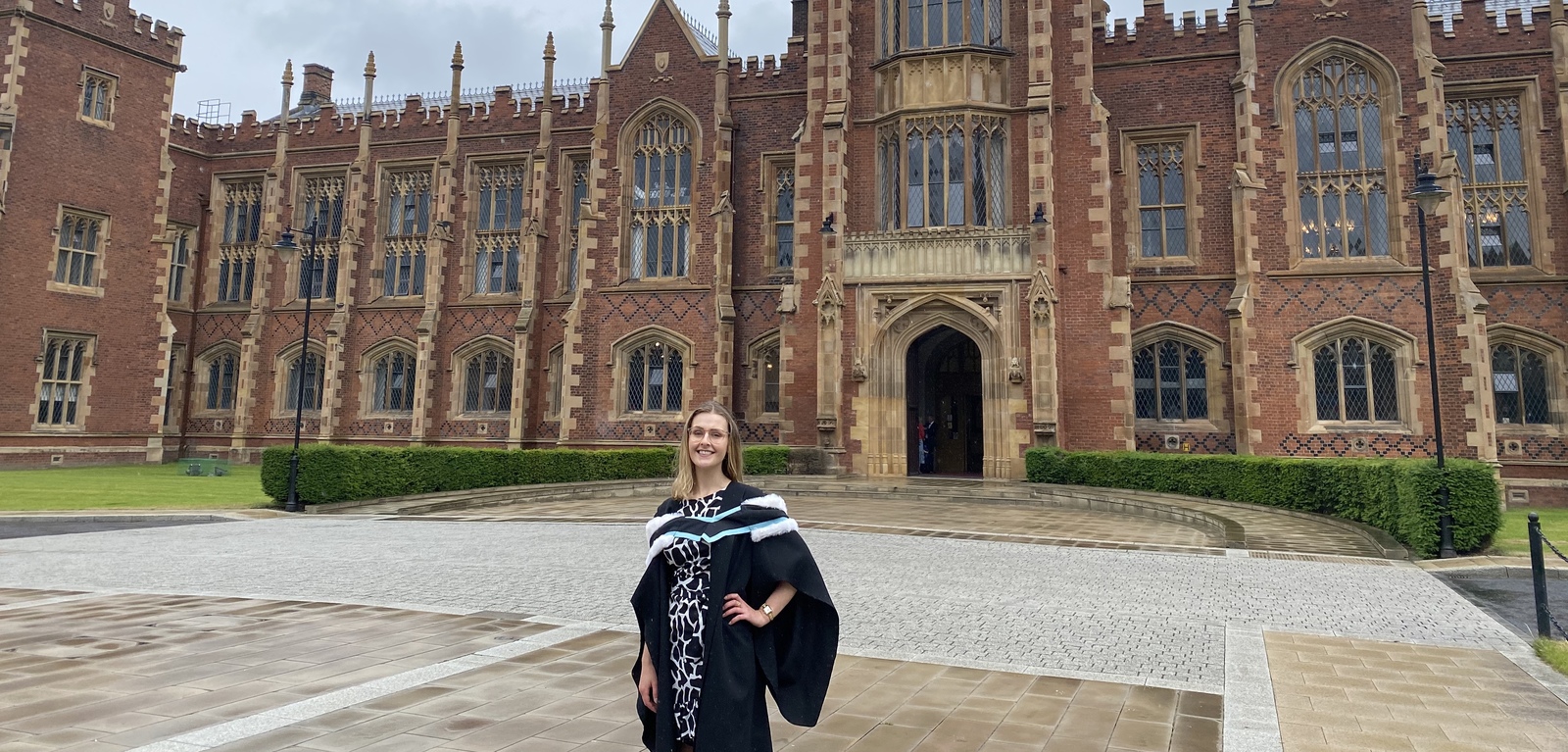 She returned to Belfast for treatment and applied to study at Queen's University Belfast from hospital.
Sharing her experience, Frances said: "During my three months as an inpatient and during my monthly chemotherapy treatments as an outpatient, I met people whose treatment hadn't been successful and were beginning the search for a stem cell match, to help cure their cancer. I couldn't begin to imagine how difficult it must be to have gone through what I had, and much worse, only to be told that they had to wait for a donor."
During her studies at Queen's, Frances got involved with Belfast Marrow, the student-led branch of blood cancer charity, Anthony Nolan. She said: "I started at Queen's around the time that I began two years of 'maintenance' chemotherapy treatment. As I walked into the Freshers' Fair in my first weeks as a student, I made a beeline for the Belfast Marrow stand. I got involved because I believe that no patient and no family should have to go through the pain of waiting for a matching stem cell donor.
"I started volunteering with the group in my first year, became the committee Volunteer Co-ordinator in my second and President of the society in my final year.
"We have had a completely virtual year of activities, but the committee has managed to achieve some amazing things and raised over £7,500 for Anthony Nolan, whilst signing up donors to the stem cell register."
Talking about the support she received at Queen's, Frances explained: "The support from Disability Services and the One Elmwood Student Centre has been invaluable. With monthly chemotherapy treatments often leaving me ill and fatigued, the flexibility with deadlines that I was granted was a complete lifeline. I have been offered support with taking notes for classes that I missed, support in managing my time around treatment, and financial support to purchase software and technology needed to keep up with assignments when unwell.

"All of these adjustments relieved a huge amount of pressure from falling behind and I truly cannot express my gratitude enough to all of the staff at Queen's who facilitated these arrangements."
Looking back fondly at her time as a Queen's student, Frances said: "I have really loved my time at Queen's, and I am so sorry to be leaving. I'm incredibly proud of how far I have come, grateful for all of the people that I have met and the wonderful memories that have been made. I do hope to be back.
"Getting involved in clubs and societies made my experience all the better. Here I met friends for life and the groups made me feel much more part of the Queen's community.
"A highlight for me was the study tours run by my school. In particular, the study tour to Estonia and Latvia. I met some really good friends on this trip and learnt an incredible amount about the history, politics, and culture of the Baltic States. If I had one piece of advice to new students, it would be read all of the emails that your school sends your way and apply to as many opportunities as possible – you miss every opportunity that you don't take!"
Ahead of graduating, Frances was awarded the Lemberger-Mettrick Prize from the School of History, Anthropology, Philosophy and Politics, and was selected as a 2021 George Moore Scholar. After graduation, she will take up a place at the University of Glasgow to study for her Master's in Public Policy and Management.
Speaking about her plans for her graduation day, Frances commented: "I plan to keep my virtual graduation day simple but with good food and good people! I'm planning to go out for dinner in Belfast with my family that evening – a luxury after the past year."
Media
Media enquiries to Queen's Communications Office on Tel: (028) 9097 3091 or email: comms.office@qub.ac.uk