Star student graduates from Queen's Management School
Bogdan Golumbeanu (aged 24) from Bucharest in Romania, will graduate today (Monday 26 July) with a First Class Honours (BSc Hons) Economics with Finance from Queen's Management School.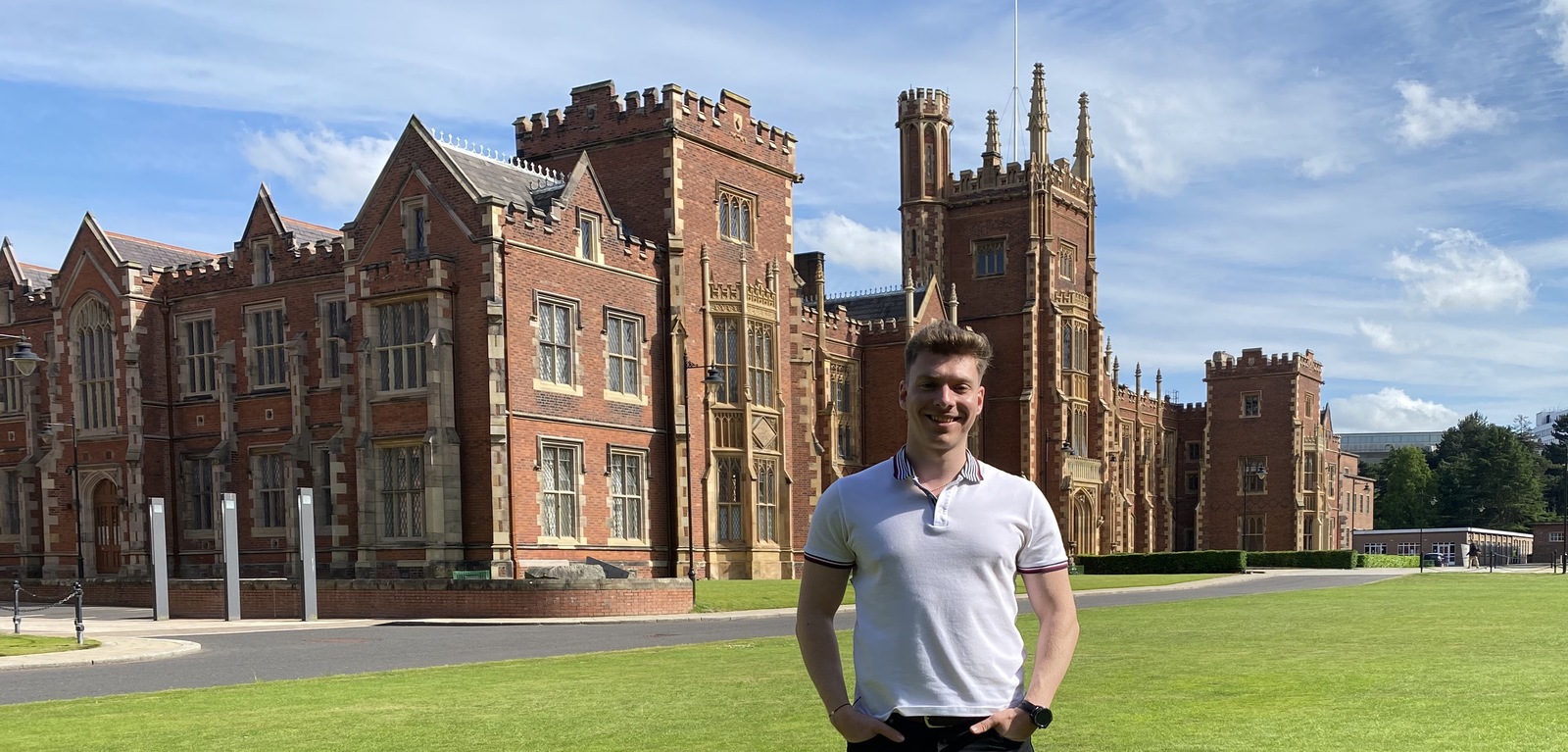 Bogdan came to Queen's University Belfast after studying Psychology for two years at the University of Bucharest.
He said: "Having discovered that I wanted something more quantitative, I decided that pursuing a career in finance was the best option for me.

"Being at one of the top UK universities, I wanted to make the best out of my experience at Queen's. I applied to different programmes and experiences to build up my CV and improve my network.

"I took part in and was CEO in my final year of the Queen's Student Manged Fund (QSMF); the Belfast Enterprise Academy; the Queen's Global Leadership Programme, and the Inspiring Leaders Programme, for which I was awarded the 'Highly Commended Graduate of the Year' award for the way in which I improved the activity in the QSMF. At the end of my first year, I was awarded the 'City Scholarship', where I travelled to London and worked for a week at Evercore, a leading private equity boutique in Mayfair.

"The opportunities for development and facilities you benefit from at Queen's are unmatched, having access to the likes of the state-of-the-art trading room at Riddel Hall, where we are able to operate Bloomberg Terminals for the Queen's Student Managed Fund's activities."
During his studies, Bogdan co-founded LightStone Insights, the fastest-growing financial platform that encourages under-represented students to consider a career in finance. He explained: "The idea for LightStone came off the back of applying for jobs as I faced the challenges of psychometric tests, interviews and rejections. I thought it would be a great idea to help other students facing the same problems. Since then, we have quickly grown to have an international team of 15 talented students and have helped over 1,000 students in their careers while producing research content about global financial markets."
He also represented the University at the regional finals of the CFA Institute Research Challenge, one of the most highly regarded financial analysis competitions for students in the world at which the Queen's team placed first.
Talking about his experience at University, Bogdan said: "My experience at Queen's was great. I made new friends, discovered new places and experienced new cultures. Coming from Romania, I found it very interesting to share food recipes with my peers and develop new tastes. Before the pandemic, I was lucky enough to benefit from face-to-face meetings and activities, enjoy drinks with my friends and celebrate together at the Speakeasy. Even with restrictions, I was able to appreciate the nature around Belfast, especially Cave Hill and Lagan Meadows, as I love being outdoors.

"The most enjoyable part was the friendliness of the Northern Irish people, as it is easy to make friends. I really enjoyed being in the McClay Library studying for exams with my friends and in the main campus for classes."
Speaking about graduating, Bogdan explained: "I feel nostalgic as I will miss Belfast, but I am also excited for the next chapter. I am thankful for all the opportunities I had at Queen's and I am now just enjoying the rest of the time I have left here in Belfast by meeting friends, taking pictures in front of the University for my family, and enjoying the nice weather. You don't get sunny days that often!"
After graduating, Bogdan will be joining Goldman Sachs as a full-time analyst in their London Office. He said: "During my studies I secured a summer internship with Goldman Sachs, one of the biggest American investment banks in the world, and became a Campus Ambassador where I was able to give back and share my insights and experience with Queen's students and help them along their application process.

"Now I am preparing my move to London to take up a position as an analyst, but I will be looking forward to coming back to Belfast to visit my friends here."
Media
Media enquiries to Queen's Communications Office on Tel: (028) 9097 3091 or email: comms.office@qub.ac.uk